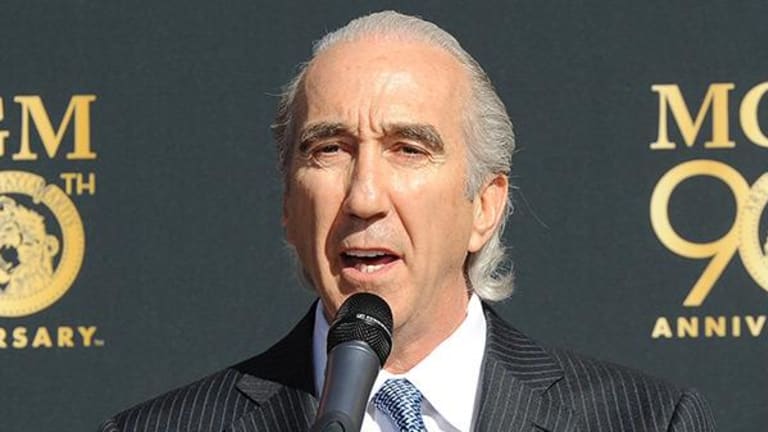 MGM Nears Deal to Acquire All of Epix Amid Stunning Turnaround
If the studio takes control of the premium cable TV network, it would benefit the mini-major studio and co-owners Viacom and Lions Gate.
Metro-Goldwyn-Mayer Studios, the mini-major Hollywood studio that was bankrupt little more than six years ago, is close to taking full ownership of Epix, the premium cable TV network it co-owns with Viacom (VIAB) - Get Free Report and Lions Gate Entertainment (LGF.A) - Get Free Report , a source familiar with the matter said.
The deal, which hasn't yet closed and still could unravel, would allow MGM to acquire Viacom's 50% stake in the network along with the 31% position held by Lions Gate, the source said, declining comment on a valuation.
The price of the transaction is expected to total more than $1 billion, Bloomberg reported on Thursday, citing people familiar with the situation.
If completed, the transaction would fulfill immediate needs for both Viacom and Lions Gate while giving a much empowered MGM a platform to showcase its burgeoning television and film business. With full ownership, MGM would consider launching Epix as a standalone subscription service similar to HBO Now from Time Warner (TWX) and Showtime from CBS (CBS) - Get Free Report .
Epix's current ownership structure has made it difficult for the Los Angeles network to compete with other premium TV and film platforms. 
Unwinding a cumbersome corporate structure was made more difficult by the long and bitter internal battle at Viacom between controlling shareholder Shari Redstone and former CEO Philippe Dauman. Even since Redstone won that battle and promoted Bob Bakish as the media conglomerate's new CEO, Viacom has been looking to sell its stake in Epix to concentrate on the more pressing issues of resolving programming problems at many of its cable TV networks, including MTV, and figuring out how to return Paramount Pictures to profitability after the Hollywood studio lost $455 million in 2016.
Lions Gate is also a motivated seller, having made a large investment in Epix's rival Starz, which it acquired last year for $4.4 billion. All three companies have talking about a potential deal for months, the source said, having recognized that Epix would be better served with a single owner.
TheStreetreported in December that Epix was considering options including an initial public offering amid interest from third parties. Lions Gate CEO Jon Feltheimer told analysts last summer that his company's interest in Epix "is not truly a strategic platform for us."
In its 2017 media predictions, TheStreet also called for MGM to acquire Lions Gate's Epix stake.
For 92-year-old MGM, based in Beverly Hills, Calif., Epix has the potential to raise the profile for a studio that has engineered a stunning turnaround under CEO Gary Barber. Building on its ownership of the James Bond film franchise, MGM has had solid success from its television unit with Vikings and Fargo, both of which have been renewed for the coming season. 
MGM need only look at CBS's success in bolstering Showtime's programming slate in recent years to appreciate the possibilities for a souped-up and better-managed Epix. MGM's film library includes The Hobbit, Rocky, RoboCop and Pink Panther series.
MGM has gone from declaring bankruptcy in November 2010, when total long-term debt exceeded $4 billion, to having almost no debt while generating earnings, excluding some costs, of $400 million to $500 million. MGM's earnings for 2015 totaled $401 million, the company said Thursday in a corporate filing.
The studio exited Chapter 11 in December 2010.
Having much-improved credit, MGM also has access to low-costing capital, making a deal for Epix the kind of transaction that won't become a burden on its current operations. 
Representatives of MGM, Viacom and Lions Gate couldn't immediately be reached for comment.