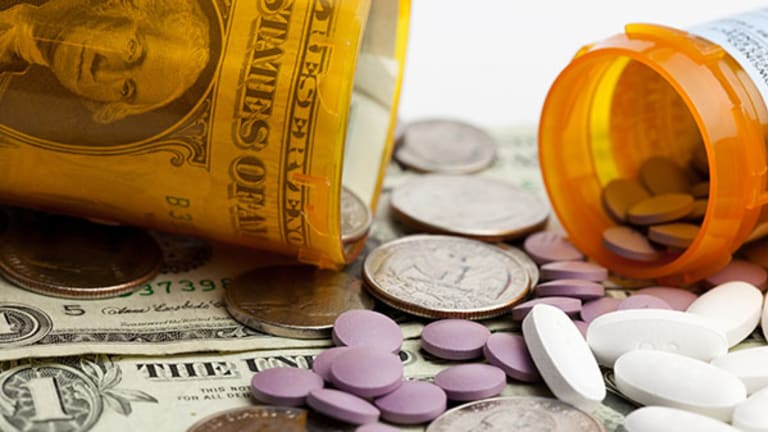 Merrimack Soars on $1 Billion Sale of Cancer Drugs to Ipsen
The Nasdaq-listed cancer drug developer is up 43% in premarket trading after promising shareholders special dividends worth more than its closing share price on Friday.
Nasdaq-listed Merrimack Pharmaceuticals (MACK) - Get Merrimack Pharmaceuticals, Inc. Report agreed to sell oncology treatments, including its pancreatic-cancer treatment Onivyde, to French drugmaker Ipsen (IPSEY) for as much as $1.05 billion, including benchmark payments.
Merrimack shares soared 43% in premarket trading to $5.16 as investors hailed a deal that will raise cash and cut costs, enabling the company to fund development of three promising cancer compounds and return cash to shareholders.
The deal includes upfront payment of $575 million, a further $450 million dependent on additional regulatory approval for Onivyde and other smaller milestone payments. Cambridge, Mass.-based Merrimack said it will invest $125 million of the cash into its pipeline, pay off $175 million of loans and return "at least" $200 million to shareholders through a special dividend worth $1.54 per share.
Merrimack also promised to return the full $450 million in potential additional payments to shareholders, equating to a further $3.46 per share. The total possible dividend of $5 per share was more than Merrimack's shares as of their Friday close, when they were worth $3.60.
"The transaction proceeds will allow Merrimack to realign its capital structure and fund the pipeline into the second half of 2019, as well as return cash to stockholders in the form of the special dividend," said Merrimack Chairman Gary Crocker in a statement. "This strategic transaction also enhances stockholder value by providing sufficient, non-dilutive capital to fund our new, strongly-focused clinical objectives for MM-121, MM-141 and MM-310, and to participate in the potential upside of expected value-inflection points from each targeted program."
The sale comes three months after Merrimack's CEO Robert Mulroy resigned and the company said it would slash just under a fifth of its workforce in a bid to accelerate a turn-around project and streamline its pipeline to bring drugs to market more quickly.
For Ipsen, the deal expands its range of cancer treatments and, in Onivyde, gives it control of one of the few pancreatic cancer treatments to receive recent approval from the U.S. Food and Drug Administration, or FDA.   
"The acquisition of Onivyde represents a compelling strategic opportunity to further strengthen Ipsen's oncology portfolio while leveraging our U.S. infrastructure and creating meaningful potential incremental growth and profitability," said Ipsen CEO David Meek in a statement. "Pancreatic cancer is now the third leading cause of cancer-related deaths. It is an area that has had many drug failures and very few FDA approvals over the past two decades."
Under the terms of the agreement, Ipsen will gain exclusive commercialization rights for current and potential future Onivyde indications in the U.S., as well as the current licensing agreements with Britain's Shire for commercialization rights ex-U.S. and PharmaEngine for Taiwan.
The deal also includes Merrimack's commercial and manufacturing infrastructure, and generic doxorubicin HCl liposome injection, known as Doxil.
Ipsen said the acquisition would hurt earnings in 2017 but should boost earnings per share and margins from 2018 onward. Its shares traded Monday morning at €71.23 ($74.93), down €0.50 or less than 1% on their Friday close.
Ipsen tapped MTS Health Partners and law firm Dechert to advise on the deal. BofA Merrill Lynch and Credit Suisse were advisers to Merrimack.