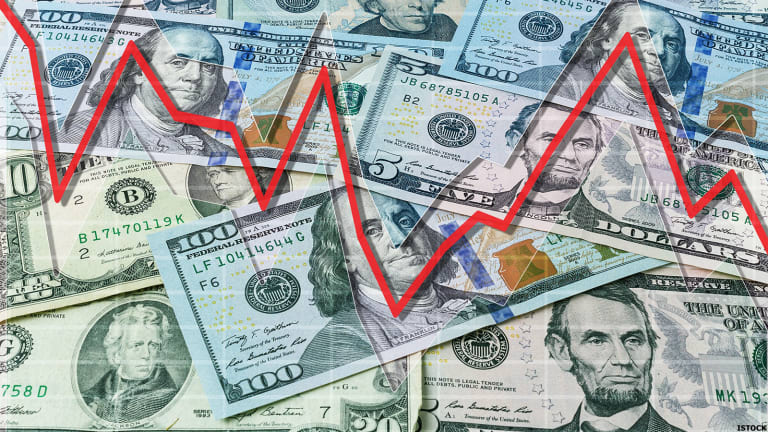 Merger Arb Funds See Opportunity as Volatility Widens Deal Spreads
The only worry is if deal financing dries up, according to arbitrageurs.
NEW YORK (The Deal) -- Merger arbitrage funds have viewed the market's volatility in recent days as a buying opportunity because it has widened spreads on deals that are likely to get done anyway.
If the market slide continues, however, these investors may have to unwind some positions if lack of deal financing forces mergers to be cancelled or if share prices drop enough to trigger funds' policies on maintaining investments in stocks that drop precipitously, they said.
A number of deals have become more attractive because of widening spreads during the recent turmoil. The targets that some arbs believe look more attractive include Altera (ALTR) - Get Altair Engineering Inc. Class A Report, which is subject to a $16.7 billion buyout offer from Intel (INTC) - Get Intel Corporation Report. In the 10 days ended Tuesday, The spread on Altera shares widened from $2.6 to $5.83, representing a 15.6% annualized return if the deal closes Jan. 31.
Another is Baker Hughes (BHI) , which accepted a $27.5 billion offer from oil field services rival Halliburton  (HAL) - Get Halliburton Company Report in November. Already with a sizeble spread due to the uncertainty of obtaining antitrust clearance in the U.S. and Europe, the differential since Aug. 14 has climbed from $7.78 to $9.45 and now offers a 52.6% return if the deal closes Dec. 31.
Two major insurance mergers also are gaining renewed interest -- the spreads on Anthem (ANTM) - Get Anthem, Inc. Report offer for Cigna  (CI) - Get Cigna Corporation Report and Aetna (AET) bid for Humana (HUM) - Get Humana Inc. Report have climbed 37 cents and $1.59, respectively, and stood at $36.23 and $40.01 through Tuesday's trading. Each represent annualized returns of more than 18% if the deals get done by their projected fall close dates.
Spreads have also widened attractively for Mylan's (MYL) - Get Viatris, Inc. Report offer for Perrigo  (PRGO) - Get Perrigo Co. Plc Report and Charter Communications'  (CHTR) - Get Charter Communications, Inc. Class A Report bid for Time Warner Cable (TWC) . Mylan is making a hostile bid for Perrigo, the initial reason for a wide spread on the deal, and the takeover of Time Warner faces a long review before the Federal Communications Commission and the Department of Justice.
On Wednesday investors pushed to rally U.S. stocks amid the worst drop in global equities in almost four years, but markets in Asia and continued to drop. The Standard & Poor's 500 jumped 2.1% through early afternoon trading that made up most of the ground lost in the morning, which more than wiped out gains made Tuesday. A late rally pushed the Dow Jones Industrial Average up more than 600 points, or nearly 4%.
Despite all the attention directed at the stock market, one arb said that he and his colleagues are more concerned about the increasing assertiveness of the Department of Justice and the Federal Trade Commission in challenging deals on antitrust grounds.
"The DOJ and the FTC have given us some wild cards recently," he said, pointing to the FTC's successful court challenge to stop Sysco's (SYY) - Get Sysco Corporation Reportattempted acquisition of US Foods and the DOJ's pending legal battle to block Steris' (STE) - Get STERIS Plc Report $1.9 billion plan to acquire U.K.-based Synergy Health. "It feels like the DOJ and the FTC have challenged a couple of deals that would have cleared a couple of leadership cycles ago."
As far as the current market volatility goes, the primary concern would be a shutdown of the credit markets, as happened during the 2008 financial crisis. The credit drought during the crisis eliminated financing for many pending deals and for a time made it virtually impossible to secure commitments to fund new mergers. The arb said it appears M&A is still far from a repeat of that scenario. "Credit spreads have widened a bit but are nowhere near crisis levels," he said.
A more immediate concern for arbitrageurs is if share prices of portfolio companies drop enough to trigger fund policies that would force reductions or eliminations of positions in specific companies. Although the trigger varies from fund manager to fund manager, most limit the downside risk any one investment poses to total assets under management. A steep stock price drop can make it more difficult to cover a long position of a deal fails to close. Most funds will cut back or unwind entirely a position if the risk is above the stated tolerance level. 
Read more from: