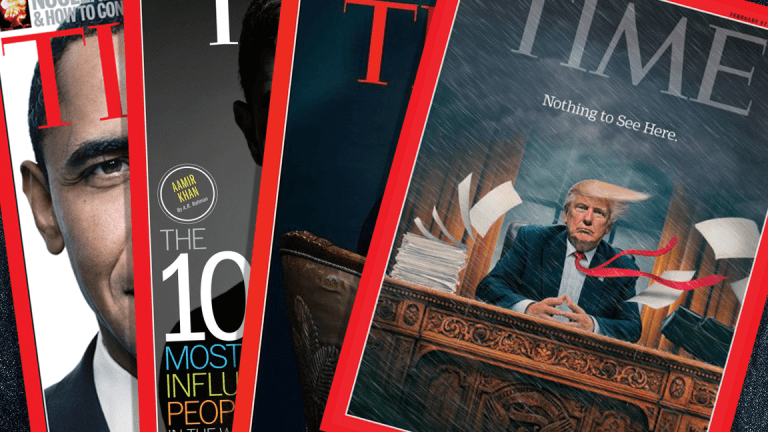 Why a Sale of Time, Fortune and Sports Illustrated is a Matter of When, Not If
After picking up the Time Inc. publications, Meredith will sell Sports Illustrated, Fortune and Time magazine. The only question is how soon.
Meredith Corp. (MDP) - Get Free Report CEO Steve Lacy played it cool on Monday, Nov. 27, deflecting questions about the future of Time magazine, Fortune and Sports Illustrated in the wake of his company's deal to acquire Time Inc. (TIME) for $2.8 billion, including $900 million in net assumed debt.
Yet despite Lacy's insistence that the fate of the three iconic titles has yet to be decided, industry observers have all but assumed that Meredith will look to sell them.
"It's important for Meredith at this point to stay true to what they're good at and not try to turn these brands around when that's not their expertise," said Reed Phillips III, managing partner at boutique media investment bank Oaklins DeSilva & Phillips LLC. "No doubt that Meredith will flip those."
As the publisher of dozens of magazines including Family Circle and Better Homes & Gardens, Meredith has long coveted Time's female-focused publications, especially People. In the coming weeks, Lacy said Meredith will study its expanded magazine portfolio to determine which of Time's titles might be divested.
"One of the most important things that we will need to do, and we've done this at other times, is really [look at] the duplication between the different properties in terms of audience and where in fact does the ad revenue come from," Lacy said on an investor conference call on Monday. "We're going to take a very holistic look at that from the perspective of the combined portfolio."
President and COO Tom Harty added that Time's ongoing sale processes for certain assets, such as a majority stake in Essence, its Sunset and Golf brands and Time Inc. UK Ltd., would continue, with deals likely closing in 2017. Harty, though, concluded, "It's really premature for us to make any decisions" on the entire portfolio.
Yet even if a final decision hasn't been made, Sports Illustrated, Fortune and Time magazine appear to lack a place at Des Moines, Iowa-based Meredith. Not only are all three publications weeklies, but their readership skews distinctly male. Meredith, which publishes only monthlies, owns no magazines that cover politics, business or sports. (Its interest in People magazine, however, is an exception, given its reach and profitability.)
Readership at all three publications also skews older. Millennials get their sports, business and political news elsewhere. In the wake of the Time Inc. announcement, much speculation has focused on whether Charles and David Koch, well-known for their activist conservative politics, would seek to acquire Time magazine.
The Koch brothers have agreed to invest $650 million in Meredith to help finance about 15% of the Time acquisition. Lacy told reporters on Monday that no one from Meredith met with the Koch brothers about the proposed investment, adding that they won't have a seat on the company's board nor influence on its operations. A Koch representative wasn't immediately available for comment.
Another prospective buyer, American Media Inc., owner of the National Enquirer, OK! and Star, asserted that Time's publications don't fit into its portfolio of celebrity and health magazines. American Media, which is controlled by David Pecker, acquired Us Weekly and Men's Journal during the past eight months from Wenner Media LLC, which is shopping its remaining publication, Rolling Stone.
"We have no interest in Time, Fortune or Sports Illustrated; any suggestion or speculation otherwise is false and does not warrant further comment," an AMI spokesman said. 
Any prospective buyer, therefore, would have to determine whether they can make a profit with three publications. 
Though Time doesn't break out results for individual publications and Phillips declined to estimate the value of individual publications, revenue at its magazines declined by 14% in the third quarter, as total sales dropped 9% to $679 million. Operating income did grow to $51 million from a loss of $167 million during the same period a year earlier. People magazine, Time's best-performing business, is said to account for roughly two-thirds of the company's profit.
If, however, Meredith holds an auction for the three magazines, it's likely to find bidders, Phillips said, adding that he concluded that each issue of Time magazine and Sports Illustrated, except for its annual swimsuit issue, loses money.
A Time Inc. spokesman declined to comment on the subject.
"A buyer will have to look at what they can do with these titles versus what Time Inc. has been able to do," Phillips said. "When you take them out of the Time Inc. orbit, with its high cost structure, those titles might perform really well for a lower-cost producer."
More of What's Trending on TheStreet: