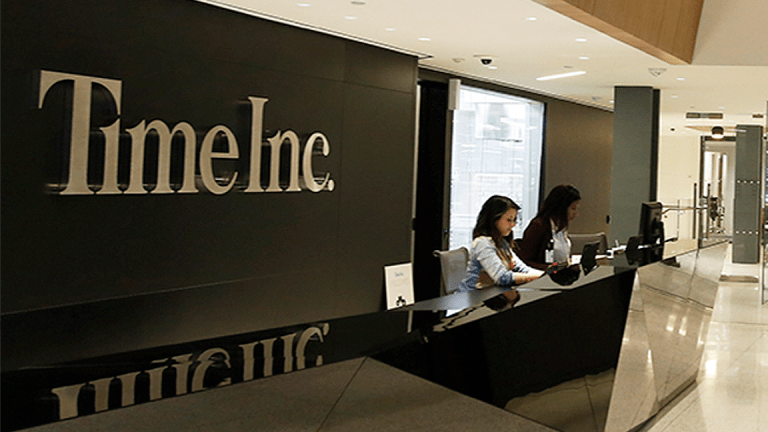 Meredith Bets $2.8 Billion That Time Merger Can Pressure Facebook, Google
Meredith's proposed $2.8 billion acquisition of its fellow magazine publisher is a wager that together the two legacy print companies can stake out a slice of the digital advertising pie.
It's a bet on scale.
Like AT&T Inc. (T) - Get Free Report  , which remains intent on buying Time Warner Inc. (TWX) , Meredith Corp.'s (MDP) - Get Free Report proposed $2.8 billion acquisition of Time Inc. (TIME) is a wager that together two legacy print magazine companies can stake out a slice of a digital advertising pie being largely consumed by Facebook Inc. (FB) - Get Free Report and Google, the largest unit of Alphabet Inc. (GOOGL) - Get Free Report .
The Des Moines, Iowa-based acquirer and Time, headquartered in a bright, new office building in lower Manhattan along the Hudson River, announced their all-cash merger on Sunday, Nov. 26, valuing Time at $18.50 a share. The deal amounts to $1.85 billion in cash and nearly $1 billion in assumed debt. The share price offer is a 46% above where Time was trading on Nov. 15, just before news of the impending deal was made public, fueling an immediate jump in Time's stock.
Time shares were surging 9.4% in early trading on Monday to $18.42, roughly where the shares were trading in late April just after the company's board ended a six-month process of considering a sale. Meredith was among at least three parties that had pursued Time since last fall. 
Most significantly, Meredith shares also were rising Monday, as investors appeared to rally around the notion that the two publishing companies have a brighter future together than they did apart. Shares surged 9.6% to $66.85 as CEO Steve Lacy said during an investor conference call on Monday that the merger would generate as much as $450 million in cost savings, largely by eliminating duplicate corporate and so-called back-office expenses such as accounting. Savings, he said, would also be found in a merged salesforce and the buying of printing paper in greater bulk.
"There's an amazing cost and revenue opportunity in many of those areas," Lacy said, adding that some Time Inc. employees would eventually move to Meredith's offices in midtown Manhattan while others would likely be laid-off.
As for editorial positions, Meredith said those were safe, for now. Nonetheless, he acknowledged that all of Time Inc.'s print and digital platforms would be evaluated. 
"The editorial operations and creative functions are always sacred," Lacy said. "That's the safest revenue stream of any media company."
The jump in Meredith's stock price also appeared to reflect investor sentiment that the company isn't overpaying for Time and that its management team, which has experience acquiring other print publishers, is well suited to generate higher profit from People, Sports Illustrated, Fortune and dozens of other titles, including Time's eponymous news weekly created in 1923.  
In 2015, Meredith took over editorial and operational control of Martha Stewart Living and Weddings under a renewed licensing agreement, and in 2005, it acquired Gruner + Jahr AG's Family Circle, Parents, Child and Fitness in a deal worth $350 million.
The deal to acquire Time caps at least five years of pursuit by Meredith, which owns a group of local TV stations in addition to the women-focused Better Homes and Gardens, Parents, Living and Shape. Lacy has long viewed Time's businesses as integral to building a larger media company better able to compete with Facebook and Google.
Together, the combined company will generate more than 10 billion annual video views and produce nearly $700 million in digital advertising revenue, raising its profile to among the top 10 media companies in the country, Lacy said in an investor conference call on Monday. Its total audience will reach 200 million consumers. The combined company also will have about 60 million subscribers to its publications and websites.
For Time, the deal marks an end to long and proud history as one the country's foremost magazine publishers. It also marks a bitter termination to a last-ditch effort by CEO Rich Battista to grow a legacy print publisher that had struggled to make the full transition to digital.
Shortly after Battista was promoted to CEO in September, investors began to clamor for a sale. And for the next six months, Time's board listened to offers. Yet in April, Time decided that it wouldn't sell and that it backed plans to increase advertising through a host of newer digital titles such as Real Simple, InStyle, Cooking Life and Southern Living, as well as streaming services from People, and most recently, Sports Illustrated.
But those results never came. In June, Time was forced to lay off about 4% of its workforce, roughly 300 employees out of 7,500 worldwide.
While Time has struggled, Meredith was able to secure financing for a proposed acquisition, including $650 million from a private equity unit of Koch Industries Inc., Koch Equity Development LLC, according to Meredith's statement. Lacy said that billionaires Charles and David Koch will be "passive" investors, though their high-profile presence in conservative politics is sure to send a shudder through the New York offices of Time's many publications.
Lacy on Monday said Koch's equity investment arm was one of many potential investors who answered a call by Meredith over the summer when it went looking for partners for yet another bid to acquire Time. In the conference call with Wall Street analysts, Lacy said Meredith was looking for an outside investor but "in all sincerity, not a lot of help in running the business."
"Their terms ended up being the best, and their desire to be passive, and that they didn't require having a board seat, made them the most attractive," he added.
While the Kochs remain a lightening rod in political circles, they have stayed clear of directly investing in media companies though they did toy with the idea in 2013 of acquiring Tribune Co. After the Kochs decided against such a bid, Tribune spun-off its TV station group into Tribune Media Inc. (TRCO) - Get Free Report , which is awaiting a regulator decision over its sale to Sinclair Broadcast Group Inc. (SBGI) - Get Free Report .
One interesting overlap between the Meredith-Time deal and the Koch Brothers is that John Fahey Jr., Time's independent board chairman, served with David Koch as directors for the Smithsonian National Museum of Natural History's Advisory Board. Koch was also a council member for the National Geographic Society while Fahey served as CEO, and later as chairman between 2004 and 2016, according to BoardEx, a relationship-mapping service of TheStreet Inc.
Time director Michael Zeisser, 53, also worked with Meredith Corp. director Philip Marineau at image publishing service Shutterfly Inc. SFLY. Zeisser served as an independent director while Marineau served as chairman between 2013 to 2016.  
As for Meredith closing its proposed acquisition of Time Inc, the deal still needs approval from the Department of Justice's antitrust division under requirements laid out in the Hart-Scott-Rodino Antitrust Improvements Act. While the comparatively small size of the two companies would normally ensure an easy approval process, the antitrust division under President Trump surprised investors last week when it filed a lawsuit in federal court to prevent AT&T from acquiring Time Warner.
Antitrust chief Makan Delrahim, a Trump appointee, has come under blistering attack in recent days from Wall Street for arguing that an AT&T-Time Warner merger would hurt consumers by raising prices and curbing competition. Delrahim's critics counter that the proposed deal amounts to a vertical merger of two distinctive companies, one a distributor, the other a content producer.
Historically, such vertical mergers have had a better chance of winning regulatory approval than a horizontal merger of two similar companies. Meredith and Time qualifies as a horizontal merger. Meredith finance chief Joseph H. Ceryanec said the company would make its antitrust filing in a week or so.
The companies expect the acquisition to close in the first quarter. The deal carries a $65 million breakup fee.
Alphabet and Facebook are holdings in Jim Cramer's Action Alerts PLUS Charitable Trust Portfolio. Want to be alerted before Cramer buys or sells GOOGL and FB? Learn more now.
More of What's Trending on TheStreet: