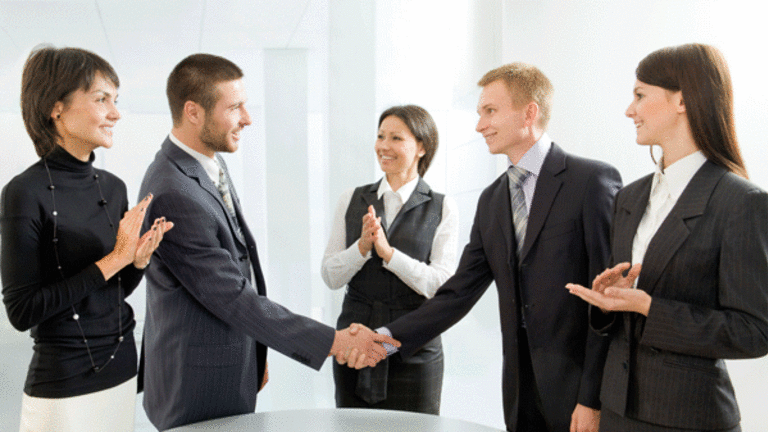 Men's Wearhouse Willing To Boost Jos. A. Bank Bid
Suitor open to raising $57.50 per share tender offer if target comes to the table.
NEW YORK (The Deal) -- Men's Wearhouse (MW) on Thursday urged Jos. A. Bank Clothiers (JOSB) to come to the table, saying that under certain conditions it might be willing to sweeten its $1.61 billion bid for the rival clothier.
Fremont, Calif.-based Men's Wearhouse in a letter to independent Jos. A. Bank directors said "our strong preference is to work collaboratively" and come to a consensual agreement. Men's Wearhouse on Jan. 6 launched a cash tender to buy Jos. A. Bank shares for $57.50 apiece, and submitted notice it intends to nominate candidates to the Hampstead, Md.-based target's board.
Men's Wearhouse in the letter said it is prepared to increase its offer price "if you can demonstrate or we can discover additional value through discussions or limited due diligence." The company also questioned Jos. A. Bank's management's ability to consider the offer without bias.
The letter is the latest shot in an ongoing battle between the two men's clothing retailers. Jos. A. Bank last year offered $2.3 billion for its larger rival but walked away after the bid failed to spark negotiations. Men's Wearhouse returned later in the year with a bid of its own which Jos. A. Bank has called "inadequate and opportunistic."
Analysts have said that while the two companies seem to agree on the merits of a combination, they differ on valuation and who would run a combined entity.
Men's Wearhouse in its latest letter quotes Jos. A. Bank chairman Robert N. Wildrick from October 2013 calling the two companies "ideal partners." The company notes that Wildrick's attitude has changed now that Men's Wearhouse is the aggressor, and urged independent directors to look past the CEO's words.
"Now, when Men's Wearhouse is proposing to acquire JOSB, and Mr. Wildrick will not be CEO of the combined business, JOSB, rather than engaging in discussions that might lead to that 'ideal' combination, is pursuing an alternative transaction, including a material acquisition," Men's Wearhouse CEO Douglas S. Ewert wrote. "Obviously, in considering Men's Wearhouse's offer to acquire the company, Mr. Wildrick has a conflict of interest that might naturally make him prefer some other strategic alternative."
Men's Wearhouse urged the board to form a special committee of independent directors to reevaluate its offer.