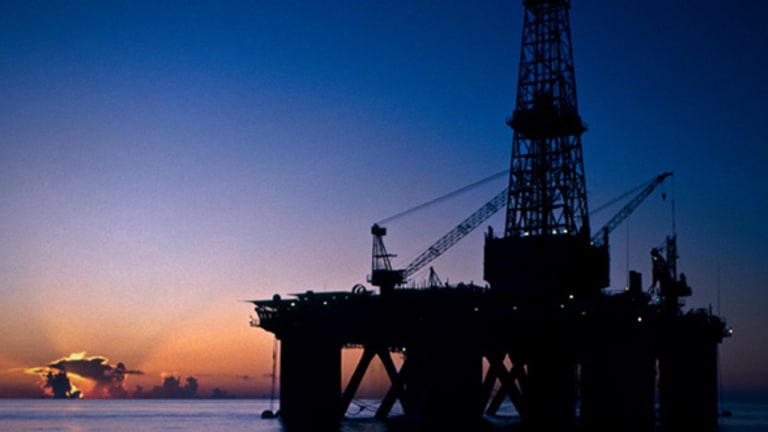 Memorial Resource Stands Out in Depressed Oil and Gas Sector
While a lot of energy companies are cutting production and employees and shedding assets, explorer Memorial Resource is actually expanding.
NEW YORK (The Deal) -- Amid the gloom permeating the oil and gas industry these days, it's nice to find a bright spot now and again, and one the brightest at the moment seems to be Memorial Resource Development (MRD) .
While a lot of companies in the sector are cutting production and employees and shedding assets, the Houston oil and gas explorer is actually expanding. Last month it announced that it had agreed to acquire or lease 132.859 net acres next to its operating areas in North Louisiana from Quantum Energy Partners-backed Rockcliff Energy LLC and others for $373.8 million. It paid for the deal by selling $243 million in new shares to the markets-an equity offering unheard of in the industry right now.
Tudor, Pickering, Holt & Co. Securities wrote in a note that the deal was won at an attractive $6,000 per acre, versus its own valuation estimate of $40,000 per acre once the properties are fully developed. The firm thinks the stock is undervalued, with 46% upside compared with its peer average of 29%; the company's balance sheet strength and operational momentum make it Tudor's top pick.
In June the KLR Group counted Memorial Resource as one of the lowest-risk plays in the oil patch, which it measures as those with the highest combined cash recycle ratios and the lowest financial leverage. Earlier this month it said Memorial Resource was among a group of companies with the highest capital yields over two years, outperforming the EPX, which tracks exploration and production stocks, by 20%.
Others on the list included Cabot Oil & Gas (COG) - Get Cabot Oil & Gas Corporation Report , Denbury Resources (DNR) - Get Denbury Resources Inc. Report , Energen (EGN) , EOG Resources (EOG) - Get EOG Resources, Inc. Report , Diamondback Energy (FANG) - Get Diamondback Energy, Inc. Report , Oasis Petroleum (OAS) - Get Oasis Petroleum Inc Report , Parsley Energy (PE) - Get Parsley Energy, Inc. Class A Report , Range Resources (RRC) - Get Range Resources Corporation Report , Rice Energy (RICE) - Get Rice Acquisition Corp. Class A Report , RSP Permian (RSPP) , Synergy Resources (SYRG) and Ultra Petroleum (UTL) - Get Unitil Corporation Report .
Memorial Resource is headed by CEO John Weinzierl, a 47-year-old petroleum engineer who previously worked at Conoco, Enron and private equity firm NGP Energy Capital Management 
NGP backed Memorial before it went public in June 2014 at $19 per share (an affiliate still owned almost 40% of the stock as of June 30). The company owns properties in northern Louisiana's Terryville field, which is thought to hold some of the best gas assets in North America and is close to the Mont Belvieu, Texas, storage hub.
The company expects to see at least 30% growth next year if its capital expenditures resemble this year's levels ($475 million to $525 million), all the while living within cash flow.

"We're in pretty good shape," Weinzierl said Wednesday at an Independent Petroleum Association of America luncheon. "We actively manage both sides of the balance sheet so we can take advantage of the situation."
While it's made 14 acquisitions worth $2 billion over its history, Memorial Resource is still looking for more properties to acquire. There's been chatter in the marketplace that it may be looking at properties in the same area from Linn Energy (LINE) , which has been suffering from low oil prices and a big debt load. Last week Linn suspended its dividend and that of its affiliate, LinnCo (LNC) - Get Lincoln National Corporation Report , and said it was continuing to evaluate opportunities to improve its balance sheet, including asset sales.
Memorial Resource has lots of opportunities for acquisitions and divestitures, including third parties like Linn, its sponsor NGP and its master limited partnership Memorial Production Partners (MEMP) , which owns more mature properties in California, Colorado, Louisiana, New Mexico, Texas and Wyoming.
Not everything is rosy, however. Memorial Production Partners, which Weinzierl also leads, cut its cash distribution by 45% to 30 cents per unit in early August due to commodity prices, which resulted in its stock price falling by a quarter to $7.51 (it closed Wednesday at $6.02). Will the MLP do it again? "We cut distributions to sustain them," Weinzierl said when asked at the industry luncheon. "But never say never."
While Memorial Resource's stock is also down, closing at $18.67 on Wednesday, down 34% from its 52-week high of $28.44, it's still a little expensive, with a price-to-earnings ratio of 18, versus the overall market average last week of 15.86. Observers also question how the company can continue operating with only $4 million in cash and $2.5 billion in debt. Weinzierl said the company tries to live and grow through internally generated cash flow and aggressively hedges its future production. It even bought back $50 million worth of stock in April.
Still, over the last several months seven insiders have sold 667,000 shares at between $19.31 and $20.20 per share. Several analysts have lowered their price target on the company's stock but still have a buy rating. More will be learned about how the company is faring on its third quarter earnings announcement, which is expected on Nov. 4.
Undeterred by the business climate, Weinzierl said at the luncheon that the company is ready to play offense.
"It's a great position to be in," he said. It will be interesting to see if the company can maintain it.