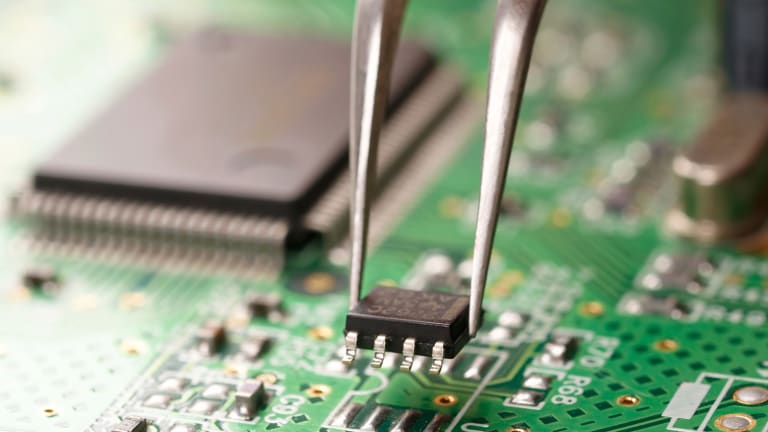 Publish date:
Mellanox Must Hike 2018 Targets or Face Activist Escalation, M&A
Should Smith move to install directors there is a good chance he will succeed -- and push for M&A.
Should Smith move to install directors there is a good chance he will succeed -- and push for M&A.
Activist investor Jeff Smith and his fund Starboard Value LP on Monday escalated their campaign at Mellanox Technologies Ltd (MLNX) - Get Report , urging the semiconductor company in a 26-page letter to raise its recently announced 2018 financial guidance - or else.
The activist didn't threaten to launch a boardroom battle at Mellanox if it didn't take action soon. However, Mellanox is at serious risk of becoming the target of a proxy war imminently - as soon as later this month - if it doesn't take some share-price improving action first.
Should Smith move to install directors, there is a good chance he will succeed -- and push for M&A.
Starboard is among the most prolific employers of director battles to drive share-price improvement change at targeted companies, and the fund has a history of pushing consolidation in the chipmaker space. The deadline for nominating dissident director candidates at Mellanox is Jan. 25.
In addition, Mellanox's entire board is up for election, so there is a possibility that Starboard could seek to take over all or a majority of the board to drive operating cuts and M&A.
Most activists don't seek to take over a majority of directors at target companies. But Starboard is different. In April 2016, as part of a deal with Starboard, another semiconductor company, Marvell Technology Group Ltd. (MRVL) - Get Report  agreed to reshuffle its boardroom, bringing five new directors onto what ultimately became a nine-person board. In 2014 the fund succeeded in taking over the entire board of Olive Garden owner Darden Restaurants Inc. (DRI) - Get Report .
In recent years, it also installed directors at Yahoo! (YHOO) , Office Depot Inc. (ODP) - Get Report  and Brink's Co. (BCO) - Get Report . The fund has launched 124 campaigns including 62 proxy contests since forming in 1999, according to FactSet.
Beyond Mellanox, Starboard has filed activist 13D filings on twelve companies in the semiconductor space. Some of these have sold for substantial premiums under pressure from Starboard, including TriQuint Semiconductor Inc., which was sold to RF Micro Devices Inc. in 2014 for $1.6 billion.
It is a serious possibility that Starboard could push for Mellanox to agree to sell itself down the road. The activist's track record and recent comments on Mellanox's lack of interest in M&A discussions with a rival chipmaker suggest as much. A person familiar with the situation noted that there were some strategic partners that could express an interest in Mellanox.
The fund in November revealed a 9.8% stake in Mellanox - it also disclosed its belief that the semiconductor company's shares were undervalued compared to peers. At the time it noted that Starboard principal, Peter Feld, is a director at Mellanox rival Marvell Technology "which has expressed an interested" in discussing a strategic transaction on a friendly basis. However, Feld noted at the time that Mellanox has declined to enter into such negotiations. In November, Marvell acquired Cavium Inc. in a $6 billion purchase, which will take some time to integrate.
And while a Marvell-Mellanox deal doesn't appear to be in the cards anytime soon, some analysts believe others could be interested. Analysts at Benchmark suggested in August that Mellanox was a "ripe acquisition target for many companies," including Intel Corp.  (INTC) - Get Report  Nvidia Corp. (NVDA) - Get Report  Microsemi Corp. (MSCC)  and Broadcom Ltd. (AVGO) - Get Report They added that even a server and storage company such as IBM Corp. (IBM) - Get Report could be interested.
Nevertheless, Starboard's immediate focus appears to be on driving operating improvements at the chipmaker. In the letter revealed Monday, Feld suggested that the company's underperformance, compared to the overall semiconductor industry, is puzzling and troubling. The activist argued that the company has spent too much on R&D and administrative expenses. Feld also argued that its targets, disclosed in December, are too modest.
In December, Mellanox said it was forecasting low to mid-teen percentage revenue growth this year. However, Starboard said it was concerned that the targets are reliant on revenue growth and not reduction in operating expenses. He also noted that Mellanox "lacks sufficient credibility to convince shareholders that it will hit even these modest targets."
On Jan. 2, Starboard reported hiking its stake from 9.8% to 10.7%.
Dealreporter said in December that Mellanox is using JPMorgan Chase & Co. for financial advice and may hire another adviser soon. The report added that it retained Latham & Watkins LLP to provide legal advice.
Bottom line: Mellanox needs to take action soon - or there is a good chance it will face a boardroom battle by Jan. 25 intended to drive M&A or operating cuts.