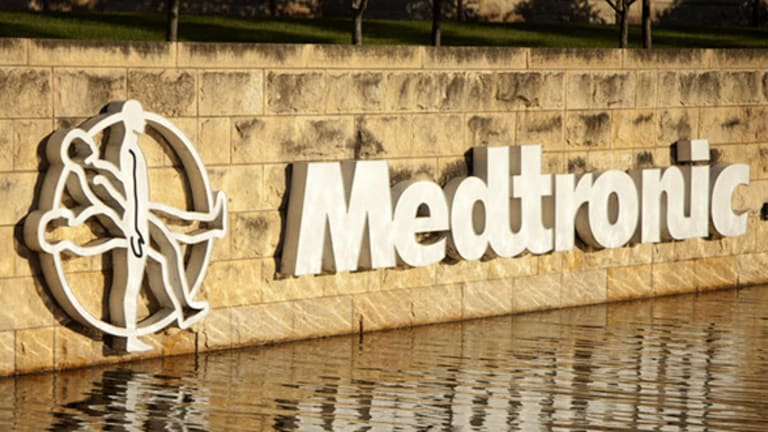 Publish date:
Medtronic Strikes Deals in Gynecology, Robotics
The medical device company is spending $350 million for the gynecology business of Smith & Nephew, and has agreed to invest in an Israeli spinal robotics company.
The medical device company is spending $350 million for the gynecology business of Smith & Nephew, and has agreed to invest in an Israeli spinal robotics company.
Dublin-headquartered Medtronic (MDT) - Get Medtronic Plc (MDT) Report announced Wednesday, May 18, that it has agreed to acquire Smith & Nephew (SNN) - Get Smith & Nephew PLC Sponsored ADR Report gynecology business for approximately $350 million as it looks to strengthen its minimally invasive surgical offerings. 
In a smaller transaction, Mazor Robotics (MZOR) - Get Mazor Robotics Ltd Sponsored ADR Report revealed it had entered into a commercial agreement with Medtronic. The latter has also agreed to make equity investments in the Israeli spinal robotic developer through potentially three tranches.       
The larger of the two deals announced Wednesday will complement Medtronic's existing gynecology business. The medical device company will gain access to Truclear, a medical technology that removes abnormal uterine tissue and serves as a less invasive treatment option than procedures including a hysterectomy. Truclear is currently available in the U.S. and parts of Europe. 
The gynecology business generated $56 million in revenue in 2015, which implies Medtronic paid about 6.3 times the asset's revenue last year. 
Medtronic said it expects the transaction to start adding to earnings after fiscal year 2017. 
The acquired business will become part of Medtronic's surgical solutions division within its minimally invasive technologies group. A majority of the current employee base at the purchased business is expected to remain on board. 
While the transaction slated to close this summer, Smith & Nephew said it will continue to manufacture the Truclear system during a transitional period. 
In connection with the Mazor agreements, Medtronic will take an initial stake in the latter via newly issued shares for $11.9 million. In a second phase the company will take an additional 6% stake of newly issued shares, subject to milestones. In a third potential tranche, Medtronic will acquire up to an additional 5% stake of newly issued shares. The second and third tranches, based on the average price over the prior 20 trading days and additional conditions, are capped at $20 million each. 
A co-promotion agreement between the two companies also has two phases. 
Needham & Co. analyst Mike Matson said the deal will help both companies, and is particularly attractive to the Israeli developer. 
"We think this deal is significantly positive for MZOR since it greatly expands its distribution, provides additional cash, provides new revenue streams and serves as an endorsement of MZOR's robotics platform," Matson wrote in a May 18 note. "And we think that this deal is also positive for MDT since it provides it with the type of differentiated technology that it sorely needs." 
Smith & Nephew, meanwhile, hinted in a separate Wednesday statement that the divested gynecology business--which accounts for just over a 1% of total revenue--drew strong buyer interest. 
"The quality of the gynaecology business was reflected by the strong interest from potential buyers, allowing us to obtain an attractive valuation," Oliver Bohuon, CEO of Smith & Nephew, said in the May 18 press release. 
Proceeds from the sale will be returned to shareholders via a $300 million share buyback program that will get underway following completion of the deal in July, Smith & Nephew said. 
The deal will be neutral to Smith & Nephew's earnings in 2017, reducing its bottom line by less than 1 cent in 2016.