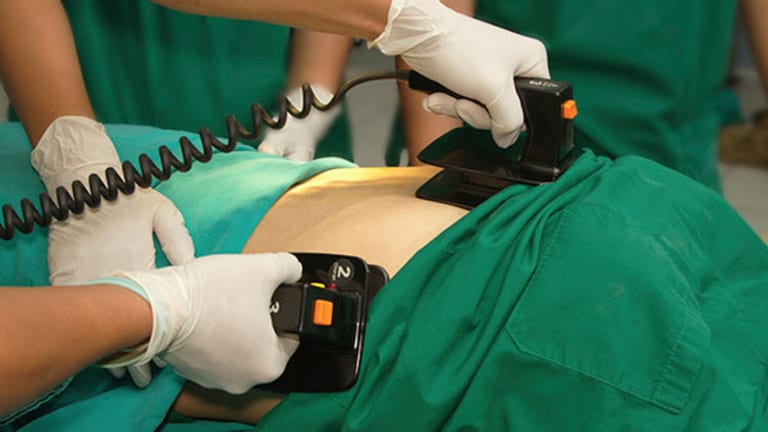 Medtronic Acquires HeartWare With Some Activist Inspiration
Engaged Capital agitated against the cardiac medical device maker's buy of an Israeli company and pushed for a new board member that once led the acquirer's M&A efforts.
In a deal that was seemingly engineered by Engaged Capital's Glenn Welling, Medtronic (MDT) - Get Medtronic plc. Report  will spend about $1.1 billion for cardiac medical device maker HeartWareInternational (HTWR) about six months after the latter nixed a transaction disliked by its shareholders. 
Dublin-based Medtronic said Monday it will commence a tender offer for all outstanding shares of HeartWare common stock for $58 a share in cash, equating to an approximately 93.5% premium over the $29.98 that shares of the target finished at on Friday, June 24. 
Shares of Framingham, Mass.-based HeartWare soared about 91.9% to $57.54 during Monday morning's trading session. Medtronic shares retreated about 2.2% to $81.47. 
"Medtronic, with HeartWare in place, will be a much more formidable competitor in the long run to the Thoratec franchise of Abbott," said Bruce Nudell of SunTrust by phone on Monday. 
The Deal reported in July 2015 that HeartWare was likely to emerge as an attractive takeout candidate after its rival in the ventricular assist device, or VAD market, Thoratec, agreed to be taken out by St.JudeMedical (STJ) for about $3.4 billion. In April, Abbott (ABT) - Get Abbott Laboratories Report agreed to fork out $30.7 billion including debt for St. Jude. 
"Medtronic needed to be in the hands of a bigger company," Nudell went on, noting that the market served by HeartWare and Thoratec remains largely underserved. He added that Marlborough, Mass.-based BostonScientific (BSX) - Get Boston Scientific Corporation Report would have been the only other logical suitor for HeartWare, noting that the medical device company may have passed on the deal given that it has less financial flexibility than Medtronic. 
The deal for HeartWare was, in large part, engineered by Welling, who launched a proxy contest to elect dissident directors and successfully agitated last year to block the cardiac medical device maker's pending $860 million acquisition of Israel's ValtechCardio.
"The Valtech property is probably valuable, but nobody really wanted HeartWare to go that far off field," Nudell said. "The truth is, the natural fit of this company was to be consumed by Medtronic, Boston or St. Jude."
When HeartWare called off the deal, it also simultaneously reached an agreement with Engaged to jointly select an independent director. The two sides in March agreed on Chadwick Cornell, a former vice president in charge of M&A activity at Medtronic.
Welling and Engaged are still significant shareholders in HeartWare. The fund reported in January in a letter to HeartWare that it owned a 1.3% stake in the company. According to a person familiar with the situation, the stake was accumulated at prices significantly below the $58 a share sale price.
In addition to Engaged, newbie activist fund HudsonExecutiveCapital reported in January that it owned a 5% stake in HeartWare. It accumulated its stake between November and January at prices ranging from $26.77 and $48.12 a share and hiked it to 6% in May.
Engaged's victory in January not only sent a message to HeartWare's board that its shareholders weren't interested in acquisitions, but also that they'd prefer to see the company sold.
In April, the Deal cited an investor familiar with the situation as saying that Cornell's installation on the board suggested that HeartWare could be sold--possibly to Medtronic--within 12 months to 24 months after his installation on the board.
"It is very clear that the future of this company is a sale to large buyer," said the investor. "As matter of fact, the future of this company is a sale to Medtronic."
Instead of a timetable of up to two years for a deal was struck, it took only three months or so.
"Both Engaged and Hudson saw the intrinsic value in HeartWare and they were right," Nudell noted. 
For Medtronic, Monday's transaction will complete the company's heart failure line, company spokesman Chris Garland said by phone. 
HeartWare will be much better positioned given that Medtronic brings to the table its tremendous regulatory expertise, as well as existing remote patient monitoring technology that can be leveraged, Nudell said.  
It has been a busy year for Medtronic on the M&A front, which, besides the HeartWare buy, announced two deals in May alone. The company acquired Smith & Nephew's  undefined  gynecology business for about $350 million in a move to strengthen its minimally invasive surgical offeringsj, as well as a commercial agreement to make equity investments in Israeli spinal robotic developer, MazorRobotics (MZOR) - Get Mazor Robotics Ltd Sponsored ADR Report .
TheStreet's Jim Cramer described HeartWare as  "smart deal" for Medtronic following its $49.9 billion acquisition of Dublin-based Covidien last year, which represented the largest tax inversion deal ever. 
"You have a situation where the company has money overseas [and] they can do some buying," Cramer said. "They have a much more advantageous relationship than other companies in the medical instrument business because they bought Covidien and that allowed them to invert." 
As in the case of HeartWare, Medtronic is poised to continue buying innovative technologies that positions it better to commercialize products, said Nudell, who compared Medtronic's M&A strategy to that of Johnson&Johnson (JNJ) - Get Johnson & Johnson Report , which is known for its recognition of valuable outside pharmaceutical assets that it helps facilitate through trials and bring to market faster after buying them. 
The transaction has been approved by the boards of both companies, with an anticipated completion date during the acquirer's second fiscal quarter ended Oct. 28. 
J.P.MorganSecurities served as financial adviser to Medtronic on the transaction, while Ropes&Gray provided legal counsel. The Ropes & Gray team included Christopher Comeau and Paul Kinsella. 
Medtronic received in-house advice from its vice president, chief mergers and acquisitions, Matthew Nicolella, as well as vice president, corporate development, Chris Cleary. 
HeartWare received financial advice from PerellaWeinberg's Philippe McAuliffe and legal counsel from Shearman&Sterling's Clare O'Brien and Robert Katz. 
General counsel Larry Knopf and Mark Fennel provided in-house advice to HeartWare. 
While Cornell provided linkages to HeartWare from Medtronic, HeartWare also has ties to Boston Scientific. 
HeartWare CEO Doug Godshall and Knopf previously worked at Boston Scientific, which Shearman's O'Brien helped represent on its $27 billion purchase of Guidant  in 2006 and has subsequently advised on at least three other transactions.
Shearman's Katz, meanwhile, represented HeartWare on its purchases of Circulite for $30 million and World Heart Inc. for $8 million. The law firm's O'Brien also worked on the World Heart deal.
Perella Weinberg provided financial advice to HeartWare on the Circulite deal and on its bid for CaltechCardio last year, which was withdrawn.
Officials with Engaged and Hudson declined to comment on Monday. 
This article originally appeared in The Deal, a sister publication of TheStreet.com focused on deals and dealmakers. For more information about The Deal click here.