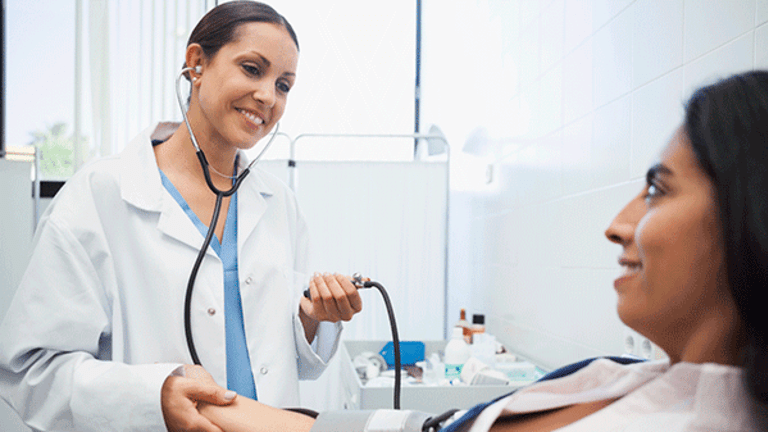 Mednax Remains Unlikely Target as Medical Mergers Gain Steam
The physician-run company is more likely to buy than be bought.
Despite Blackstone Group's  (BX) - Get Blackstone Inc. Report purchase of TeamHealth Holdings (TMH) and the pending merger-of-equals transaction between AmSurg (AMSG) and Envision Healthcare Holdings (EVHC) , the fourth major physician services firm continues to look like an unlikely seller in the near term. 
Mednax (MD) - Get MEDNAX, Inc. Report , of Sunrise, Fla., differs from its peers in some ways, including corporate culture, and also has been vocal about its own M&A efforts continuing to fuel growth. With new rules associated with MACRA, or the Medicare Access and CHIP Act, around the corner, the company is also positioned to benefit from what is expected to create growing number of smaller-sized acquisition opportunities, industry pundits say. 
Still, if industry dynamics change as a result of recent consolidation, the likelihood of a sizable deal for Mednax may improve.  
On Monday, TeamHealth, which contracts with physician groups and hospitals in emergency medicine and anesthesia, agreed to be taken private by its previous owner, Blackstone, for an enterprise value of about $6.1 billion. The TeamHealth deal came after AmSurg and Envision in June announced an all-stock deal to create a physician services company with an enterprise value of about $15 billion. AmSurg, meanwhile, had previously abandoned its own brief pursuit of TeamHealth in November.
On the sidelines has been Mednax, which through its subsidiaries offers outsourced physician services across the neonatal, anesthesia and maternal-fetal areas. With a current market cap of about $5.7 billion, the company is more than a two billion dollars larger in size than TeamHealth, which for one thing would imply a much higher takeout price. 
Perhaps more important, Mednax is a physician-founded and -run company, unlike its three peers, which are all led by business-minded managers, explained Stifel Nicolaus' Chad Vanacore. Mednax has been led by CEO Dr. Roger J. Medel, who co-founded the company in 1979. Doctors are simply less willing to take a back seat at their companies.
"Selling to private equity is probably not in their DNA," Vanacore said by phone. "When you think about takeout candidates you can talk about willingness to be taken out and ability to be taken out."
At the same time, there's no strategic rationale or strategic pressure in the immediate term to necessarily do a transformative deal, added Brian Tanquilut of Jefferies. 
"They look at their business and feel like they can do a lot on their own," Jefferies Brian Tanquilut added.
While Mednax' own acquisition efforts have been a bit slower than anticipated this year so far, the company is expected to remain a prolific buyer and is already viewed as the most active buyer in the anesthesia services market, followed by Amsurg's Sheridan. Mednax has made 12 practice acquisitions year to date, in addition to some non-medical practice deals.
Both analysts pointed to the pending impact of MACRA, whose new rules offer incentives to transition to alternative payment models that increase administrative burdens on physician groups. The new legislation is expected to be phased into effect beginning in January and drive consolidation among smaller physician practice players. 
"It's very clear to us that the much smaller guys are thinking about selling as a consideration and the bigger guys are thinking 'this is our shot at doing more deals,'" Tanquilut said. 
That leaves Mednax in a good position to act. While AmSurg-Envision structured their deal in all stock to make sure there was enough room on their balance sheet to go after bigger deals going forward, TeamHealth will become more levered as a private company. 
Also, Mednax recently entered the radiology physician services space, spending $500 million in May 2015 for Virtual Radiologic Corp. While the "vRad" deal has faced some headwinds this year so far related to increased recruiting costs, company executives have remained vocal about radiology representing another opportunity for expansion via practice acquisitions.
Mednax has also made bets on revenue cycle management (RCM), shelling out $400 million to win the auction for Serent Capital's Cardon Outreach in June. Mednax bought Cardon via its RCM subsidiary MedData, which it bought in August 2014 for $65 million.
At the same time, its possible Mednax may eventually be more opt to pursue a transformative deal in emergency medicine should we see further movement toward bundled payment programs involving anesthesia, one of its current areas of concentration, explained Tanquilut. 
Envision has in the past proven to the industry it can change the way contracting is done, having essentially influenced a new payment philosophy across the industry through its own successful bundled payment program that combined hospitalist and emergency room services. 
In other words, the combined AmSurg-Envision company -- which will be called Envision Healthcare Corp. -- opens up a new possibility to cross-sell AmSurg's anesthesiologists, radiologists and neonatologies to Envision's existing network of hospital contracts.
EDITOR'S NOTE: This article was originally published by The Deal, a sister publication of TheStreet that offers sophisticated insight and analysis on all types of deals, from inception to integration. Click here for a free trial.