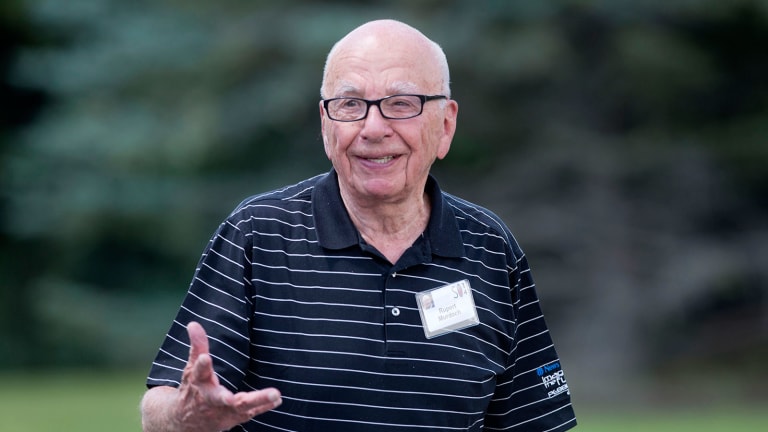 Picking Apart Media's Big Thursday Starring Fox, Time Inc. and the FCC
As media companies surrender to the truth of the Google/Facebook duopoly and face the Netflix era in global entertainment, bigger is not only better -- it may be the only way forward.
It was a day to remember. Media consolidation finally saw its big day in the news, Thursday, Nov. 16, as so many long-running storylines began to reach their climaxes.
Fueled by the Koch brothers' half-billion dollars or more, Midwest stalwart Meredith Corp. (MDP) looks like it finally has the cash to merge its "women's marketing" business with ever-transitioning Time Inc. (TIME) .
The lid flew off Twenty-First Century Fox Inc. (FOXA) , as bidders began picking apart its long-held assets.
Ziff Davis LLC reportedly pulled Mashable Inc. out of its endless first sale, snapping up the tech blog gone first wild, and then mild, for a mere $50 million.
And as expected, amid the threat of a Federal Communications Commission inspector general inquiry, FCC Chairman Ajit Pai hit the gas on the deregulation throttle, opening the potential floodgates to local broadcast and newspaper consolidation.
Consider it a big day -- but just the beginning of what could be a major turning point in the consolidation of entertainment and news media. The theme common to all the action, whether digital-only or long-standing studio: Get bigger or get out.
Even as Wall Street-listed companies report record profits, making most look like geniuses at the moment, the deeper, and darker, changes afoot in the national-rapidly-becoming-global media markets tell a different story.
The squeeze is on, with content production and distribution costs ever tighter and more competitive than ever. In the entertainment world, it's the Netflix Inc. (NFLX) phenomenon of a digital-only high-flyer upending much of the conventional wisdom about how entertainment gets funded, made, priced and distributed. In the digital business world generally, it's the Google/Facebook duopoly -- a domination that has sunken deeply into the consciousnesses of those who must compete against it and/or run off its distribution power -- that causes generational trepidation.
Today's media business requires -- more than ever -- scale to succeed. One digital era is over when someone with a great, little idea, a Pete Cashmore, who combined the infant worlds of blogging and tech news interest, can see multiplying gains into the horizon.
Today, Cashmore's Mashable must compete with Vox Media Inc., BuzzFeed Inc. and Business Insider Inc., among many, and has simply been left behind. After valuing itself at more than $250 million recently, Ziff Davis reportedly offered a fifth of that mark and will add Mashable's assets to its portfolio of PC Magazine, AskMen.com, Geek.com and ExtremeTech, among others. Scale in operations overall and in targeted ad sales makes the addition worthwhile for Vivek Shah, the former Ziff Davis CEO who was named CEO of parent J2 Global Inc. (JCOM) in September.
It's not just digital startups that hear this changed music.
Fox seemed like a behemoth to many of us, but that's because of Rupert Murdoch's outsized presence and the fact that he still runs the largest news company in the world. His Fox may excel in cable news and sports, but on some bases rings in smallish in TV and film production against the still-bigger producers out there. Time and Meredith both claim status among magazines' Big Four, but both public companies struggle for growth and for digital profit transition. Meredith -- with a stronger core business strategy, that of being a "women's marketing company" -- today is the stronger and more disciplined of the two. Yet it believes it needs greater scale -- think of all the additional female uniques it gains -- to compete for those marketing dollars.
Why, and why now? We can point to many reasons, but there's one singular one driving almost everyone: The digital advertising duopoly of Alphabet Inc.'s Google (GOOGL) and Facebook Inc. (FB) -- they take about 90% of all the digital ad dollar growth in 2017 -- drives everyone else in media to run tighter ships.
It's not just Mashable that's feeling the duopoly's heat. The Wall Street Journal on Thursday reported that BuzzFeed, with a digital audience at least five times bigger than Mashable's, would miss its revenue target for 2017 by 15% to 20%, or "roughly $50 million to $70 million." At Vice Media Inc., which like BuzzFeed has been connected to a potential initial public offering, similar issues afflict the high-flyer.
Legacy media outlets -- both broadcast and print -- face a double whammy. Their nondigital revenue, largely in TV and newsprint-based advertising, are at best flat and at worst 15% to 20% down this year. Then, as they transition their businesses to digital, that duopoly leaves them -- as well as the BuzzFeeds, Vices and Mashables -- scrambling for the relative crumbs Google and Facebook leave.
So, that FCC decision makes financial sense to those wanting to consolidate. That's why two big industry trade groups -- the National Association of Broadcasters and the newspaper-led News Media Alliance -- lobbied hard for Pai's cross-ownership change, voted in Thursday. That allows the combination of TV and newspaper ownership and operations. While Pai has justified the change citing the wide-open digital communications era, the truth is simpler. Both newspaper companies and TV companies became more valuable Thursday, given their greater salability and ability to be combined to save costs. Cost savings is the first haven for those competing with the power of that Google/Facebook duopoly.
Owners -- of both regional TV operations and of newspapers -- want more scale. They think it's an essential in surviving, and prospering, into the 2020s.
To underline this trend, consider that this year will be the first full year that digital advertising has become the largest ad type in the country -- surpassing the combination of broadcast and cable TV.
And what about the Murdochs' Fox? Both Comcast Corp. (CMCSA) and Verizon Communications Inc. (VZ) have joined Walt Disney Co. (DIS) in evaluating Fox's "Twentieth Century Fox studio, some U.S. cable networks and the international business," the Journal said. Here, too, we see two words come into play: scale and subscale. Even Fox with its large businesses looks like it is deciding it should either get bigger or sell; it also would be selling the businesses producing the minority of its free cash flow.
Consider Netflix, followed by an onrushing Amazon.com Inc. (AMZN) , which pulled the pin on this activity. With competition ever tighter and margins more easily squeezed, it's the scale of both production and distribution assets now required of global-distributing entertainment companies that drives this consolidation. Pricing -- at every level -- is up in the air, and it is the pipes companies, with mature but major cash flow, that are chief consolidators of the big of the day.
And Rupert? At 86, he may be selling off one golden goose to buy another. He was born a newsman, and he will likely die as one. One thing his company isn't putting on the bargaining table: Fox News or its regional sports stations. Rupert, as usual, may find himself in all the news of the day, from selling Fox entertainment assets to getting in on the possible land-rush consolidation in local media, a move that regulations -- which he's long fought -- had stymied, until Thursday.
Alphabet, Facebook and Comcast are holdings in Jim Cramer's Action Alerts PLUS Charitable Trust Portfolio. Want to be alerted before Cramer and the AAP team buy or sell GOOGL, FB and CMCSA? Learn more now.
More of What's Trending on TheStreet: