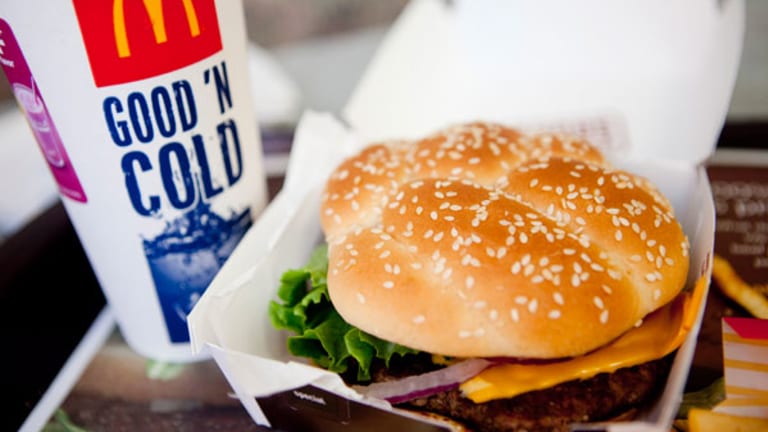 McDonald's Rumor Resonates With JPMorgan Report on Trapped Value
John Ivankoe, a restaurants analyst at JPMorgan said he increasingly believes 'substantive structural change at McDonald's may originate from outside,' rather than within the company.
NEW YORK (TheStreet) -- Given the rumors that are out there Monday regarding an activist investor's involvement in McDonald's (MCD) stock, it's worth it to revisit JPMorgan's Sept. 23 note discussing that very prospect after meeting with the company's top brass and a small group of investors.
The rumor of an activist was floated on Twitter after heavy buying activity in McDonald's stock in a series of trades on Monday afternoon. No specific activist names are being tied to the restaurant chain in the public discussion.
JPMorgan analysts said in a note on Sept. 23 McDonald's could hold between 10%-to-20% upside in the event an outside investor challenges the restaurant chain to increase its leverage, sell real estate and focus on franchised stores. However, without the help of an activist investor, JPMorgan calls their analysis "academic" given a hesitant tone from McDonald's management on structural change.
In the note, John Ivankoe, a restaurants analyst at JPMorgan, said he increasingly believes "substantive structural change at McDonald's may originate from outside, as to within, the company."
The analyst believes McDonald's can take on additional debt to increase its earnings per share without sacrificing the company's investment grade debt rating. McDonald's currently carries just over $15 billion in total debt, and it is forecast to earn $10 billion in earnings before interest, taxes, depreciation and amortization (EBITDA) in calendar 2014.
Ivankoe also believes McDonald's can sell some of its owned stores and increase its reliance on franchise-based stores. McDonald's reported 6,689 company-owned locations and 28,994 franchised locations, as of the second quarter, according to data compiled by Bloomberg. Owned stores within McDonald's have fallen for two successive quarters, the data show.
JPMorgan's analysis is based on a private Sept. 22 meeting between the firm's restaurant analysts, a handful of investors and McDonald's executives including CEO Don Thompson, where the company exhibited little inclination to consider organizational change or a different operational and capital structure.
"The key takeaway is that investors should expect no changes to management structure (despite high G&A per store) or balance sheet (despite low on balance sheet leverage and very low debt/land value or debt/FCF) unless the MCD system -- as opposed to shareholders -- see specific benefit. Our continued Overweight rating remains a frustrating one," the JPMorgan analysts concluded, noting they see no material upside to McDonalds stock.
JPMorgan rates McDonald's "overweight" with a $102 price target.
However, were McDonald's to begin accepting change, possibly with the urging of an outsider like an activist shareholder, JPMorgan believes the company could have significant upside.
Perhaps that change is coming quicker than expected.
On Monday afternoon, McDonald's rose on rumors that an activist investor may be buying shares in the burger chain. McDonald's shares rose over 1.5% in Monday trading, closing at $96.28. Excluding dividends, shares in the company have fallen less than 1% year-to-date.
Emails left with Ivankoe, the JPMorgan analyst, and McDonald's weren't immediately returned.
-- Written by Antoine Gara in New York