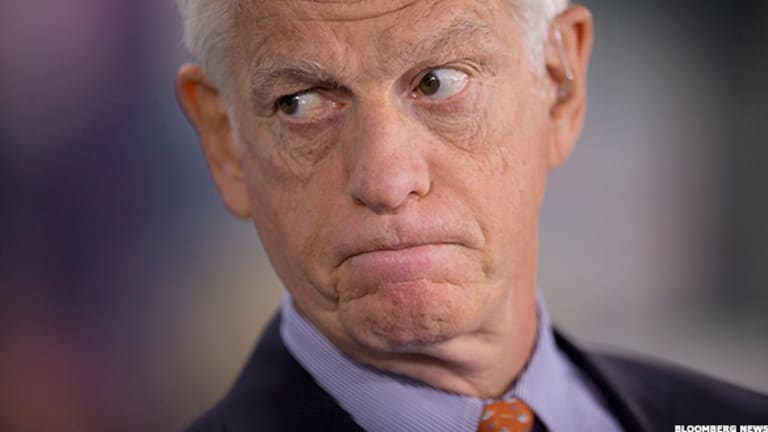 Mario Gabelli's Push at National Fuel Gas Shows How Proxy Rules Fall Short
Mario Gabelli's failure to nominate a candidate to National Fuel's board is a source of concern for shareholders counting on 'proxy access' to be a cost-effective way to influence boards.
Editors' note: This article was originally published by The Deal, a sister publication of TheStreet that offers sophisticated insight and analysis on all types of deals, from inception to integration. Click here for a free trial.
For over a decade, shareholder groups, led by public pension funds, have pressed corporations and regulators to set up "proxy access," a low cost system that allows investor groups to nominate dissident director candidates in an inexpensive manner on a company's proxy card.
In recent years, a growing number of corporations faced with shareholder insurgencies have set up proxy access mechanisms in their bylaws. However, until last month, no investor has ever tried to employ a proxy access mechanism to nominate directors.
Putting himself in the record books as the first to try to use the system, activist investor Mario Gabelli and his GAMCO (GBL) earlier this month nominated a candidate for the board of National Fuel Gas (NFG) using a proxy access mechanism set up by the company. However, the campaign's results -- a setback for Gabelli -- suggest that a wide variety of shareholders may have trouble employing the new system for which they had such high hopes.
In fact the results suggest that institutional investors -- who  have pushed for years to nominate director candidates on company proxy cards cheaply -- may be facing a major setback in their efforts to influence corporate boards. In the end, director-election campaigns likely will remain expensive undertakings out of reach for all but the billionaire hedge fund managers with the capital to fund their own contests, proxy cards and distributions.
National Fuel, the Williamsville, N.Y.-based energy company with $6.2 billion in assets, this year set up a system allowing a shareholder or investor group that had held a 3% stake for at for three years to nominate one or two director candidates.
The mechanism is similar to one set up at dozens of other public companies around the U.S. However, on Nov. 28, Gabelli withdrew his candidate and cancelled efforts to employ proxy access at National Fuel Gas after the company rejected the nomination. NFG concluded that Gabelli did not satisfy the energy company's "passive investment" requirement. In its bylaws, NFG required the investor or investor group to have acquired its shares in NFG "in the ordinary course of business and not with the intent to change or influence control of [NFG]."
NFG argues that Gabelli possessed an intent to change or influence control of the energy company based on its past conduct and current actions. As a result it couldn't have qualified for the passive investment requirements for using the access regime. NFG pointed to the fund's move to report share ownership on an activist schedule 13D filing rather than a passive 13G report and it noted that Gabelli had previously been urging the company to hire an investment bank to help drive a spinoff of its natural gas utility business. In 2014, for example, GAMCO submitted a shareholder proposal asking investors to vote to request the NFG board to act "expeditiously" to engage an investment bank to "effectuate" a spin-off of its utility segment. 
The leading legal adviser to companies targeted by activists, Wachtell, Lipton, Rosen & Katz, said in a memo that the result at NFG suggests that corporations should not take investor eligibility assertions made by investors seeking to use the mechanism at face value. In other words, companies should challenge investors they believe aren't passive owners. In a memo, Wachtell said that the outcome underscores the importance of designing a thoughtful proxy access bylaw with appropriate, carefully tailored eligibility requirements.
However, Eleazer Klein, partner at Schulte, Roth and Zabel in New York, said the National Fuel Gas result supports the belief that proxy access is mostly window dressing and isn't intended to give dissatisfied shareholders more say in the boardroom.
Billionaire activist hedge funds, traditionally, haven't been the target audience for proxy access, in part because investor groups can only typically employ the tactic if they have held large stakes for three or more years -- and many hedge funds in the Carl Icahn or Paul Singer mold won't be found holding stakes for such long periods prior to launching campaigns.
Nevertheless, Gabelli's effort puts a spotlight on the fact that some activist funds in fact do hold shares sometimes for long period of time and may in fact have been seeking to employ the tactic as an alternative to the more expensive traditional proxy contest. Now that hedge fund strategy, if it ever really was a serious consideration, appears to have hit a brick wall.
And activist fund managers like Gabelli may not be the only ones to have trouble with their access efforts in the coming years. Klein contends that other corporations with bylaws following the National Fuel Gas example would likely block institutional investors who band together to employ the mechanism if they don't meet the corporate world's broad definition of "passive" investor. Institutional investors, including public pension funds, have always been considered the real intended users of access. 
"The company can set up proxy access to make it look like they care about shareholders," Klein said. "But then they'll put up a barrier if the shareholders do something they don't like. The kind of investors who seek to install director nominees using proxy access likely won't qualify for many target companies' passive investor requirements for nomination. And if they are really passive they won't want to use proxy access."
Klein added that one positive from a shareholder point of view -- or negative from a corporate viewpoint -- of the Gabelli-National Fuel Gas situation is that it puts a spotlight on how the mechanism really doesn't work, which could drive investors to shift their focus from access to other strategies. "Now corporations and proponents of proxy access have an example of when it was used and maybe backers of the approach may seek to focus their energy elsewhere," he said.
Nevertheless, corporate advisers and at least one leading proponent of proxy access, investor gadfly James McRitchie, argue that the result doesn't suggest to them that proxy access is dead quite yet. In its memo, Wachtell said that it expects proxy access to be "used appropriately by qualified shareholders seeking to add directors to company boards."
McRitchie points out that the mechanism wasn't really intended to be employed by activist hedge fund managers like Gabelli but rather by more passive institutional investors that he expects will form groups to nominate director candidates. "I think we'll still see pension funds and other investors use proxy access in the future," McRitchie said.
McRitchie said that he expects that institutional investors forming groups to employ access wouldn't violate corporate passive investor provisions if they don't report their stakes with the Securities and Exchange Commission on activist 13D filings and if they aren't agitating for control, mergers or sale of the company.
"They [investors using proxy access] can still raise concerns about the company, I believe, and qualify to nominate director candidates at companies that have set up proxy access," McRitchie said.
Nevertheless, corporations, activists and shareholders will be watching carefully to see what will become of the first effort by a group of institutional investors to employ the mechanism. A successful move by their targeted company to reject the effort -- even if no activist hedge fund is involved -- will likely drive shareholder groups to put new pressure on the SEC to provide guidance to back their interpretation of how the mechanism should work.
But don't expect a Trump Administration SEC to take any action to help shareholder groups seeking to employ access. Republicans at the agency have opposed proxy access for a long time and expect that they will continue to seek to block efforts to employ it in the months to come.