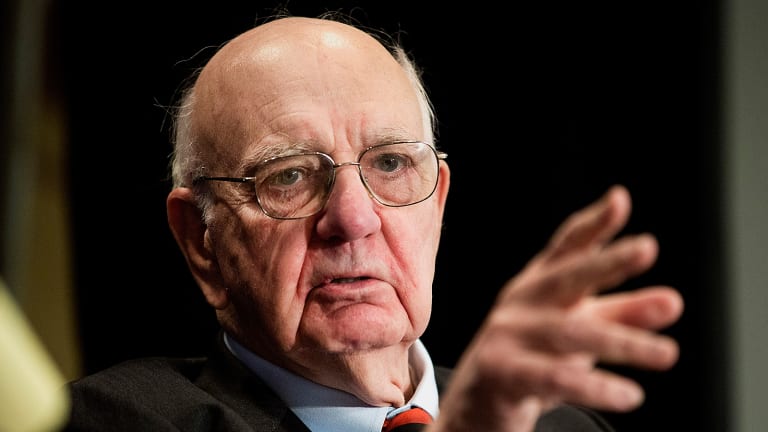 Many States' Budgets Designed to Hide Their Problems, Warns Volcker
New Jersey's financial blunders and trickery have damaged its ability to pay for the services its citizens require, and the Garden State is far from alone in its budgetary troubles.
NEW YORK (The Deal) -- The state of New Jersey's financial blunders, heralded by an avalanche of nine credit rating downgrades since 2010, have called into question its ability to support its troubled municipalities such as Atlantic City, and New Jersey is far from alone in its budgetary troubles.
Former FederalReserve Chairman Paul Volcker expressed deep concern about states' tendencies to budget "so as to disguise the nature of the problem" and hide the fact that many states have "deep-seated problems that they're not owning up to" at a state finance discussion Monday hosted by the Volcker Alliance, the nonprofit he founded in 2013.
Richard Ravitch, a former lieutenant governor of New York, warned at the symposium that that these state budgeting trends will cause more municipal distress going forward, because "fiscal stress rolls downhill."
Ravitch noted that more and more municipalities are looking, "if they're entitled, to take advantage of their protections under the federal bankruptcy law."
One problem is that states are increasingly passing on costs to municipalities such as counties and cities. William Glasgall, a former managing editor at Bloomberg News who joined the Volcker Alliance last year, explained, "As state financing costs contract, states are pushing a lot of costs down onto cities and counties."
At the same time, many states leave little financial flexibility in their budgets, which limits their ability to help their troubled municipalities. Glasgall named Scranton, Pa., and Atlantic City as examples of distressed municipalities.
On Monday, the Volcker Alliance released a report focusing on three states' budgeting practices, highlighting the good, the improving, and the ugly: Virginia, California, and New Jersey, respectively. When it comes to budgeting, many states suffer from an "addiction to one-shots and gimmicks," Glasgall griped.
Virginia's budget, on the other hand, tends to be "conservatively managed, with a lowercase 'c'," he explained. The Volcker Alliance noted that only eight states maintain the highest credit rating from all three major ratings agencies, and Virginia is on that elite list.
Virginia is forward-looking in its budgeting, legally requiring six-year forecasts based on a consensus from multiple agencies. Budget and finance officials often stay in office as governors come and go, which tends to limit governors' influence on the budgeting process, the report said.
Virginia also puts statutory limits on its borrowing, which constrains its ability to utilize debt-backed gambits.
Still, even Virginia is struggling in the aftermath of the credit crisis. The Volcker Alliance's report noted that Virginia has fallen short of its revenue goals ever since the recession, and resorted in 2014-2016 to taking money out of its rainy day fund to fill a budget gap.
Slow reactions to federal spending cuts related to budget sequestration have hit Virginia's defense-heavy economy hard, and the resulting state revenue declines "threaten to drain much of Virginia's rainy day fund," the report warned.
If that sounds bad, New Jersey is in even worse shape. The Volcker Alliance report includes a long list of the Garden State's fiscal sins.
New Jersey may prohibit using bond financing to fill out its budget, but the state has turned to other forms of borrowing to balance its budget.
The state has also relied on fund transfers and asset sales to support its general fund, which has dropped from $804 million at the start of fiscal 2011 to about $300 million at the end of fiscal 2014, the National Association of State Budget Officers reports.
For example, New Jersey has siphoned funds from its Clean Energy Program, which is supposed to support energy efficiency, and from the New Jersey Turnpike Authority, toward the general fund.
One-time budget gimmicks are commonplace as well.
The state outsourced its lottery management on a 15-year basis in fiscal 2013 and got a $120 million "accelerated" payment for its troubles in fiscal 2013; similarly, it sold revenues it was owed under a tobacco settlement agreement, forgoing an estimated $400 million in payments due between fiscal 2017 and fiscal 2023 for an immediate payment of $92 million, the report noted.
Meanwhile, New Jersey's pension contributions fall far short of the norm. In fiscal 2013 it contributed only 28% of its annual pension funding; most states contribute more than 90%, the report said.
New Jersey's recent pension reform efforts have been structured to shift costs away from the state and toward localities, Glasgall commented at the symposium
New Jersey has the country's highest per-capita property tax collections and the second-largest overall tax burden, making tax increases an unpalatable way to address budget shortfalls, according to the report.
The latest downgrade from Moody's came on April 16, knocking New Jersey's general obligation bond rating to A2 from A1.
New Jersey is the second-lowest rated state in the nation; only Illinois, with its A3 general obligation rating, is ranked lower.
Glasgall pointed to New Jersey, Illinois, and the Commonwealth of Puerto Rico as evidence of the "consequences of making promises that you can't afford to pay [for] and passing budgets that are balanced, but balanced in name only."
Both New Jersey and Illinois have come under fire from the Securities and Exchange Commission for failing to make adequate disclosures to their debt investors about their pension underfunding problems.
California's budget practices fall somewhere between Virginia's and New Jersey's. The Volcker Alliance said California has been serious about budget reform and made significant improvements, although it's unclear whether those efforts will be enough to protect it when the next financial crisis hits.
Glasgall noted that California was on the brink as recently as 2009. That year, the Golden State failed to produce a budget because there simply wasn't enough money in the checkbook, and it was reduced to handing out IOUs to cover the shortfall. States are not eligible for bankruptcy under the federal bankruptcy code, so California's options were limited.
Overhangs still loom, such as $94.5 billion in tax-supported bond debt, $195 billion in unfunded pension and retiree benefit obligations, and a $64.6 billion shortfall in deferred infrastructure maintenance, the report noted.
Nonetheless, California has come a long way since it was tied for last, with Illinois, in the credit rating game.
Positive reforms include lowering the legislative threshold for budget approval, tax increases, and measures to stabilize the state's rainy day fund, the report said.
At the end of the day, these budget problems threaten states' abilities to provide core services. "All around this country there is a vast disinvestment going on in education and in the public infrastructure," Ravitch lamented.
John Nixon, the former state budget director of Michigan, told the story of leaving Utah's government, which he says is very well managed fiscally, for the Great Lake State. Due to historical underfunding, Michigan is now funding two sets of government workers: current employees and retirees, Nixon said, adding that post-employment benefits and pension costs are "strangling" budgets.
"Our children shouldn't have to live with this," Nixon said, adding that these problems extend from state governments to local governments and school districts. "Every government is facing it," he concluded.