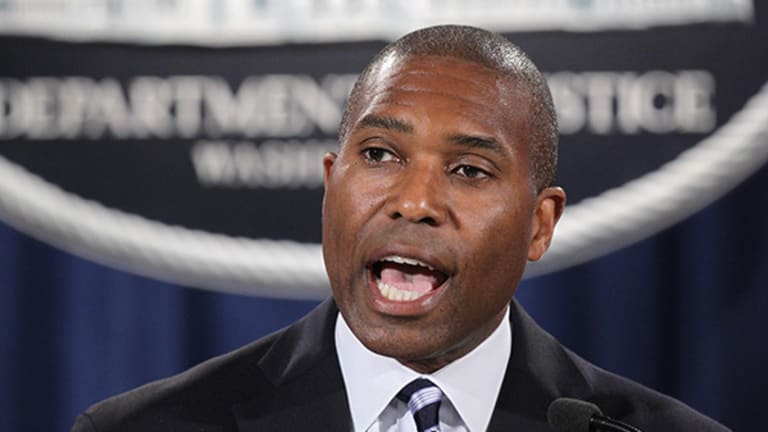 Many Bank Mortgage Cases Remain as Prosecutor Looks to Get Rich
Tony West leaves the Justice Department with mortgage fraud investigations of at least 10 more companies including Goldman Sachs and Morgan Stanley still pending.

NEW YORK (TheStreet) -- Bank of America's (BAC) - Get Bank of America Corp Report $16.65 billion mortgage settlement is done, so it's time for Tony West, the architect of that deal, to get rich.
Never mind that at least 11 similar mortgage fraud investigations are still open. Though the $16.65 billion fine being paid by Bank of America includes only $9.65 billion in cash, it will undoubtedly be the largest. So why should West, the Associate Attorney General and the U.S. Department of Justice's (DOJ) third-ranking official, bother finishing the job in relative obscurity when a private sector payday awaits?
West will step down effective Sept. 15, according to a statement posted Wednesday on the DOJ website.
The investigations will continue. Though led by the DOJ, they are being brought by a large group of state and federal officials known as the Residential Mortgage Backed Securities (RMBS) Working Group. One member of the group is California Attorney General Kamala Harris, who happens to be West's sister-in-law.
West is "one of the co-chairs but there are four others. It's not going to slow things down at all," said one RMBS Working Group attorney. This attorney learned of West's decision through news reports, as did at least one state attorney general in the group, according to a separate source close to that state AG.
In addition to the Bank of America settlement, the DOJ-led  task force got $7 billion from Citigroup (C) - Get Citigroup Inc. Report in July and $13 billion from JPMorgan Chase (JPM) - Get JPMorgan Chase & Co. Report in November in similar mortgage-related cases.
Goldman Sachs (GS) - Get Goldman Sachs Group, Inc. Report and Morgan Stanley (MS) - Get Morgan Stanley Report have both confirmed they are the subject of RMBS Working Group mortgage securities fraud investigations, and a claim against Credit Suisse (CS) - Get Credit Suisse Group AG Report brought by New York Attorney General Eric Schneiderman, an RMBS Working Group co-chair, indicates the Swiss bank is also in investigators' crosshairs.
Still, West's resignation with so much work remaining underscores the fact that these cases have far more to do with generating big headlines than identifying specific wrongs and remedying them with an appropriate punishment.
According to The New York Times, West has hired Washington attorney Robert Barnett, who specializes in helping clients like Barack Obama, George W. Bush and Ben Bernanke with their "transition to the private sector," as Barnett puts it on the Williams & Connolly Web site.
"Nothing to discuss at this time," Barnett replied when TheStreet contacted him by email with questions about West's future. The Justice Department press office did not respond to inquiries.
Read More
:
$25 Billion Deal and JPMorgan Stumble to Aid of Bronx Homeowner
Disclosure: TheStreet's editorial policy prohibits staff editors, reporters and analysts from holding positions in any individual stocks.