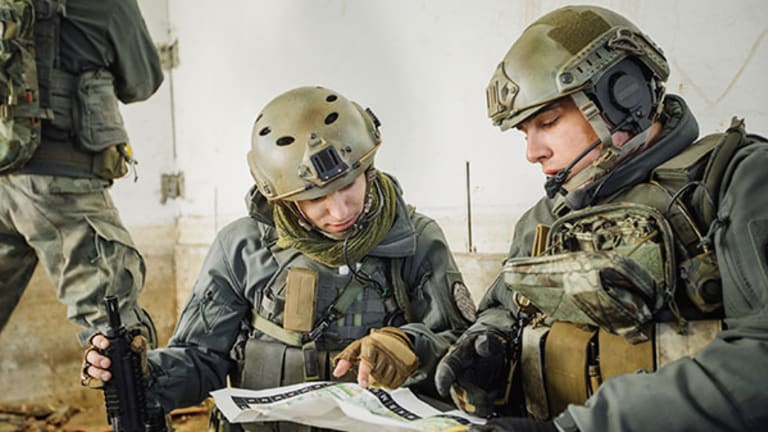 ManTech Ready to Storm the M&A Market
The U.S. pullback in Afghanistan hurt business but now Mantech is going on the offensive to buy diversification.
ManTech International (MANT) - Get ManTech International Corporation Class A Report stayed mostly quiet as a wave of consolidation swept through the government services sector. Well, the military support company is ready to go on the offensive.
Fairfax, Va.-based ManTech, which among other jobs provided logistics, repairs, troop support and related on-ground services for the U.S. Army in Central Asia, was among the contractors hardest hit by the pullback of military operations in Afghanistan and elsewhere earlier in the decade. The company's annual sales dropped from a high of $2.87 billion in 2011 to $1.55 billion last year, with net income falling from $133.3 million to $51.1 million during the same period.
EDITOR'S NOTE: This article was originally published by The Deal, a sister publication of TheStreet that offers sophisticated insight and analysis on all types of deals, from inception to integration. Click here for a free trial.
The company as far back as 2013 has been talking about making deals to diversify away from out-of-favor sectors, but has very little to show for it: ManTech, since the beginning of 2014, has only opened its wallet for a couple of smallish bolt-on government IT vendors.
That could soon change. Company CEO George J. Pedersen, who co-founded ManTech in 1968, on a conference call with analysts last month said, "I am bullish on the merger and acquisition market in 2017 and believe that once the election cycle is complete several strong companies will become actionable."
ManTech has $71 million in cash on hand and a $500 million line of credit as well as a pristine balance sheet with which to do deals, with Pedersen saying "we are in a strong position to make acquisitions to grow the company."
ManTech is firing up the deal machine at the close of a busy period for government contractor M&A. Since the beginning of last year the industry has been reshaped via transactions including Leidos Holdings' (LDOS) - Get Leidos Holdings, Inc. Report $5 billion merger with the IT and services business of Lockheed Martin  (LMT) - Get Lockheed Martin Corporation (LMT) Report , Harris' (HRS) $4.75 billion purchase of Exelis, CACI International's (CACI) - Get CACI International Inc Class A Report $550 million deal for a unit of L-3 Communications  (LLL) - Get L3 Technologies Inc Report and a merger between SRA International and the government unit of Computer Sciences Corp. (CSC) .
The net result is that ManTech, already small relative to its peers, only got smaller. The new Leidos is now a $10 billion sales company, compared to ManTech's $1.61 billion in revenue during the tear ended Sept. 30. And, in a surprise to many defense analysts and industry observers, ManTech stayed sidelined as rivals took out several prime acquisition candidates.
But the post-election climate figures to be favorable for government services firms, with many expecting the Republican-run Congress to work with President-elect Trump to roll back 2013 federal budget sequestration restrictions and allow for an uptick in government services revenue.
Industry bankers say there are a large number of small- to mid-sized government IT contractors and outsource firms that have been waiting for more clarity on the budget before considering options.
NCI (NCIT) , a government services firm valued by the market at about $180 million that many believe will hit the market in 2017, is among the potential targets in ManTech's price range. Harris is also believed to be shopping IT assets worth about $500 million as part of a deal struck last summer with activist investor Jana Partners.
The changing political landscape could also impact ManTech's future, perhaps bringing its core business in from the cold and once again making it a growth engine. President-elect Trump's choice for Secretary of Defense, James N. Mattis, is thought of as an interventionist who could push for an increased U.S. military presence dealing with global hotspots.
If Mattis, whom Foreign Policy Journal dubbed the "Secretary of Offense" due to his aggressive style, ups deployments abroad some of ManTech's logistics and troop support businesses figure to rebound and benefit. It's possible a move in that direction could make ManTech itself an attractive acquisition candidate. CEO Pedersen is 80 year old, though the company in November all but laid out a plan of succession when it promoted CFO Kevin M. Phillips to president and chief operating officer.
ManTech, priced at more than 10 times next year's projected Ebitda, is not cheap, but the company is waiting on two Army contract decisions that together could boost 2017 sales by more than 5% and has a bid pipeline totaling $3.5 billion. A couple of contract wins plus a renewed interest in war support could dramatically change how ManTech appears to a potential buyer.
ManTech and its investors in recent years have been reminded of the importance of diversification. Be it as buyer or as seller, look for the company to push aggressively to broaden its exposure in the quarters to come.