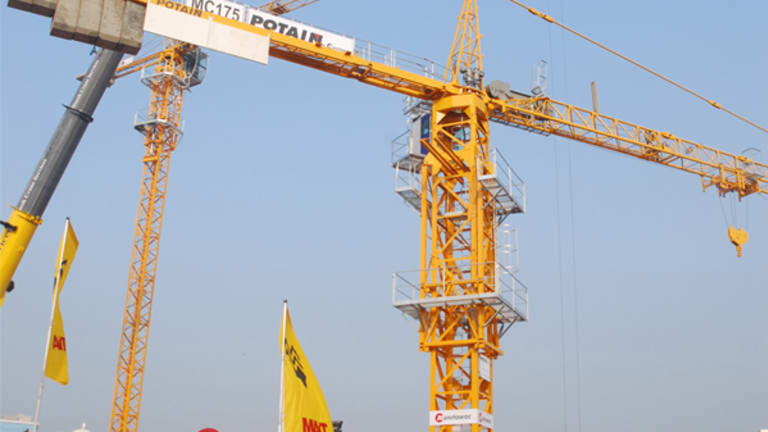 Manitowoc Splits After Activist Investor Icahn's Appearance
Manitowoc's CEO argues that separation will attract long-term investors and improve valuation.
Under intense pressure from high-profile activists Carl Icahn and Relational Investors LLC, Manitowoc Co. (MTW) - Get Manitowoc Company, Inc. Report announced Thursday afternoon that it is splitting into two publicly traded companies — one for its construction cranes business and the other for its foodservice equipment operation.
"The plan for separation is the next logical step in Manitowoc's evolution," Glen E. Tellock, president of Manitowoc, told analysts and reporters on a conference call. "The two companies will attract long-term shareholders that are appropriate for their business profiles and will help investors value each company separately."
Manitowoc said it plans to complete the separation through a tax-free spinoff of its foodservice business, a transaction it expects to be completed in the first quarter of 2016. The spinoff was announced as Manitowoc reported slightly lower revenue and operating earnings in the fourth quarter of 2014 than in the same period a year earlier. In 2014, the cranes business reported revenue of $2.3 billion and the foodservice unit had $1.6 billion in revenues.
The decision to split comes roughly a month after Carl Icahn on Dec. 29 joined an activist campaign at Manitowoc. Icahn essentially took the lead on a 6-month-old investor insurgency previously launched by Relational Investors in June. Both high-profile activists had been pressing Manitowoc to separate the cranes business from the foodservice operations, but how big a role Relational played lately was unclear because the activist fund recently began winding down its $6 billion portfolio after its co-founder Ralph Whitworth took a leave from the firm in July for health reasons.
Icahn owns 7.8% of Manitowoc, and Relational has an 8.5% stake, so their combined investment represented a formidable obstacle to anyone at Manitowoc who might have wanted to go against them. In his December filing, Icahn hinted he was considering launching a proxy contest to elect dissident directors at the Wisconsin-based company.
On Thursday, Manitowoc announced that it planned to de-stagger the boards of both companies, which means all directors at the foodservice corporation and the cranes business will eventually be elected annually. The governance change appeared to be made in response to the activists, who typically prefer unstaggered boards because they make it possible to launch change-of-control proxy fights.
Had Manitowoc kept its staggered board in place and continued to fight Icahn, he would have only been able to take over a minority of the company's directors in 2015. Nevertheless, Manitowoc likely came to the conclusion that fighting Icahn was a losing prospect that likely would have resulted in the successful election of Icahn-backed directors in 2015 and another proxy fight in 2016.
A recent Institutional Shareholder Services Quickscore report obtained by The Deal gave Manitowoc poor marks for governance, largely because of the company's staggered board, tough rules for changing bylaws and anti-takeover poison pill. That score, which would have bolstered institutional investor opposition to Manitowoc, is expected to improve as a result of the destaggered board.
It is likely the decision to split Manitowoc into two companies was hurried along so that it could be announced prior to an impending deadline for nominating dissident director candidates to the board. On Jan. 26, Manitowoc reported that it had extended the deadline for dissident director candidates to be nominated to the company's board from Jan. 30 to Feb. 6, likely so that the agreement to separate the businesses could be completed before Icahn formally launched a proxy fight. The Deal had reported in June that the deadline for nominating dissident director candidates was coming up in January. Most companies set their deadline for nominating director candidates 60 to 90 days prior to the anniversary of their previous year's annual meeting, which for Manitowoc was on May 6.
Icahn and Manitowoc officials did not return requests for comment. Relational declined to comment.
It was unclear until Thursday's announcement whether Tellock would push back or surrender. Analysts had argued when the Relational campaign was announced in June that Tellock might fight to keep the two businesses together after he helped create a combined crane and foodservice business based on the argument that the steadier cash flow generated by the foodservice business and its steady growth would act as a buffer that supports the highly volatile and cyclical crane business, which needs seasonal working capital, through more difficult times.
Nevertheless, on Thursday in the conference call, Tellock made many of the same arguments that Relational Investors managers have offered up as a justification for the separation: namely that the parting allows each company to attract their own set of long-term shareholders that match up better for each unique business profile. He also suggested that the separation will make it easier for investors to value each company effectively. The dissident investors have argued that the combined structure has contributed to their assertion that Manitowoc was undervalued because analysts and other observers have been unable to accurately value the different parts.
Goldman, Sachs & Co. is Manitowoc's financial adviser and Foley & Lardner LLP's Jay Rothman, Patrick Quick, Mark Plichta, Jamshed Patel and James T. McKeown and Skadden, Arps, Slate, Meagher & Flom LLP's Gary Cullen and Richard Grossman served as its legal advisers.
Read more from
: