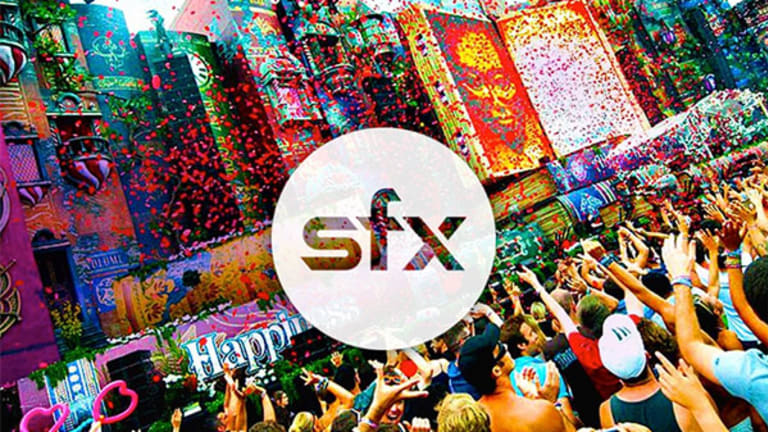 Maglan Capital Sees Value in SFX Entertainment
Hedge fund Maglan Capital has recently taken a stake in SFX Entertainment in recent weeks.
NEW YORK (TheStreet) -- Hedge fund Maglan Capital has taken a stake in SFX Entertainment (SFXE) in recent weeks, becoming one of the company's 10 largest shareholders, after the Robert Sillerman-run electronic dance music (EDM) rollup fell out of favor on Wall Street in the wake of its October initial public offering.
The Definitive Story of What Happened on SFX Entertainment's Conference Call
The David Tawil and Steven Azarbad-run hedge fund began buying SFX Entertainment shares in recent weeks after they fell from an IPO price of $13 a share to around $7 a share in May and June. If SFX Entertainment has disappointed investors who bought into the company's IPO, it now may present an opportunity to value hunting investors like Maglan Capital.
SFX is entering the summer EDM festival season -- a time when the company expects to generate a significant chunk of its annual revenue -- and CEO Sillerman's quick work in buying a dominant position in the industry may soon become apparent to investors. If all goes as planned, Sillerman's colorful entrance into the EDM space could also soon resemble his previous endeavors in the live music industry with Live Nation and CKX.
"After a premature IPO and disappointing stock price action thereafter, SFX has completed the lion's share of it M&A and is now in a position to hit its inflection point and begin growth and profitability that should be explosive, possibly within a short period of time," David Tawil of Maglan Capital said.
Maglan Capital expects that SFX Entertainment should generate $70 million of earnings before interest, taxes, depreciation nd amortization in 2014, with that EBITDA figure growing to $130 million in 2015 and $200 million in 2016. At 12 times 2015 EBITDA, Tawil said Maglan believes SFX Entertainment is worth in excess of $15 a share. If the company can generate the $200 in EBITDA in 2016, that multiple would equate to a $25 a share price, Maglan calculates.
SFX Entertainment shares closed Friday trading at $7.63 a share, down about 36% year-to-date and 41% from its IPO pricing. Tawil wouldn't disclose the size of Maglan's position but said the fund would be a top-10 shareholder based on public filings compiled by Bloomberg. According to Bloomberg data, the SFX Entertainment's 10th largest holder is BAMCO, which owns 1.25 million shares.
CEO Sillerman controls over 41% of SFX Entertainment's outstanding shares, while hedge fund Och-Ziff Management has a near 10% stake, according to filings with the Securities and Exchange Commission compiled by Bloomberg.
Maglan Capital said in a May letter to investors it had gained 12.74% net of fees and expenses for 2014, and over 42% net in the past 12 months.
"The opportunity to invest in SFX came from its busted IPO," Tawil said. With proceeds from the company's IPO, "SFX was paying 7-9x EBITDA for acquisitions, but was valued at its offering at 13x expected EBITDA. Although SFX can eventually command that multiple, it was premature at the time of the IPO," Tawil said.
Maglan likes the asset and capital expenditure light nature of SFX Entertainment's business and the demographics of the company's millennial-aged EDM festival goers.
Recent partnerships with Corona, T-Mobile (TMUS) - Get Free Report, Clear Channel and resale marketplace viagogo also give confidence to Sillerman's plan to bring marketing to the EDM space. Those partnerships and the prospect the company begins selling broadcasting rights or recordings could provide revenue streams beyond simple festival ticket sales. The company also owns Beatport, a streaming music service dedicated to EDM, and it has a major presence within its niche on social media.
While CEO Sillerman's antics can put off Wall Street types, as evidenced by a selloff in the company's shares during a profanity-laced conference call, ultimately he may have the right mindset to consolidate the fractured EDM industry and create a strong business. "Bob Sillerman is the eccentric CEO of SFX and has a deep history of success in capitalizing of fast moving trends, consolidating related businesses and monetizing the combined entity," Tawil concludes.
If SFX Entertainment has experienced a wild ride as a public company, some smart money investors are betting smoother times are ahead.
SFX Refinances Debt, Sillerman Guarantee Ends
Walgreen's U.S. Fate Could Be Sealed by Labor Day
Hedge Funder Sees KKR's Next Deal In Washington Mutual's Shell
-- Written by Antoine Gara in New York