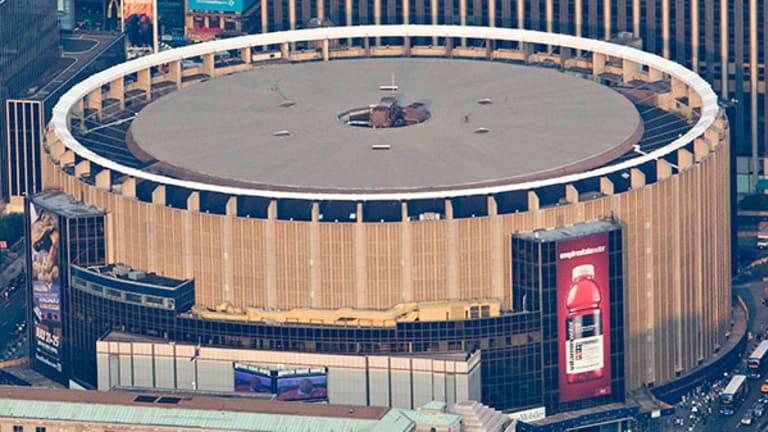 Madison Square Garden Gains Control of Tao Nightclub Operator
The deal, worth up to $206.5 million, comes when the entertainment company expands into live entertainment as its sports teams, led by the New York Knicks, have struggled.
Expanding its live entertainment offerings, Madison Square Garden Co. (MSG) - Get Madison Square Garden Co. Class A Report announced Wednesday that it acquired a majority stake in nightclub company Tao Group, potentially worth more than $200 million.
MSG will acquire a 62.5% stake in Tao for $181 million, with a potential performance earnout of up to $25.5 million. In an 8-K filed with the Securities and Exchange Commission on Wednesday, MSG said the transaction valued Tao at $400 million, including the leverage used to finance the deal. Tao generated revenue in 2016 of $235 million and pro forma adjusted operating income of $43 million.
Tao's management, led by co-founders Marc Packer, Rich Wolf, Noah Tepperberg and Jason Strauss, will retain a 37.5% stake and continue to operate the business. The potential earnout, three tranches of $8.5 million in cash or MSG stock, is contingent on Tao achieving undisclosed 12-month Ebitda targets by Jan. 1, 2022.
MSG also holds a call option to increase its Tao stake after the fifth anniversary of the closing date, or before the anniversary if an equity holder leaves the company.
Wolf said in a statement that the two groups "will work together to create new and innovative premium hospitality experiences that can be integrated across MSG's portfolio of live offerings."
Goldman Sachs Specialty Lending Group LP provided a five-year term loan of $110 million to partly fund the acquisition.
According to the 8-K, Tao will pay MSG a $5 million annual management fee and agree to purchase at least $1 million per year worth of "MSG inventory or services, with each amount increasing 5% annually." Tao's founders signed five-year employment agreements.
Tao currently operates 19 venues in New York City, Las Vegas and Sydney under brands including Tao, Marquee, Lavo and Avenue. Five more are slated to open in New York, with an additional eight in new locations, including Los Angeles, Chicago and Singapore.
MSG, which owns the eponymous stadium in New York as well as the Knicks and Rangers basketball and hockey franchises, has expanded into live entertainment since spinning off its media assets into MSG Networks Inc. (MSGN) - Get MSG Networks Inc. Class A Report . In July, the New York-based company bought music festival producer Boston Calling Events LLC, about two years after spending $22.5 million on a 50% stake in Robert De Niro's Tribeca Enterprises, which runs the Tribeca Film Festival. MSG also backs fantasy website operator DraftKings Inc., which is merging with rival FanDuel Inc., and women's sports media company Excelle Sports Inc.
Macquarie Capital analyst Amy Yong suggested in a note last summer that MSG could spend $500 million to $600 million on additional M&A, with analysts speculating MSG could buy out top shareholders of Townsquare Media Inc. (TSQ) - Get Townsquare Media, Inc. Class A Report . MSG paid an estimated $30 million for GE Capital's 12% stake in a deal announced Aug. 17; Oaktree Capital Management LLC is the radio station owner's largest shareholder.
As of July 29, the Dolan family controlled 70.7% of MSG's voting power. They also control MSG Networks and AMC Networks Inc. (AMCX) - Get AMC Networks Inc. Class A Report. On June 21, the family completed its $17.7 billion sale of Cablevision Systems Corp. to Altice NV.
MSG shares fell 0.9% to $174.15 in midday trading Wednesday.
MSG and Tao declined to comment.