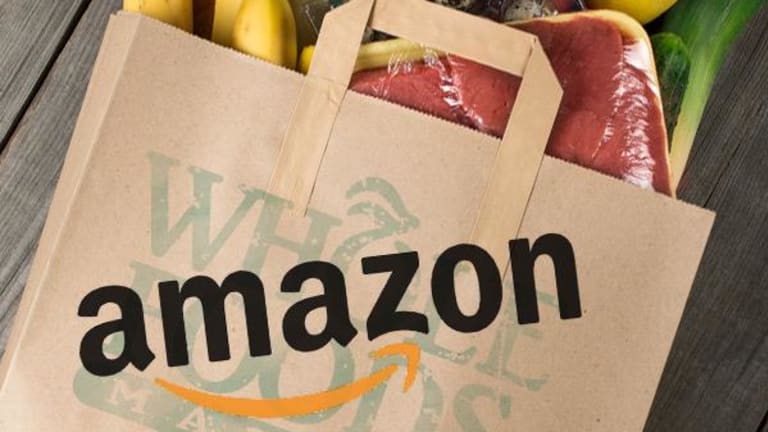 Local NYC Grocers Unhappy with Amazon-Whole Foods Deal
Local owners say Amazon's move will take away the spirit of the neighborhood grocer.
The Amazon-Wholefoods deal leaves a bad taste in the mouths of local grocers.
TheStreet visited three grocery locations in New York's financial district, and of those three, Whole Foods noticeably thrived. Its stores boasted longer lines despite the higher prices Whole Foods is known for. To remain competitive with Wal-Mart (WMT) - Get Report and Kroger (KR) - Get Report , Amazon (AMZN) - Get Report will have to slash Whole Food's (WFM) sky-high prices, leaving local business owners in the dust.
Johnathan Bustamante, manager at Best Market located in Tribeca, is unsure how the Amazon-Whole Foods deal will affect the grocery chain, but said that Best Market will continue to run their operations as normal. "Whole Foods is our main competitor," said Bustamante. "[But] we're a cheaper competitor -- we have fresh produce and seafood delivered everyday which drives [our] prices down."
Peter Arroyo, manager of Gristedes, had more on his mind regarding the Amazon-Whole Foods deal, which he predicted will "screw up the industry in all aspects," said Arroyo. "It's a better experience to spend time with a human rather than spend time with a computer."
Arroyo acknowledged that there may be a few pros to buying produce online, but laments that personal service a grocery store can offer will slowly fade as Amazon begins its reign a grocery conquistador. "What happens when a machine bruises a piece of fruit and a customer is dissatisfied?" Arroyo asked. "At a local grocery store, you can come back in to speak with someone and select another piece of fruit, but with a machine, you don't have that option... what are you going to do?"
Arroyo expressed his faith in Gristedes, detailing that despite the drawbacks that he and other local grocers have dealt with, his faith resides in his local customer base.
Both managers of Best Market and Gristedes affirmed that produce was their most popular picking among customers. But, even though produce was noticeably cheaper at the local grocery stores, not all products laying on their shelves were price king.
Certain common brands of yogurt such as Fage were noticeably cheaper at Whole Foods compared with local competitors. A six ounce container of Fage blueberry Greek yogurt costs $1.59 at Whole Foods. The same container retails at $1.79 in Best Market and $2.29 in Gristedes.
"When you lower the price on one time and make a deal for your customer base, you have to increase the price on another item," said Bustamante.
Similarly, a pound of pasta was cheaper at Whole Foods ($1.09 for one pound of the 365 Everyday Value Linguine) compared to Best Market's $1.99 for a pound of Barilla Linguine and Gristedes' $1.59 for a pound of Colavita brand pasta.
Legislators nationwide have spoken out voicing their concern against the blockbuster deal. Silicon Valley congressman Ro Khanna (D-Calif.) is urging the Department of Justice and Federal Trade Commission to assess the future impact of the deal not just because of antitrust concerns, but also because of impending damage that local business owners will surely experience.
"These local groceries have already faced so much pressure," Khanna said in an interview. "As you know, for many immigrant families, grocers are the route into the middle class and the path to wealth creation."
READ MORE:
Whole Foods CEO John Mackey Says Amazon Deal Only Took 6 Weeks: "It Was Truly Love at First Sight"
We Just Visited a Whole Foods and Were Shocked By How Much Amazon Will Have to Slash Prices
This Is What Amazon May Do to Help Shed Whole Foods' 'Whole Paycheck' Image
Costco Sees an Extremely Damaging Flush In Aftermath of Amazon's Big Whole