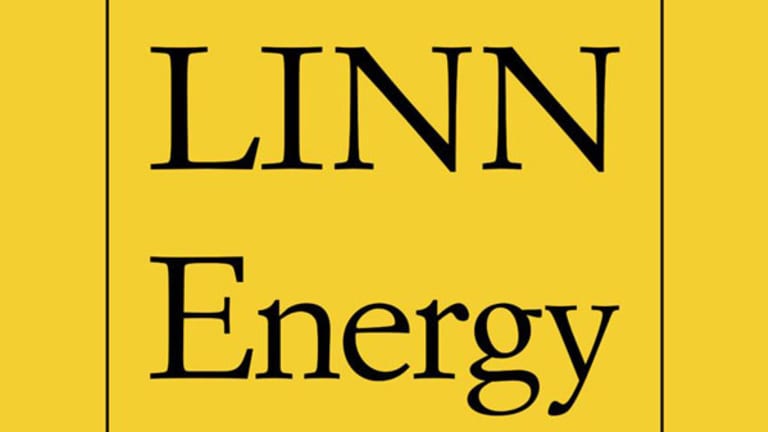 Linn Energy Discloses Progress On Berry Petroleum Merger Filing
Linn Energy shares rise after the company says it is working to file an amended merger statement.
NEW YORK (TheStreet) -- Linn Energy (LINE) shares were rising in early Wednesday trading after the company said it is "working diligently to file an Amended Form S-4" with the Securities and Exchange Commission on its proposed acquisition of Berry Petroleum (BRY) - Get Free Report.
Linn Energy and its acquisition vehicle, LinnCo (LNCO) , have received comments on an amended registration statement filed with the SEC regarding their proposed acquisition of Berry Petroleum. The company said it is now working to resubmit a S-4 to the regulator.
The disclosure indicates Linn Energy could soon remove big questions hanging over the firm's finances. Linn Energy's shares were battered in July when the company said the Securities and Exchange Commission was conducting an informal review of its accounting practices and documents related to its proposed merger with Berry Petroleum.
If Linn Energy can have its amended S-4 approved by the SEC, it would clear the air on earnings metrics the company discloses to investors and which govern its high dividend payout.
Linn Energy also said on Wednesday it, LinnCo and Berry Petroleum have agreed to set the record dates of their stockholder meetings to Sept. 30, 2013, in a move that indicates they are making progress on what has been a very messy merger process.
Shares in Linn Energy were rising over 7% to $26.55 in early Wednesday trading, while shares in LinnCo were rising nearly 6%. Berry Petroleum shares were rising over 1% to $43.51.
Houston-based Linn Energy's accounting practices and the non-GAAP metrics that drive its dividend have come under scrutiny in recent months from Barron's and independent research firm Hedgeye Risk Management.
Both Barron's and Hedgeye argue Linn's use non-GAAP accounting figures overstates the cash flow it can pay out to shareholders and under-reports the expenses tied to its hedging practices and capital expenditure.
If Linn Energy and Berry complete their merger, it would likely refute many of the concerns raised by Barron's and Hedgeye. The prospect the SEC approves Linn Energy's accounting disclosures would undermine analysis that the firm has not been upfront with its investors. A merger could also help Linn Energy increase its dividend payout to $3.05 a share, on an annualized basis.
In research notes, most Wall Street analysts disagree with Hedgeye and Barron's findings. TheStreet also first reported in June that Leon Cooperman-run hedge fund Omega Advisors, Linn's largest outside investor at the time, also disagreed with the negative analysis.
There is still little clarity on what non-GAAP metrics Linn Energy will disclose in its amended S-4, or whether those disclosures would change impressions of the firm's financial condition. Linn Energy didn't immediately return calls seeking comment.

In August, the company reported better than expected second-quarter earnings of $1.47 a share, driven by rising energy production and revenues versus this time a year-ago. Still, Linn Energy was unable to meet its own projections of what it calls distributable cash flows (DCF), or the earnings the company makes available to shareholders.
For the third consecutive quarter, Linn Energy paid out more DCF to shareholders than the company was able to earn. Linn reported DCF of 65 cents a share, missing the company's previous guidance of 72 cents. In total, the company paid out over $18 million in dividends beyond the amount of DCF it earned. Linn Energy funds DCF shortfalls using its existing credit facilities. "LINN has experienced a challenging start to the year as lower-than-expected returns from our capital program coupled with historically low NGL prices have weighed on year-to-date results," Linn Energy CEO Mark E. Ellis said of the results in a press release.
Jim Cramer, founder of TheStreet and contributor to Real Money Pro, currently owns Linn Energy shares in his Action Alerts PLUS charitable trust, along with co-portfolio manager Stephanie Link. Cramer has supported Linn Energy and invited CEO Mark E. Ellis on his CNBC show Mad Money to rebut Barron's analysis.
On July 2, Link said in a Real Money Propost that the charitable trust would sell 1,400 Linn Energy shares at $29 apiece given the SEC's informal review.
"Our rules have always been to sell a stock with an SEC investigation -- because we have no edge in knowing what the outcome will be," Link wrote.
Action Alerts PLUS continues to own 1,000 Linn Energy shares after its stake sale, roughly 1.2% of the overall portfolio.
-- Written by Antoine Gara in New York