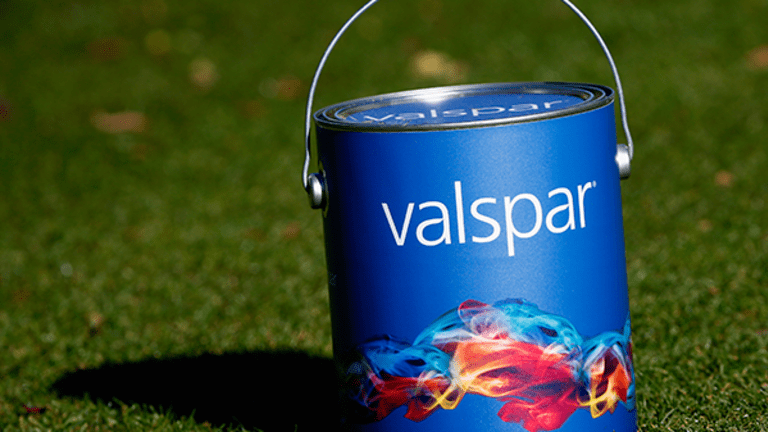 Like Watching Paint Dry, Sherwin-Williams to Buy Valspar at Long Last
FTC requires Sherwin Williams to sell Valspar's industrial wood coatings business to Axalta.
The Federal Trade Commission said Friday it has acceptedSherwin-Williams' (SHW) offer to sell Valspar's North America Industrial Wood Coatings Business to Axalta Coating Systems Ltd. as a condition of antitrust approval for Sherwin-Williams' $11.3 billion acquisition of Valspar   (VAL) .
Valspar shares were up 60 cents, or 0.53%, to $113.06 on Friday's news.
Sherwin-Williams previously announced plans to divest the wood coatings business to Axalta in April for $420 million in cash.
The FTC noted Friday that the acquisition of Valspar would combine two of the top three industrial wood coatings manufacturers and reduce competition for coatings used to make furniture, kitchen cabinets, and building products.
The merger also received approval from the Canadian Competition Bureau. Sherwin-Williams said it expects to close the Valspar acquisition June 1.
The FTC's complaint, filed in conjunction with the proposed settlement, alleges that after joining with Valspar the combined firm would be likely to exercise unilateral market power, and as a result it and the remaining competitors would compete less aggressively against each other.
The planned acquisition of Valspar was announced in March 2016.
Industrial wood coatings, include stains, topcoats, and sealants sold to wood-products manufacturers along with on-site technical assistance.
The FTC added in its market analysis that new competitors are unlikely to enter the market because barriers to entry the industrial wood coatings are high. That's because both the large capital costs needed to build a high-volume industrial wood coatings plant, and the reluctance of customers to switch to unproven new suppliers, the FTC said.
Under the terms of the consent agreement, Sherwin-Williams will divest to Axalta two Valspar industrial wood coatings plants, one in High Point, North Carolina, and the other in Cornwall, Ontario.
Axalta will also receive the research and development facilities, warehouses and testing facilities of Valspar's Industrial Wood Coatings Business, as well as customer contracts, intellectual property, inventory, accounts receivable, government licenses and permits, and business records. 
The FTC said Axalta, as one of the leading suppliers of coatings to large automotive and industrial original equipment manufacturers, is well positioned to become an effective competitor in the affected coatings market.
The agreement will be subject to public comment through June 27, after which the commission will vote on finalizing the consent order.
This article was originally published by The Deal, a sister publication of TheStreet that offers sophisticated insight and analysis on all types of deals, from inception to integration. Click here for a free trial.
Read More Trending Articles:
Why Alibaba's Founder Jack Ma Thinks You Will Eventually Only Work Four Hours a Day
Here's How Fast Tesla's Model 3 May Be -- Doesn't It Seem Really Slow?
Now We Have an Idea When the iPhone 8 Will Launch, Thanks to Vacationing Apple Employees