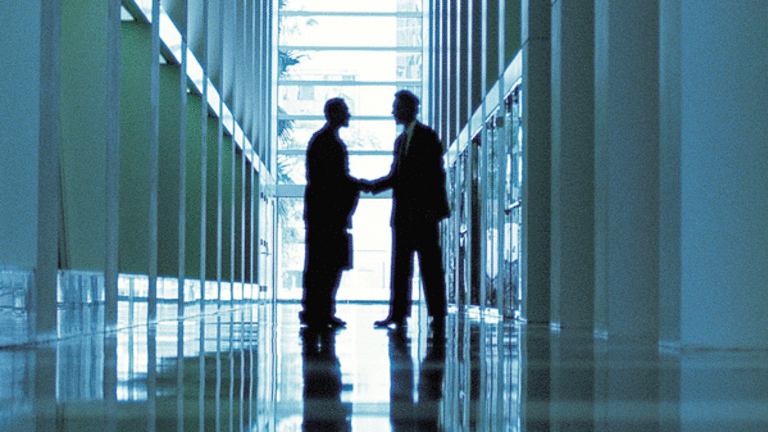 LightSquared Disclosure Statement Approved
Ruling sets up contentious creditor vote as Charlie Ergen, who holds about $1 billion in debt, is dead set against the reorganization plan.
NEW YORK (The Deal) -- LightSquared on Monday won approval of the disclosure statement for its reorganization plan, setting up what is sure to be a contentious creditor vote on the proposal.
Philip Falcone's wireless carrier faces a fight with its largest creditor, satellite TV tycoon Charlie Ergen, who holds $1 billion or so in secured debt and is dead set against the plan.
Counsel to Ergen, Rachel Strickland of Willkie Farr & Gallagher, called the plan "as brazen an attempt to marginalize a party as I have ever seen," during Monday's court hearing.
With support from Fortress Investment Group, Melody Capital Advisors, Falcone's Harbinger Capital Partners and JPMorgan Chase (JPM) ,the plan would pay all creditors in full.
However, the proposal breaks secured creditors of the debtor's LightSquared LP unit into two classes: Ergen in one and everyone else in the other. While other LightSquared LP secured creditors get cash payment in full or the option to participate in a new debtor-in-possession loan, Ergen would receive a $1.09 billion, seven-year note that is either third-lien or unsecured and pays interest in kind, rather than cash.
Ergen vehicle SP Special Opportunities would receive better recoveries and legal releases if it votes for the plan.
Judge Shelley C. Chapman of the U.S. Bankruptcy Court for the Southern District of New York in Manhattan approved the disclosure statement during the hearing Monday.
Strickland described the third-lien, PIK note as an attempt to "bind us in duct tape and throw us in the trunk of the car" for a "seven-year ride."
Preferred equity holders who have junior standing to Ergen receive more favorable treatment, Strickland argued. The preferreds would receive three-quarters of their compensation in cash and collect a redemption premium, she noted.
Falcone's Harbinger Capital would have 36% of the equity, Strickland said.
LightSquared argued that it is breaking Ergen into a separate class because he runs two LightSquared competitors: Dish Network (DISH) and EchoStar (SATS) .
Ergen has clashed with LightSquared several times during the case. Dish bid $2.2 billion for the assets of LightSquared LP. The satellite TV company aggressively pursued LightSquared, but then pulled its bid in January when a deadline for completing a deal passed.
LightSquared and Harbinger sued Ergen and his companies, saying that the satellite TV investor violated a credit agreement by purchasing the debt. Terms of the debt agreement blocked competitors from purchasing the debt.
"We don't believe SPSO is acting like a creditor," said Matthew Barr of Milbank Tweed Hadley & McCloy, counsel to LightSquared. Barr suggested that Ergen had ulterior motives.
Strickland argued that LightSquared's plan is patently unconfirmable because of its treatment of Ergen's claims. LightSquared has failed to raise funds for a reorganization in recent years, she said, and blotting out Ergen's $1 billion in claims is an attempt to force through a plan.
The two-year anniversary of the bankruptcy filing approaches in May, and Chapman said the case had to move forward. "I'm between a rock and a hard place," the judge said.
Chapman will convene a confirmation hearing on March 17. Objections to the plan are due by March 11.
The judge will hear closing arguments in the litigation of Ergen's debt purchases on March 12.