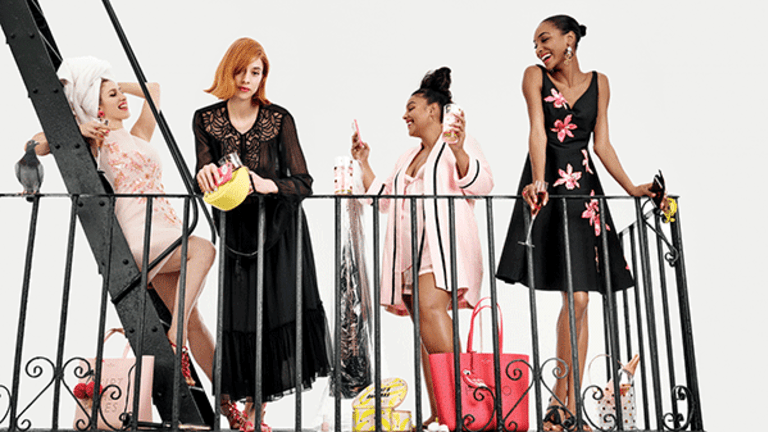 Life for Kate Spade, Other Wholesale Brands, Is About to Change
Of course Kate Spade will be sold and others are likely to follow.
(This article originally appeared at 11:00 ET on Real Money, our premium site for active traders. Click here to get great columns like this from Jim Cramer and other writers even earlier in the trading day.)
One should always view market rumors with a heavy dose of skepticism, especially those that suggest a company is exploring a sale or is about to be sold to a suitor.
Deals can fall apart at the drop of a hat -- not all parties involved operate on handshake agreements like the "Oracle of Omaha" Warren Buffett. Executives at acquired companies want to secure their gigs and if not, a hefty golden parachute. As for those executives doing the acquiring, they want to ensure maximum synergies so as to quickly boost their own profile in Corporate America with a rising stock price. This is the basic mechanics of it all.
Having said that, the buzz that surfaced on Wednesday of handbag and accessories maker Kate Spade (KATE) supposedly exploring a sale should be viewed as more than just rumors. Obviously, a sale is not a foregone conclusion, but it's close to it, in my view, given the many structural issues the company faces. If the company doesn't sell out rather quickly (like in January), or at the very least get the sale process going, its stock could easily be destroyed in the first part of 2017.
Here are the fundamental issues that Kate Spade is up against right now:
Macy's (M) - Get Report is about to disclose what 100 or so stores will be closed across the country. Kate Spade probably has an idea of what stores are closing, but the closings will still likely be a major problem. After all, a closed store is one less distribution channel.
Unless this writer is sorely mistaken, department store retail square footage will only continue to shrink in the year's head, and that will place even more extreme pressure on wholesalers such as Kate Spade and Ralph Lauren (RL) - Get Report . Wall Street, always the upbeat bunch, unlikely appreciates the risk to a Kate Spade's top and bottom lines from the department store upheaval.
The Kate Spade brand is being cheapened due to: excessive discounting at outlet stores, and excessive discounting in department stores. As a result, Kate Spade's profit margins are below many of its peers in the space. Restoring profit margins to historical levels is unlikely given the rise of the internet -- which offers up real-time price discovery on merchandise -- and the degree of discounting that is currently unfolding.
Sales made to tourists at key U.S. malls are unlikely to turn around within the next year due to the dollar's strength. That means Kate Spade --and others-- will have to raise prices to compensate for weaker levels of store traffic. Unfortunately for Kate Spade, it's not an LVMH Moet Hennessy Louis Vuitton (LVMUY) . In other words, it's not going to be easy to pass along higher prices.
In addition, the Kate Spade brand hasn't traveled as well overseas as Coach (COH) and Michael Kors (KORS) , likely because it's not viewed as a super luxury brand by foreigners.
In the end, Kate Spade is likely to be sold because, well, executives really don't have any other choice if they want to deliver on their duties to shareholders. Life as wholesale brands know it is on the verge of being blown to pieces, which will probably cause a host of deals as a means to consolidate expenses and drive up product quality.
Coach may not be too keen on Kate Spade as it's not a true luxury name. But a private equity buyer could easily come in, right-size expenses --always an issue in fashion trends-- and build out the stronger stand-alone retail strategy that is required to survive in this day and age.
Employees of TheStreet are restricted from trading individual securities.