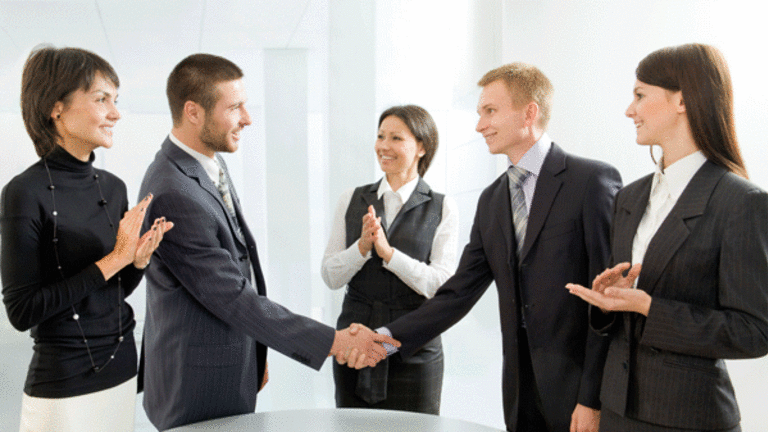 Level 3 Swipes TW Telecom for $7.3B
Network operator Level 3 Communications announced a massive fiber grab Monday with the $7.3 billion purchase of TW Telecom.
NEW YORK (The Deal) -- Network operator Level 3 Communications (LVLT) announced a massive fiber grab Monday with the $7.3 billion purchase of TW Telecom (TWTC) .
Level 3 will pay $40.86 per share in cash and stock. The deal values TW Telecom's total equity at $5.7 billion and includes $1.6 billion in the target's net debt.
Shares of TW Telecom rose $3.88, or 10.7%, to $40.22 on Monday morning. Level 3 stock initially gained more than 1%, but declined $2.23, or 5%, to $41.86.
The deal is the first major acquisition by CEO Jeff Storey, Wells Fargo Securities LLC analyst Jennifer Fritzsche observed in a Monday note.
"Recall, when [Storey] started in this role, the messaging and direction from the board was less on M&A and more on bottom line and [free cash flow] focus," she wrote.
She described TW Telecom's assets as the "crown jewel" of metropolitan fiber networks and that Level 3 may have felt pressure to make a bid "before other private players get public currency and carriers such as [CenturyLink Inc.] look to do more deals."
The analyst did not identify specific private groups. Acquisitive fiber networker Zayo Group LLC is said to be gearing up for an initial public offering.
UBS analyst John Hodulik valued the deal at 11.5 times TW Telecom's 2015 Ebitda.
Advising Level 3 were Eric Medow of Citigroup Inc. and Bank of America Merrill Lynch bankers Steve Baronoff, Mark Bush and Scott Tolchin.
Christopher Lawrence of Rothschild provided a fairness opinion.
Level 3 received counsel from Willkie Farr & Gallagher LLP lawyers David Boston and Laura Delanoy.
Lone Tree, Colo.-based TW Telecom retained a team from Evercore Partners Inc. led by Michael Price, and Wachtell, Lipton, Rosen & Katz lawyers Steven Rosenblum and Stephanie Seligman.
Singapore Technologies Telemedia Pte Ltd, which owns 23% of Level 3, received advice from Bill Raincsuk of Credit Suisse Securities (USA) LLC.