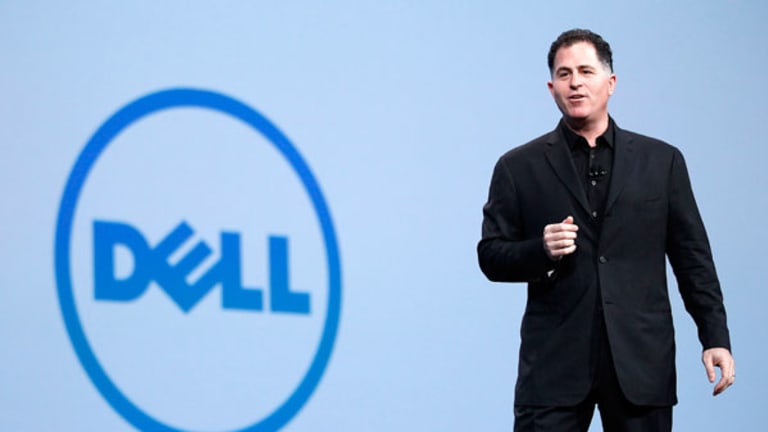 Letter Shows Icahn Remains in the Running for Dell (Update 1)
A letter from Southeastern Asset Management shows Blackstone or Icahn may still manage to take over the PC manufacturer.
Updated from 12:08 p.m. ET to reflect Dell comment and information surrounding Icahn proposal
NEW YORK (
) -- The battle for
Dell
(DELL) - Get Report
continues.
Southeastern Asset Management
, one of
Dell's
(DELL) - Get Report
largest independent shareholders, on Tuesday said both a $14.25 a share proposal by the
Blackstone Group
(BX) - Get Report
and a $15 a share proposal by Carl Icahn to buy the struggling PC-maker are superior to the company's earlier
with founder Michel Dell and
Silver Lake Partners
.
Southeastern's support for either of the newer proposals indicates that activist investor of Carl Icahn
, despite media reports to the contrary.
Icahn's proposal for the acquisition of up to 58% of Dell's shares relies on the participation of large shareholders such as Southeastern and
T. Rowe Price
, in addition to the roughly $1 billion stake Icahn Enterprises holds in the Dell's shares.
"The Special Committee has obtained two preliminary alternative proposals, both of which we view as superior to the Michael Dell / Silver Lake buyout," Mason O. Hawkins, Southeastern chief executive, said in a Tuesday
letter
. The special committee was formed by Dell's board of directors to solicit competing bids to Michael Dell and Silver Lake's offer for the company.
"We view these proposals as superior primarily because each offers shareholders the opportunity to remain owners of Dell while also offering a higher cash price to owners who choose to exit their investment," Hawkins wrote.
Both Blackstone and Icahn have yet to submit formal offers to follow up
they submitted ahead of a late March deadline on the company's so-called 'go-shop' period.
Blackstone is about four weeks away from making a formal offer for Dell, a source familiar with the proposal said.
That source said the Blackstone investor group has been in contact with Michael Dell and has traveled to the company's Round Rock, Texas headquarters, as it conducts a due diligence process.
The
disclosure
by Southeastern raises new concern that Dell's shareholders will not back the initial
agreed between the company, its founder, Michael Dell, private equity firm Silver Lake Partners, agreed on February 5.
Charlotte McCrum, a spokesperson for Silver Lake at Brunswick Group, declined to comment.
Southeastern previously criticized the initial offer as an insufficient price that wouldn't give shareholders commensurate payment for Dell's cash stockpile or the acquisitions the company has made in an effort to shift from PC's to tech services such as IT security, cloud computing and databases.
Hawkins' fund sees a special dividend of up to $12 a share, among more shareholder friendly alternatives to the full takeover agreed between Dell, Silver Lake and the company's founder.
Southeastern also said it would consider participating in a so-called 'stub' of Dell's stock that is a key element of the Blackstone and Icahn proposals.
A Dell stub would allow current shareholders to either take cash payments for their shares at a takeover price, or continue to hold the PC-maker's stock in public markets.
"Southeastern urges the Special Committee to negotiate and evaluate these alternatives in good faith, and to recognize that offering shareholders a choice is a win / win outcome for all parties," the fund added in the letter.
Dell's Mar. 29 proxy statement "fails to make a case for shareholders to accept" the Silver Lake offer, according to the Southeastern letter.
"As we have indicated, while the Board's Special Committee continues to manage its process, the Dell team remains focused on its customers and on providing innovative products and solutions to help them succeed," Jess Blackburn, a Dell spokesperson, said in an e-mail.
Recent media reports indicate Icahn's proposal may be losing steam as the activist considers whether to press a proposal for Dell to pay a large dividend to shareholders by leveraging the company's excess cash stockpile, which currently stands at over $10 billion.
On Friday, Carl Icahn rejected an offer from Dell to have his
expenses reimbursed
were he to support the company's takeover by Silver Lake and Michael Dell.
"How does using up corporate funds to pay me to walk away from an offer that the board doesn't like, but that shareholders may, help other shareholders," Icahn said to the
Wall Street Journal
.
Other reports signal Michael Dell may be interested in joining the Blackstone investor group, which also includes
Francisco Partners
and
Insight Venture Management
.
For more on Dell's prospects, see how Carl Icahn and Blackstone
in March.
Also see why Carl Icahn's $15 a share
could be the best offer for underwater Dell shareholders.
Follow @agara2004
-- Written by Antoine Gara in New York