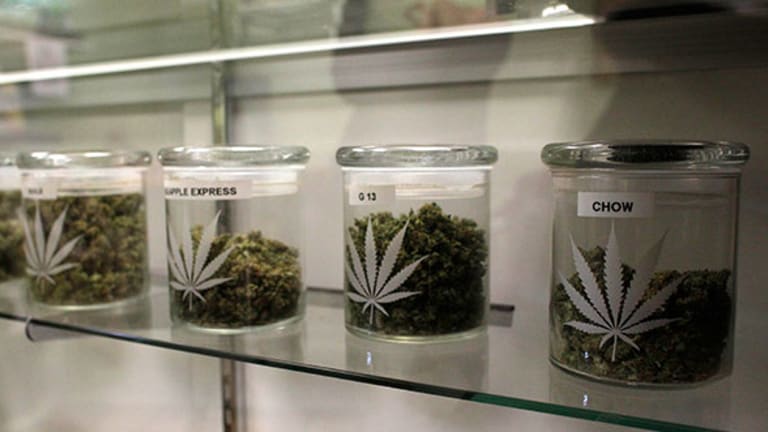 'Legal' Weed Businesses in a Hazy Area When It Comes to Bankruptcy
For the first time, an appellate court has ruled on whether marijuana dispensaries are eligible for bankruptcy protection, and for debtors, the ruling is a harsh one.
NEW YORK (The Deal) -- The owners of a marijuana wholesaler may appeal a decision that booted him from bankruptcy court and may burn other financially strapped drug dispensaries.
Frank and Sarah Arenas, who had their Chapter 7 case dismissed in the U.S. Bankruptcy Court for the District of Colorado in Denver, will likely continue to hash it out with judges who don't feel they deserve bankruptcy protection.
Judges Tom R. Cornish, Robert E. Nugent and Dale L. Somers of the U.S. Bankruptcy Appellate Panel of the 10th Circuit said in an Aug. 21 opinion that "possessing, growing and dispensing marijuana and assisting others to do that are federal offenses."
The group bluntly added: "Can a debtor in the marijuana business obtain relief in the federal bankruptcy court? No."
Counsel to the Arenases, Daniel Garfield at Foster Graham Milstein & Calisher LLP, told The Deal that the couple will file a motion seeking to stay the appellate panel's judgment by the end of this week, and "depending on how the [panel] rules, the Arenases may decide to appeal to the [U.S. Court of Appeals for the] 10th Circuit."
(Bankruptcy appellate panels are groups of judges appointed in certain circuits to hear appeals from bankruptcy courts. In those circuits without an appellate panel, appeals first are directed to district courts. The 10th Circuit's panel oversees Colorado, Kansas, New Mexico, Oklahoma, Utah and Wyoming. The decisions of the panels are only binding in the specific case, but by and large, bankruptcy judges in those districts follow the lead of appellate panels.)
Garfield said he hasn't seen another industry where a similar issue has come to a head -- where an activity is legal on a state level but illegal on a federal level and the eligibility of bankruptcy protection has been up for debate.
He said he had "no idea" whether the latest decision would set a precedent for other marijuana dispensary insolvencies.
Though Garfield said it was the first time the conflict had been before an appellate court, it was not the first time the issue came up in bankruptcy court.
Judge Laura Taylor of the U.S.Bankruptcy Court for the Southern District of California in San Diego on Oct. 4, 2012, dismissed the Chapter 11 case of medical marijuana dispensary Mother Earth's Alternative Healing Cooperative. At the time, Taylor said "cause for dismissal exists where the bankruptcy purpose is to attempt to ... support a business that is engaged in activity that is prohibited, indeed criminal, under federal law."
Judge Howard Tallman of the Denver court, who also presided over the Arenases' bankruptcy case, kicked warehouse owner Rent-Rite Super Kegs West out of Chapter 11 on May 1, 2014, after the company's secured lender made a similar unclean hands argument. (The company admitted it rented space to marijuana growers.)
Lastly, Judge Michael E. Romero of the Denver court on June 11, 2012, ousted pot grower CGO Enterprises from bankruptcy court after U.S. Trustee Richard A. Weiland highlighted that the test of good faith in Chapter 11 is whether a company can propose a legally and economically feasible reorganization plan. Weiland said that since any Chapter 11 plan would be proposed by a means forbidden by law-funded by the sale of the plants-it would be impermissible.
Without court protection, the businesses are left to fend off creditors on their own.
Juliet M. Moringiello, professor of law at Widener University Commonwealth Law School in Harrisburg, Pa., said, "When a case is dismissed, everything goes back to the way it was before the bankruptcy filing."
As a result, creditors can enforce their rights under state law, she said, putting the businesses "between a rock and a hard place."
Moringiello noted: "What this illustrates is the problem of some states making legal what the federal government considers to be illegal. It deprives these legal state businesses from taking advantage of certain benefits that they get [under] federal law."
That said, "Bankruptcy is a privilege, not a right," Moringiello said. "You need to behave in a certain way to be eligible for bankruptcy relief."
She said she doesn't think there needs to be a specific provision included in the Bankruptcy Code barring marijuana-related filings, as courts have been consistent on keeping these debtors out of bankruptcy. (Courts have largely found that these debtors can't liquidate in bankruptcy court, because a trustee can't legally administer their assets, and they can't reorganize in court, because a plan would be funded by illegal means on a federal level.)
"I can't see a bankruptcy court deciding the other way until pot is legal federally," Moringiello said. "It would be very hard to see a bankruptcy court saying, 'Oh sure, the pot businesses can file for bankruptcy.' ... So I don't know that there has to be any change in the Bankruptcy Code, because maybe one day federal law will change."
The Arenases kicked off their Chapter 7 case in Denver on Feb. 12, 2014. Frank, who is licensed in Colorado to grow and dispense medical marijuana, later sought permission to convert the proceeding to a Chapter 13.
Frank, who does business as FA Husbandry LLC, FSA LLC and Twenty Eighth Larimer LLC, owns and grows wholesale marijuana in one unit of a commercial building in Denver. He and Sarah lease the other unit to Denver Patients Group LLC, a marijuana dispensary.
The couple filed for bankruptcy after they attempted to evict DPG in state court, which resulted in a $40,000 attorney's fee award against them, even before the state court addressed DPG's $120,000 counterclaim against them for damages.
Sarah, who cannot work following a stroke, receives monthly pension and social security benefits totaling $2,977; the family's remaining monthly income of $4,265 comes from rental income and Frank's marijuana business, according to court papers. (The duo's expenses leave them with about $7 per month.) The couple's nonexempt assets are 25 marijuana plants valued at $6,250 and their property, the value of which is unclear but which has no equity.
In a March 1, 2014, motion, Weiland requested the Arenases' case be dismissed, asserting the debtors disclosed they are engaged in the husbandry business and that they used a portion of their building to lease to DPG, a dispensary. The case eventually was dismissed on Aug. 28, 2014, because, even though Frank's conduct was legal under Colorado law, it violated the federal Controlled Substances Act. 
Therefore, the debtors couldn't receive Chapter 7 relief because they "engaging in federal criminal conduct demonstrated a lack of good faith that would bar confirmation of their Chapter 13 plan and was cause to dismiss their Chapter 7 case, too," according to the appellate panel opinion.
In a Dec. 31 opening brief filed with the appellate panel, the debtors asserted, "The federal government has deliberately and actively allowed a legal marijuana industry to flourish in Colorado." (Twenty-three states and Washington, D.C., have legalized medical marijuana.)
What's more, "Appellants should not be found at fault and not allowed to access the bankruptcy system where the federal government has made a conscious decision to allow their otherwise illegal business to operate and the debtors otherwise qualify as 'honest but unfortunate debtors.'"
The debtors argued the bankruptcy court failed to consider whether the marijuana assets were burdensome to the estate or of inconsequential value and that "well-settled case law allows [Chapter 7] trustees to abandon problematic property with appropriate conditions set by a bankruptcy court."
Nevertheless, though Frank and Sarah "have not engaged in intrinsically evil conduct," the appellate panel ultimately ruled a bankruptcy trustee can't administer the most valuable assets of the estates -- marijuana plants -- because the action would break federal law.
"In this case, the debtors are unfortunately caught between pursuing a business that the people of Colorado have declared to be legal and beneficial, but which the laws of the [U.S.] -- laws that every [U.S.] judge swears to uphold -- proscribe and subject to criminal sanction," the opinion read. "Administering the debtors' Chapter 7 estate would require the trustee to either violate federal law by possessing and selling the marijuana assets or abandon them. If he did the former, the trustee would be at risk of prosecution; if he did the latter, the creditors would receive nothing while the debtors would retain all of their assets and receive a discharge as well."
Nugent, who penned the opinion for the panel, could not immediately be reached for comment.