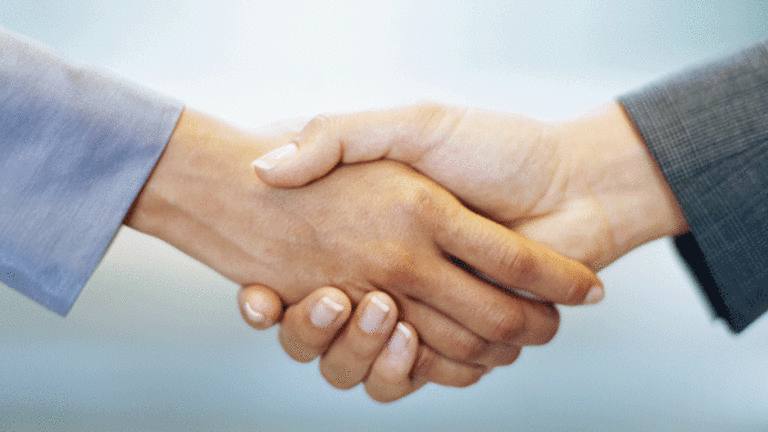 The Deal: Leap Wireless Review Hangs on Feds' Approach
Opponents of the $4 billion deal are hopeful following a recent FCC action in another AT&T acquisition.
NEW YORK (The Deal) -- In the face of fierce opposition from public interest groups, AT&T's (T) - Get AT&T Inc. Report planned $4 billion acquisition of prepaid mobile phone carrier Leap Wireless International (LEAP) could hinge on whether the Federal Communications Commission and the Department of Justice judge the deal based on their traditional models for gauging a telecom deal's effect on competition or whether they break from more established practice and view the deal's impact on national or niche markets.
Read: Syria to Trigger $150 Oil Rally?
The FCC's latest move in a smaller deal AT&T is also trying to complete might be a bad sign for the merger. On Tuesday, Aug. 27, the FCC halted its review of AT&T Mobility's proposed $780 million purchase of
Atlantic Tele-Network's
(ATNI) - Get ATN International Inc. Report
retail wireless business, which operates under the Alltel brand, and demanded that AT&T provide more information about how it will transition Alltel's remaining prepaid customers to its network. On day 175 of the review period, Ruth Milkman, the FCC's wireless bureau chief, told AT&T that the company's responses to questions about AT&T plans for transitioning ATNI's significant prepaid customer base did not contain sufficient detail.
AT&T said it was "extremely disappointed" by the delay in the ATNI review. (The FCC's 180-day clock is not binding on the commission but the FCC tries to adhere to the timeline. It will halt the clock in order to avoid going past the deadline, particularly late in the process.)
Harold Feld, senior vice president of digital public advocacy group Public Knowledge, said the FCC's concern over prepaid customers in the ATNI review is a good sign that the FCC will make the issue a top priority in the Leap deal too. He said the market is now highly concentrated following T-Mobile USA Inc.'s purchase of MetroPCS Communications Inc. in April.
Read: Ford: 2013 Sales Could Hit 16M
"T-Mobile is the primary player in the prepaid market, especially after the purchase of MetroPCS. Leap
which sells the Cricket branded service is the other major competitor," Feld said. "The concern we have is whether AT&T is really committed to that market, which serves low-income customers, or wants to suck up the spectrum and let that part of the business go by the wayside."
He said AT&T already has enough spectrum to build out a third major competitor in the prepaid market but its attempt to offer its own branded prepaid service have had lackluster results. "It's easy to say that you plan to enhance competition in the market but our concern is AT&T will say, 'Thanks very much for the spectrum,' and then abandon what is a less profitable niche."
Feld also said the Leap deal's opponents are concerned about spectrum concentration nationally. "The universe of spectrum in the secondary market is limited and continues to go to AT&T and Verizon Communications Inc. through these transactions. It's true the regulators have said previously that Leap is not a competitor to AT&T, but the trouble is when
you have one of these smaller companies acquired is when you ask where the next competitors to AT&T and Verizon going to come from."
Read: Twitter Buys Trendrr
Feld said he is encouraged by recent DOJ's to challenge mergers in highly concentrated markets, namely the agency's successful effort to stop AT&T's planned takeover of T-Mobile in 2011 and this month's legal challenge to US Airways Group Inc.'s attempt to buy American Airlines parent AMR Corp. out of bankruptcy. "In the US Air/American deal the DOJ said there's a point when we have too much concentration," he noted. "I'd say we're pretty much at that point in wireless too."
Even if the Leap deal isn't challenged, Feld said a long, in-depth review will likely temper enthusiasm for more deals, particularly one like AT&T's possible interest in buying
Dish Network
(DISH) - Get DISH Network Corporation Report
.
Indeed, telecom analysts continue to predict that AT&T's planned acquisition of Leap will be approved by both the FCC and the DoJ. Guggenheim Securities LLC analyst Paul Gallant noted in a recent report that in its application to the FCC, made public in mid-August, AT&T stressed that the merger would put AT&T over the FCC's spectrum cap in only 38 of 356 designated wireless markets. In 17 of those 38 markets, AT&T would be over by less than 5 MHz. A company is considered over the spectrum cap if it controls more than one-third of the wireless spectrum in a market.
Gallant said AT&T's filing reinforced his view that the FCC is likely to approve the deal. "The main risk we saw was spectrum aggregation in some markets," Gallant wrote. But that issue can be dealt with through divestitures in specific markets.
Previously, Gallant noted that the regulators have been focused on preserving competition between the four major carriers -- AT&T,
T-Mobile
(TMUS) - Get T-Mobile US Inc. Report
,
Sprint Nextel
(S) - Get SentinelOne Inc. Class A Report
and
Verizon
(VZ) - Get Verizon Communications Inc. Report
-- and have disregarded competition from Leap and Metro PCS when it comes to measuring the state of play between the four large players. In rejecting the proposed combination of AT&T and T-Mobile two years ago, the Department of Justice and the FCC concluded that regional carriers like Leap were not meaningful competitors to AT&T.
For its part, AT&T says it is committed to the prepaid market and has the capacity to improve the services Cricket already offers.
Read: 5 Tech Stocks Spiking on Big Volume
"Leap's limited network footprint allows it to offer facilities-based services to less than one-third of the U.S. population, and Leap relies on other wireless carriers for roaming and
other services outside of its network footprint," the company said. "Leap's financial resources and limited spectrum depth make it uneconomic to upgrade its current 3G CDMA platform to LTE throughout its network; to date it has deployed LTE technology in only 11 metropolitan areas covering approximately 21 million people and has little prospect today of financing significant further upgrades to cover the remainder of its network footprint."
AT&T also noted that Leap experienced a 22% drop in the number of customers between March 31, 2012 and June 30, 2013.
-- Written by Bill McConnell In Washington