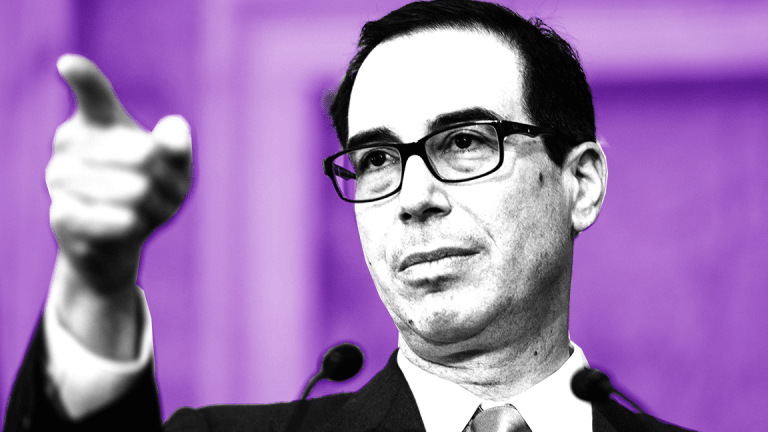 Qualcomm's Surprise Tactic It Has Used to Fight Off Broadcom Is Unusual
Lawyers focusing on cross-border transactions say they have never seen a situation where the U.S. government panel charged with reviewing cross-border mergers asked a company to postpone its annual meeting.
The Trump administration's request Sunday, March 4, to have Qualcomm Inc. (QCOM) - Get Qualcomm Inc Report  postpone its annual meeting by 30 days so it can review a $79 a share hostile bid for the chipmaker by Broadcom Ltd. (AVGO) - Get Broadcom Inc. Report  on national security grounds is an extremely unusual, possibly unprecedented, move, experts say.
At issue is a move by the Committee on Foreign Investment in the U.S., an interagency panel of regulators headed by Treasury Secretary Steve Mnuchin that cross-border review deals on national security grounds. Cfius ordered Qualcomm to postpone its annual meeting, which had previously been scheduled to take place Tuesday, by 30 days so it could review the deal.
"This measure will afford Cfius the ability to investigate fully Broadcom's proposed acquisition of Qualcomm," the Treasury Department said in a statement. The Treasury Department chairs the panel, which includes members from a variety of agencies including the Commerce Department and Defense Department.
However, the move was met by Cfius lawyers with shock and surprise, especially considering that Action Alerts Plus holding Broadcom is seeking to install a change-of-control slate of six dissident director candidates to Qualcomm's board at the annual meeting in an attempt to drive the chipmaker to accept its hostile bid. It's possible that the meeting will take place in early April now, though it could be delayed further. That said, the Trump administration has been unconventional in other matters, so a review before a deal, maybe shouldn't be a surprise.
"I've never seen Cfius ask a company to postpone an annual meeting to conduct a review," said Clif Burns, an attorney at Bryan Cave in Washington.
Burns argued that unless Cfius had its own irrefutable evidence to say that a deal would harm the U.S. national security, it would be challenging for the interagency panel to conduct a thorough review of a transaction that has not taken place yet. Qualcomm argued on Monday that Broadcom has been interacting with Cfius for weeks and has already made two written submissions to the interagency panel.
Even so, Burns pointed out that without a formal deal on the table it is impossible to know precisely what mitigating steps Broadcom might take to structure the company and its board to protect national security interests. "If there is no deal they [regulators] may not have enough information," Burns said.
He noted that the 30-day review is the timeframe usually allotted by Cfius for its examination of a cross-border transaction that has already been struck when both the buyer and seller are seeking to consummate a merger that may pose national security risks. Burns added, based on the statute that it was possible that Cfius could ask for an additional 45 days to review the deal after the 30-day initial review runs out, followed by another 15 days for a presidential examination.
"This looks like uncharted territory," he said. 
A vital issue likely being debated by Cfius members involves concerns raised by at least two lawmakers that Broadcom acquisition of Qualcomm would result in divestitures and reduction of the chipmaker's R&D activity, which would be an advantage for Chinese rival Huawei in the race to develop critical 5G communications technologies.
Burns said that it has been clear since 2003 when U.S. regulators pressured Hong Kong-based Hutchison Whampoa Ltd. to end its attempt to buy bankrupt Global Crossing with its partner, Singapore Technologies Telemedia that telecommunications infrastructure was critical to national security. "It is an entirely plausible argument that there are national security interests in U.S. companies developing and maintaining 5G technology," Burns said.
Broadcom has some connections to Chinese companies, which one of the lawmakers, Rep. Duncan Hunter, R-Calif., said creates the opportunity for China's security agencies to "access and utilize Qualcomm's technology in defense-critical situations."
However, a key impediment to a securities review is the fact that Broadcom is in the process of reincorporating from Singapore to the U.S., a process that it expects to complete by May. Cfius experts contend that should the reincorporation be completed that there would be no statutorily-mandated basis for Cfius to review the deal. In a statement on Monday, Broadcom said that once it is redomiciled in the U.S. that the deal would no longer be a Cfius covered transaction. 
Burns said the Cfius request has some parallels with an effort by opponents to a 2000 Deutsche Telekom-VoiceStream Wireless deal to seek a Cfius review as a means of blocking a transaction they believed to be competitively threatening. However, in that transaction, which was approved, both parties were seeking to combine. "Competitors to the deal marched to Capitol Hill to get Cfius to kill the proposed transaction," Burns said.
A Treasury official did not return a request for comment.