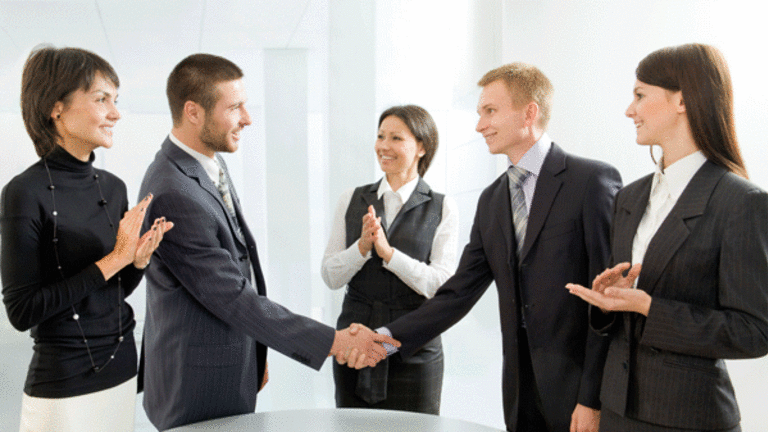 Lampert's Sears Still Has Turnaround Options
Though the CEO's hedge fund isn't offering the retailer commercial paper, he wants it to succeed.
NEW YORK (The Deal) -- Though recent media reports have cast Edward Lampert's decision to back off from holding Sears Holdings (SHLD)  commercial paper as a bad sign for the department store retailer, its financials counsel against immediate panic.
And Lampert, who engineered the merger of Sears with Kmart in 2005 and has been CEO for a little over a year, continues to be in it for the long term, according to people familiar with his thinking.
Lampert's hedge fund, ESL Partners, has been steadily dropping its holdings in Sears commercial paper over the past year. The latest pullback was from $140 million in November, to nothing currently, according to regulatory filings. The company still has $9 million in short-term debt, filings show.
Still, Lampert and ESL continue to hold $2.5 billion worth of equity in Sears Holdings, said Scott Tuhy, an analyst at Moody's Investors Service.
So exiting about $140 million in commercial paper of a total investment in Sears of nearly $2.7 billion is not a significant reduction in exposure, he said. Lampert "still has a lot of skin in the game," Tuhy added. Plus, "Sears has a number of levers it can still pull to raise cash, and has clearly shown a willingness to monetize assets," he said.
Lampert said in a Feb. 27 chairman's letter that the company will seek to raise $1 billion this year through asset sales and other strategic alternatives. The spin-off of apparel retailer Lands' End, announced at the end of last year, will raise half that amount, Tuhy said. The department store retailer has sizeable assets it can monetize to raise the other half, he said.
That $1 billion would cover the roughly $1 billion Sears will spend this year on cash interest expense, capital expenditures and required pension contribution, Tuhy said.

Among other assets, Sears has a real estate portfolio that could be conservatively to fairly valued at over $2 billion, he said. The analyst was basing the estimate on the amount competing department store operator J.C. Penney (JCP) - Get J. C. Penney Company, Inc. Report was able to borrow against its real estate, keeping in mind that Sears has more stores as well as locations that are as good as or better than J.C. Penney, he said.
There is also Sears Auto Center, the warranty business, and the 51% stake in Sears Canada (SCC) - Get ProShares UltraShort Consumer Services Report that has a market cap of C$1.7 billion ($1.5 billion), as well as the Craftsman, Diehard and Kenmore brands.
However, if the plan is to enact a turnaround, it's also "pretty clear [Lampert] has a lot of work to do to transform Sears," Tuhy added.
Lampert said in his annual chairman's letter that the company would focus on integrating e-commerce and mobile with brick-and-mortar, increasing the use of technology in Sears department stores and building the company's brands. However, the plan doesn't include putting money into renovating the chain's dilapidated stores, as The Deal previously reported, something that customers are unlikely to find inviting.
And there are plenty of other places for those customers to go including Home Depot (HD) - Get Home Depot, Inc. Report, Macy's (M) - Get Macy's Inc Report and the ever-present online giant Amazon.com (AMZN) - Get Amazon.com, Inc. Report.
Sears Holdings could even resort to spinning off Kmart, one source said. It would likely not be until after a number of these moves that Sears would resort to a more radical financial restructuring or a bankruptcy filing, the person said.
In regard to Kmart, however, Tuhy said, "We consider the viability of Kmart (which represented around 41% of domestic sales in its latest fiscal year), as uncertain given its continued challenges as evidenced by its meaningful operating losses and market share erosion."

Given all that, a source said at the end of the day Lampert is no Carl Icahn, willing to declare victory and walk away, after reaping huge profits from his investments in Sears and Kmart. Lampert believes he can still make more money, as he has a few more tricks to play at Sears, and hopes to ultimately have a decent ending and not "screw" everyone over, including Sears' creditors.
Rob Schriesheim, Sears Holdings' CFO, said in a March 24 blog post on the company's website that the company's poor performance should not be equated with a lack of financial resources.
"We have the benefit of a flexible capital structure: our $3.275 billion domestic credit facility is in place through April of 2016 and we have no significant term debt maturities until late in 2018," he wrote.
He said that the company has $18 billion in assets on its balance sheet, including a real estate portfolio that has an "accounting value" of $5 billion. Schriesheim also said in the post that Sears Holdings had $885 million in availability on its revolver, and is allowed to raise up to $760 million in second lien debt.
As of Feb. 1, Sears Holdings had nearly $580 million in cash and cash equivalents, while Sears Canada, a unit of which it owns 51%, had cash and cash equivalents of about $450 million. Secured short-term borrowings were about $1.3 billion, while the retailer had only $9 million of unsecured commercial paper, also as of Feb. 1. Sears has total debt of about $4.2 billion. Long-term debt was nearly $2.6 billion and capitalized lease obligations were nearly $350 million.
Sears declined to comment on its commercial paper situation, as well on the issue of whether it might consider a Kmart spin off.