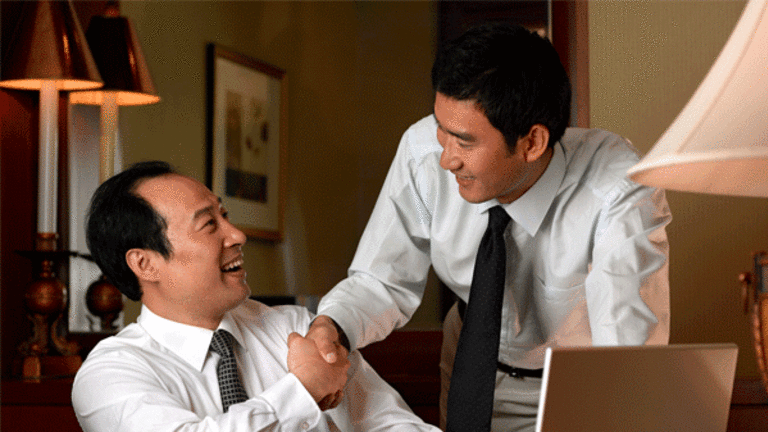 LabCorp and Covance Combine in $6.1 Billion Diagnostics Deal
Companies say their combination will create world's leading healthcare diagnostics enterprise.
Laboratory Corp. of America (LH) - Get Laboratory Corporation of America Holdings Report announced on Monday that it will acquire contract research organization company Covance Inc. (CVD) in a cash and stock deal whose equity is valued at $6.1 billion.
The companies said in a Monday statement that the deal will create the world's leading healthcare diagnostics company.
As a result of the transaction, Covance shareholders will receive $75.76 in cash and 0.2686 in LabCorp shares for each Covance share that they own. The deal represents a 32% premium to target's closing price on Friday. Once the deal closes — which is expected to be during the first quarter of 2015 — Covance shareholders will own 15.5% of the combined company. The deal has a 13.3 times multiple over Covance's Ebitda over the last year.
LabCorp said it intends to finance the cash portion of the acquisition through a combination of cash on hand — including Covance's overseas cash — and fully committed debt financing from Bank of America Merrill Lynch and Wells Fargo Bank NA. The acquisition will be in a combination of cash and LabCorp shares which are currently valued at $105.61 with an enterprise value of approximately $5.6 billion.
Burlington, N.C.-based LabCorp specializes in creating diagnostics tests. The company has over 4,000 tests in its portfolio ranging from blood analyses to companion diagnostics, according to the company. In September, LabCorp announced that it was acquiring LipoScience Inc. for $85.3 million. LipoScience provides services to doctors and patients in order to manage cardiovascular disease and diabetes.
Princeton, N.J.-based Covance is a drug development company that has annual revenues over $2.5 billion and employees in over 60 countries. The company is a top five provider of Phase I to IV clinical management services including expertise in biomarker discovery and development. It has trial activity in over 100 countries and has relationships with all of the top 20 pharmaceutical companies, according to a presentation on the acquisition.
The combined company will aim to improve recruitment for clinical trials, enhance efficiency of the trials and deliver data to physicians, patients and drug sponsors faster.
Following the closing of the transaction, the combined companies' corporate headquarters will be in North Carolina and David King, the current CEO of LabCorp will take the helm of the integrated companies.
"This transaction provides LabCorp with immediate scale and a comprehensive market-leading platform in the $141 billion biopharmaceutical research and development market, while at the same time achieving the new sources of revenue, broader payor mix and greater international presence we have long pursued," said King in the Monday statement.
LabCorp retained Lazard, Bank of A,eroca and Wells Fargo Securities, LLC as its financial advisers. A team from Sullivan & Cromwell LLP provided LabCorp with legal advice including Krishna Veeraraghavan, Alison M. Heyden, Julia R. Kim, David L. Goldin, Matthew M. Friestedt, J. Michael Snypes Jr., Spencer F. Simon, Davis J. Wang, T. Max O'Neill and Steven L. Holley. In addition, LabCorp also retained a team at Hogan Lovells including Michael Silver, William Intner, Rob Church, Carin Carithers, Ned Purdon, Helen Trilling, Eve Howard, Leigh Oliver, Ed Brown, Bernd Klemm, Ajay Kuntamukkala, Elisabethann Wright, Roy Liu, June Wei, T Weymouth, Scott Laughlin, Scott Reisch, Seaton Thedinger, Kerstin Neighbour, Jean-Marc Albiol, Cara Shepley, Frederick Ch'en, Nathan Cooper, Charlotte Hall, Sarah Zhang, Marcy Wilder, Eichiro Kubot and Bert Lau to aid in the transaction.
Covance retained Goldman Sachs & Co. for financial advice, while legal counsel was provided by Cravath, Swaine & Moore LLP, while Covington & Burling LLP is serving as antitrust counsel.