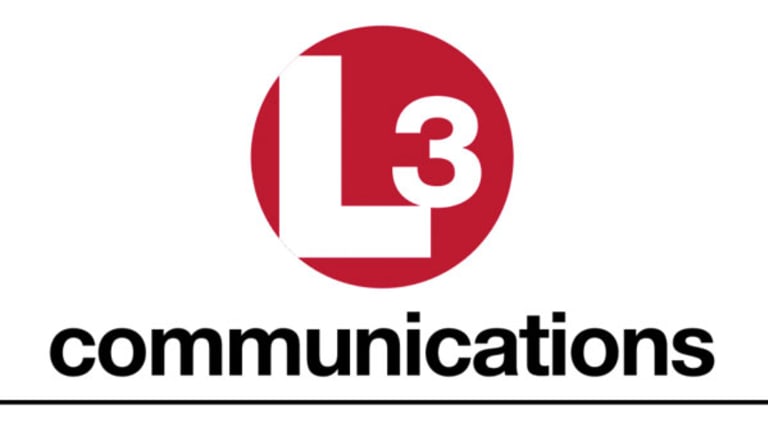 L-3 Fires Up the War Machine
The company, forged in an era of post-Cold War consolidation, is getting back in the M&A game after a few years on the sidelines.
The company, forged in an era of post-Cold War consolidation, is getting back in the M&A game after a few years on the sidelines.
L-3 Communications Holdings (LLL) - Get Report was forged during a post-Cold War era of consolidation in the defense business, but in recent years the company's guns have gone mostly silent. A new offensive is in the works.
New York-based L-3 has done more than 100 acquisitions in its 19-year history, but most of those came in the early days soon after defense veterans Frank Lanza and Robert LaPenta, with backing from Lehman Brothers (the three Ls), acquired a carve-out from Lockheed Martin (LMT) - Get Report comprised largely of businesses Lockheed had added when it bought Lanza's former employer, Loral.
The company under Lanza did a deal a month during some spells, growing L-3 into one of the nation's 10 largest defense contractors. But the company during that period was also at times criticized by Wall Street for a lax attitude on consolidation that left most of the acquired units intact, and L-3 in the years since Lanza's unexpected death in 2006 has spent the majority of its energy streamlining and limiting its consolidation effort to smaller, bolt-on deals.
L-3, under the leadership of CEO Michael Strianese, in 2011 spun its government services business out as Engility, in 2014 sold its marine systems business to Wartsila for $318 million and last year sold its National Security Solutions business to Caci International (CACI) - Get Report for $550 million, among other sales.
But Wall Street rewards growth, not cost savings, and on that metric, L-3 has struggled of late. The company reported net sales of $10.5 billion in 2015, down from $15.2 billion in 2011, due to a combination of divestitures and a weak overall defense market. Shares of the company have been mostly stagnant from 2014 until the beginning of this year.
Now, L-3 is ready to get back to its origins and go on the offensive again.
The company late last year signaled a shift in strategy when it added Chris Kubasik, at the time head of consultancy firm Seabury Advisory Group, as president and chief operating officer. Kubasik was a rising star in the industry and CEO-elect at Lockheed Martin before being dismissed after a company investigation revealed a personal relationship with a subordinate, and L-3 CEO Strianese in a statement announcing the hiring called him "the right person to help execute our strategy for growth."
Kubasik has hit the ground running. The exec told investors last month that L-3 is evaluating more than a half-dozen potential acquisitions, saying the $11 billion market-cap company has at least $1 billion in potential firepower to put to work on deals in the quarters to come.
"We spend a fair amount of time looking at potential acquisitions, some for R&D, some for new products and some for new customers," Kubasik said during the company's first-quarter conference call.
Barclays analyst Carter Copeland in a note following the earnings release called L-3's renewed M&A focus a "most notable shift," speculating that the company's push to do deals is "perhaps in part related to the poor multiples that L-3 found they could fetch for businesses that may have been jettisoned, but also the realization that at its core L-3 is a growth/M&A company."
In recent years, L-3 has largely sold assets and used the proceeds to buy back shares, a manageable short-term project but not a formula for long-term success. With top tier contractors larger than L-3 soaking up an increasing share of the overall defense budget, there is reason for concern that L-3's collection of smaller businesses that feed those primes will find it hard to grow as fast as peers.
"It makes more sense to utilize what was once the industry's leanest cost structure to expand inorganically, which now appears to be what the company is going to do," Copeland wrote. "Frankly, this gets back to L-3's original roots and was what made it great a long time ago."
Easier said than done, of course. The defense patch has experienced a flurry of dealmaking in recent quarters, as companies frozen during talk of government shutdowns and sequestrations have regained enough confidence in the budgeting process to become more opportunistic. One aerospace source questioned whether L-3 will be able to find companies at reasonable valuations in the areas where it is likely to be most interested.
The source also noted that relative to a decade ago most of the remaining targets have gone through rounds of internal cost cuts, making L-3's task of going in and extract cost savings more difficult.
"The market is very different now," the source said. "The fattest pigs have already been slaughtered."
L-3 is believed to be particularly interested in using M&A to bolster its flight simulation and training division, and add to its portfolio of high-tech combat tools like night vision optics or equipment to help screen passengers and luggage at the airport. Quebec's CAE (CAE) - Get Report , a company that L-3 has done business with in the past, would overnight make L-3 a market leader in simulation and training, but the company's $3.2 billion market capitalization might be more than what L-3 wants to swallow.
CAE and L-3, along with Warren Buffett-owned FlightSafety International, dominate the market for commercial simulation hardware, but there could be opportunities in military and civil training. Lockheed Martin divested its commercial flight training operation earlier this year, and other large companies including Rockwell Collins (COL) have substantial operations that could be available at the right price.
Standalones in the business include Axis Flight Training Systems GmbH of Austria and Illinois-based Frasca International. There are also a large number of small, privately held vendors of tactical equipment that could be added.
Another source speculated that L-3 is likely to seek non-U.S. targets in a bid to better diversify itself and expand the portion of its revenue that comes from outside of the United States. The strong dollar would also give L-3 more buying power overseas, potentially allowing the company to get more of a revenue impact from a small to midsized acquisition.
L-3 has done a good bit of streamlining since the Lanza era, but it is still basically a holding company comprised of a large number of autonomous businesses. Kubasik believes this gives the company an advantage as an acquirer, allowing it to offer entrepreneurs the resources of a large organization without surrendering their businesses completely.
Summarizing meetings with potential sellers, Kubasik told investors, "they like being able to somewhat maintain their identity and continue to be entrepreneurial and innovative." He said that L-3 in competitive auctions is able to bring in execs who were acquired years ago who can share their experiences with the current target.
"Even though there's the usual governance and oversight that we provide, they like the ability to work amongst the other divisions of L-3 and share the R&D and such," Kubasik said. "So we think we're in a unique position."
The go-go days under Frank Lanza are almost certainly in the past, as are the days when a smallish defense contractor can use M&A to grow from a minnow to a shark and see its stock appreciate by 800% in the process as it did under its former CEO. But L-3 was established as a growth platform, and the company is by all indications back in the business of doing deals.
"Long term, I would like to continue to grow this company, both organically and inorganically," Kubasik told investors. "That's the strategy [CEO] Mike [Strianese's] laid out and we're all going in the same direction there."
Lockheed Martin is a holding in Jim Cramer's Action Alerts PLUS Charitable Trust Portfolio. Want to be alerted before Cramer buys or sells LMT? Learn more now.
, which Cramer co-manages as a charitable trust, is long LMT.