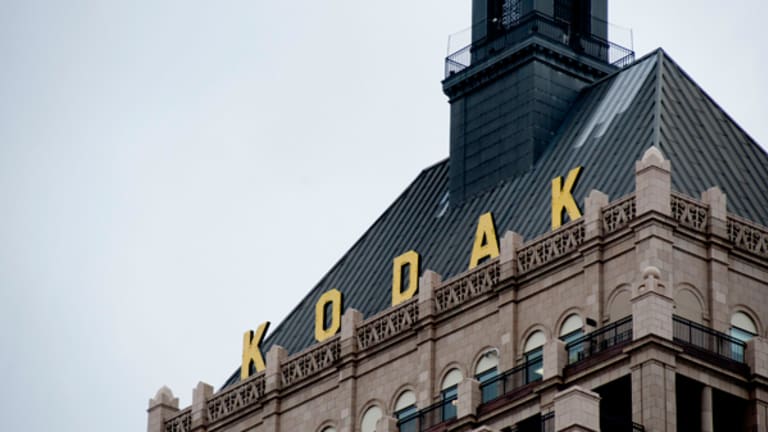 Kodak Returns to the New York Stock Exchange
Eastman Kodak is returning to the NYSE as a transformed corporate icon.
NEW YORK (TheStreet) -- Eastman Kodak will re-list its shares on the New York Stock Exchange (NYX) on Friday, nearly two months after the iconic film and camera pioneer exited an 18-month long bankruptcy process that re-positioned the company away from consumer products.
Kodak will list with the NYSE under ticker symbol "KODK" and begin trading on Nov. 1, the company said in a Tuesday afternoon statement. TheStreetfirst reported Kodak's plans to re-list on the NYSE after emerging from bankruptcy.
"We are pleased to once again be listed on the NYSE. The change in our symbol reflects that we are a new company that is focused on business-to-business products and services, well-capitalized and firmly committed to delivering value to our shareholders and innovation to our customers," Antonio M. Perez, Kodak's CEO said in a press release.
Kodak will be a dramatically different company as it returns to the NYSE, the exchange where it traded for many decades and was once considered a blue-chip technological pioneer alongside the likes of IBM (IBM) and Hewlett-Packard (HPQ) . At its heyday, Kodak's film business was also among the world's most recognizable brands such as Coca-Cola (KO) soda.
The company, however, has divested most of its best-known consumer products such as photographic film and digital cameras, and it is now a specialized player in high-tech manufacturing businesses that include commercial and functional printing.
The bankruptcy process allowed Kodak spin off its non-core film and document imaging assets to its U.K. pension fund, in a crucial move that resolved liabilities with its largest unsecured creditor and presaged the firm's post-Labor Day bankruptcy exit. Kodak also sold Kodak Gallery to Shutterfly (SFLY)  and a portfolio of digital imaging patents to a consortium of technology industry giants such Apple (AAPL)  and Google (GOOG) .
"It will be enormously valuable for the Company to get out of Chapter 11, and begin to regain its position in the pantheon of American business," U.S. Bankruptcy Court Judge Allan Gropper said when approving Kodak's plan to emerge from bankruptcy on Aug. 20.
"We are proud to be a small part of Kodak's historic turnaround," Duncan Niederauer, CEO NYSE Euronext, said in a statement Tuesday.
In contrast to the multi-decade decline of Kodak's once-dominant photographic film business, the company expects its remaining lines of business to be positioned for sustainable growth. The new Kodak is expected to be attached to markets as high-end as the manufacturing of touch screens, semiconductors, battery technologies, holographic images and circuitry.
Kodak said in a recent investor presentation that it had 8,500 worldwide employees as of September 2013, and is on track to earn $167 million in 2013 earnings before interest, taxes, depreciation and amortization (EBITDA). Kodak forecasts it may earn nearly $500 million in EBITDA by 2017.
In mid-October, Standard & Poors gave Kodak a sub-investment grade rating on its first-lien debt and highlighted that while the company has undergone a major transition it will be difficult to build sustainable earnings in a highly competitive commercial printing market. S&P's 'B-' first-lien debt rating also cited Kodak's high leverage relative to its earnings as a risk.
When Kodak emerged from Chapter 11 restructuring on Sept. 3, the company cancelled its then-outstanding stock. New shares were listed on over-the-counter markets and will now trade on the NYSE starting in November.
"The new Kodak is a global technology company offering breakthrough solutions and professional services in the packaging, graphic communications and functional printing markets," Kodak said in a statement, pointing to its presses and imprinting systems, its packaging solutions, and process free plates.
Kodak's new equity holders include private-equity giant Blackstone Group (BX) , through its GSO Capital Partners credit investing arm and hedge fund BlueMountain Capital Management. Both investors hold in excess of 20% of Kodak's outstanding shares, according to recent filings with the Securities and Exchange Commission. Moses Marx of United Equities, Contrarian Capital and George Karfunkel are also among Kodak's new shareholders.
Most of Kodak's shareholders are secured creditors who backstopped a $406 million rights offering in June that converted secured and unsecured creditor claims into new equity, an important piece of the company's bankruptcy emergence.
While Kodak's January 2012 bankruptcy filing was a national news event and even stood out to some as an example of America's declining manufacturing industry, its reemergence may be indicative of the specialized U.S. businesses now at the confluence of manufacturing and technology.
Check out TheStreet's series about Kodak's fall, its bankruptcy and Rochester, N.Y.'s ability to avoid Detroit's fate.
-- Written by Antoine Gara and Joe Deaux in New York.