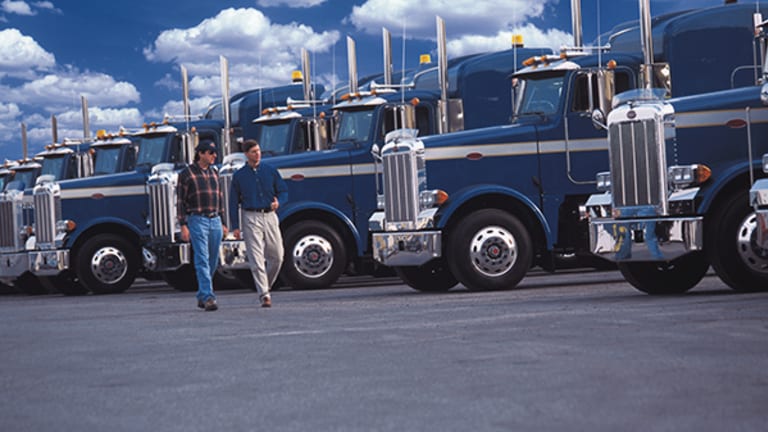 Knight Transportation to Accelerate Buying as Trucking Hits Brakes
Analysts say Knight and other active acquirers will be buying during the coming trucking sector weakness.
Trucking companies are sounding a word of caution about future growth, casting doubt on the strength of the overall economy. So look for Knight Transportation (KNX) - Get Knight-Swift Transportation Holdings Inc. Class A Report to play consolidator should a slowdown come.
Phoenix-based Knight, like Swift Transportation (SWFT) and Werner Enterprises (WERN) - Get Werner Enterprises, Inc. Report before it, delivered solid results in the recently concluded third quarter but during its analyst call Wednesday joined its peers in warning that future results could come in slower than expected. Analysts are increasingly expecting weaker truckload pricing heading into 2016, and are adjusting expectations accordingly.
"With U.S. jobs growth still positive and the consumer benefiting from lower gas prices, we along with others are a bit perplexed by the slower retail environment," Barclays analyst Brandon R. Oglenski wrote following the Knight results. "Nonetheless, [truckload] estimates appear to have further downside heading into 2016, which will clearly challenge stocks."
Knight is likely to stay aggressive during the downturn. The $2 billion market cap company has not done a deal since its $112.5 million purchase of Barr-Nunn Transportation, announced in October 2014, but the company made it clear that it is looking.
"We spin off a lot of free cash flow, and we've got a very good track record with acquisitions so far in our history," company CEO Dave Jackson said during Knight's earnings call. "That gives us confidence to make acquisitions."
Jackson said that "we have ongoing dialogue of various forms" with a number of companies, but refused to predict when Knight might have a chance to pull the trigger. "We're just fostering the right kind of environment there."
Knight has made similar comments before, and it is unclear how patient investors will be. UBS Securities analyst Thomas Wadewitz, in a note following earnings, said, "We believe Knight is likely to find another truckload carrier to buy over the next several years" while admitting "anticipating the timing for a deal is difficult."
Adding urgency to consolidation talk is a growing shortage of drivers, a product of new safety regulations that allow for less time on the road and a rebound in sectors such as construction that often compete against trucking for workers.
If history is a guide, Knight will not be shy if it finds the right target. The company has attempted hostile bids in the past, such as a failed 2013 effort to acquire USA Truck (USAK) - Get USA Truck, Inc. Report for $242 million.

Many observers believe USA Truck, with an enterprise value of about $290 million, would still be a logical fit for Knight. The company could also pursue a larger transaction with a more similarly sized rival, including fast-growing and active acquiring firms such as Celadon Group (CGI) and Roadrunner Transportation Systems (RRTS) - Get Roadrunner Transportation Systems, Inc. Report .
A wild card would be the truckload division of Con-way (CNW) , which is in the process of being acquired for $3 billion by XPO Logistics (XPO) - Get XPO Logistics, Inc. Report . Greenwich, Conn.-based XPO has insisted that despite its asset-light history and traditional focus on brokerage services it intends to keep Con-way's trucking fleet in-house, but many industry analysts and bankers expect XPO to at least consider a sale of the business in the coming years.
Knight has also been seeking to expand its logistics business, but that sector has already seen a surge in deal flow that has boosted valuations and seems more likely an area where the company would seek to grow organically in niche areas.
After a great run of gains following the 2008 recession, the trucking business is signaling a move out of the fast lane. It likely won't be long until Knight chases down a new merger partner.