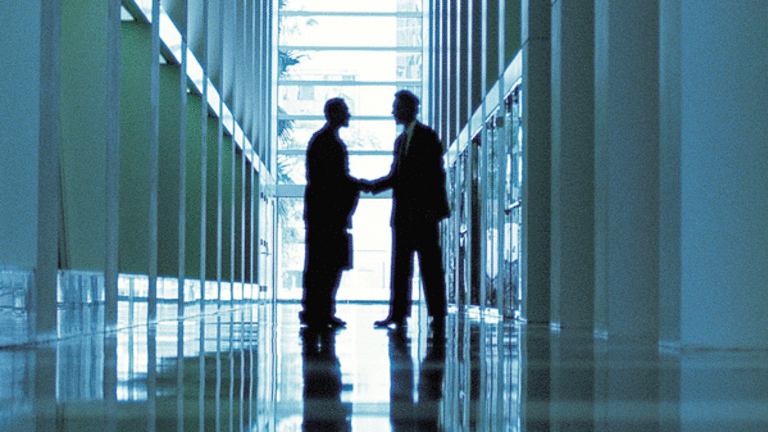 KKR Strikes Biggest Buyout of 2011 With Samson
KKR strikes the largest private equity deal of the year by drilling into shale.
NEW YORK (
) --
KKR
(KKR) - Get Report
announced Wednesday a $7.2 billion takeover of privately held shale driller
Samson Investment
, upping previous bid rumors by $2.2 billion, and inking the firm's biggest private equity deal since the 2008 financial crisis
The deal is also the biggest private equity buyout of 2011, topping an October $6.3 billion takeover of
Kinetic Concepts
(KCI)
by a consortium led by Apax Partners and KKR's own $5.3 billion bid for
Del Monte Foods
in 2010, according to data compiled by
Bloomberg
,
Itochu
of Japan,
Crestview Partners
and
NGP Energy Capital
are partnering with KKR on the Samson bid, however a press release about the deal didn't indicate how much each partner will own. According to previous
Reuters
reports, KKR is expected to take a 60% holding in Samson, while Itochu set to take a 25% stake. The deal will not include Samson's onshore and offshore operations in the U.S. Gulf Coast.
Founded in 1971 by Charles Schusterman, privately held Samson is headquartered in Tulsa, Okla., and has 1,200 employees that manage its oil and gas operations, which require in excess of $1 billion in annual capital expenditure, according to its Web site. Samson owns interests in over 10,000 wells of which it operates over 4,000 in the U.S., leading to a revenue mix of 70% from gas drilling and 30% from oil liquids. According to its website, Samson has spent $4 billion in oil and gas asset acquisitions in recent years.
"We are very excited to support the continued growth of Samson. The Schusterman family has built a remarkable company with an extraordinary culture. We feel very fortunate to have the opportunity to carry on their commitment to employees, to communities, and to the safe and profitable development of domestic energy resources," said KKR co-founder and chief executive Henry Kravis in a statement announcing the deal.
Samson will be renamed Samson Resources and will keep its headquarters in Tulsa. Its current chief operating officer David Adams will replace family owner Stacy Schusterman as chief executive, upon completion of the deal, which is expected in the fourth quarter of 2011.
The deal comes on top of its November completion of a $3.5 billion sale of Eagle Ford drilling and production assets to
Marathon Oil
(MRO) - Get Report
.
For KKR, which became a Wall Street buyout legend in the 1980s for its $25 billion takeover of
RJR Nabisco
, it would be a further push to shale drilling. In particular, the deal puts the firm into the Bakken shale in North Dakota and similar formations around the U.S. Its previous Hilcorp investment focused on oil and gas shale in 141 acres of the Eagle Ford in East Texas.
In 2009, KKR cut its first shale deal, investing $350 million in
East Resources
to get a foothold in Pennsylvania's Marcellus shale. Eleven months later, KKR sold the investment in shale assets stretching from New York to West Virginia for $4.7 billion to
Royal Dutch Shell
(RDS)
, making it one of its most lucrative post-crisis investments.
Wednesday's Samson takeover signals that the shale oil and gas M&A boom still has legs. This year, Australian energy and commodities giant
BHP
(BHP) - Get Report
bought Petrohawk Energy for $12.1 billion and more recently Norway's
Statoil
took over of
Brigham Exploration
(BEXP)
for $4.4 billion.
--
Written by Antoine Gara in New York
.