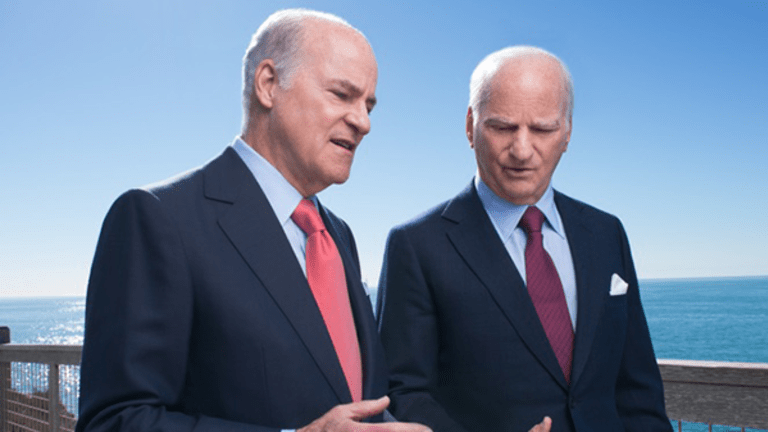 KKR & Co. LP (KKR) - Get KKR & Co. Inc. Class A Report Monday named Joe Bae and Scott Nuttall was co-presidents and co-chief operating officers of KKR and members of the board of directors. 
Their appointments follow speculation about the line of succession at the buyout powerhouse, as Henry Kravis and George Roberts, co-chairmen and co-CEOs are now in their 70s. In a release Kravis and Roberts stated: "Today's announcement is about the future and ensuring we have the right team and leadership structure to serve our clients and partners for decades to come."
KKR shares were up 29 cents or, 1.51%, to $19.54 through afternoon trading Monday.
Bae will focus on the firm's global private equity businesses as well as the real asset platforms across energy, infrastructure and real estate private equity. Nuttall will concentrate on corporate and real estate credit, capital markets, hedge fund and the capital raising businesses, while working on the firm's corporate development, balance sheet and strategic growth initiatives.
Alex Navab, a 24-year veteran of the firm, will step down from his role as head of Americas private equity and retire from KKR "after an orderly transition." The founders said, "We thank Alex for his many contributions and know his management and investment capabilities will benefit any enterprise he joins." The firm also stated, "separately and unrelated," that chief administrative officer Todd Fisher announced his intention to depart from from the firm at the end of the year to pursue a second career outside the investment arena.
Bae, 45, joined KKR in 1996. Most recently, he was the managing partner of KKR Asia and global head of KKR's infrastructure and energy real asset businesses. He has been the architect of KKR's Asian expansion since 2005, and is chairman of the firm's Asia and Americas private equity investment committees. He also serves on the European PE, growth equity, energy, infrastructure, real estate and special situations investment committees. He is also a member of the risk management committee and inclusion and diversity council. Earlier, Bae worked for Goldman, Sachs & Co. in its principal investment area, where he was involved in merchant banking transactions. He has a B.A., magna cum laude, from Harvard College and serves on the boards of several non-profit educational and cultural institutions including, as a trustee for Phillips Andover Academy, the global advisory council at Harvard University, a board member of Lincoln Center, The Asia Society and the Asia Art Archives.
Nuttall, 44, was the head of the global capital and asset management group, where he was responsible for overseeing the public markets and distribution businesses, which include credit, capital markets, hedge funds and the client and partner group. He played a significant role in the firm's IPO, developing the balance sheet strategy, helping build KKR's platforms in the credit and hedge fund space and creating the firm's capital markets and capital raising businesses. Nuttall also serves on the balance sheet committee and the Inclusion and diversity council. He is also a member of the board of directors of First Data Corp., a portfolio company. Nuttall was previously with the Blackstone Group, where he was involved in merchant banking and merger and acquisition transactions. He received a B.S., summa cum-laude, from the University of Pennsylvania and has served on the boards of non-profit institutions, with a particular focus on education, most recently as co-chairman of Teach for America - New York.
This is arguably the biggest personnel news at the firm (note again the departures of Navab and Fisher) since co-founder Jerome Kohlberg Jr. left it in 1987, a year before the now-sprawling firm announced its $25 billion leveraged buyout of RJR Nabisco, which was immortalized in the book "Barbarians at the Gate."