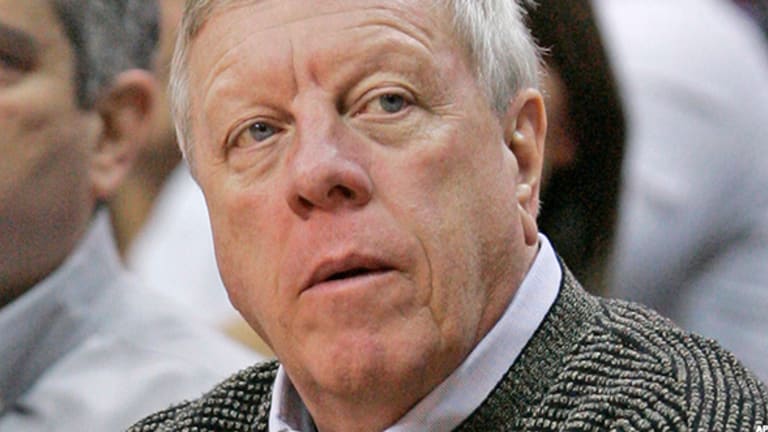 Kinder Morgan Cut Its Dividend, Will Other Energy Companies Follow?
The pipeline giant's drastic dividend cut is likely to prompt peers to follow suit.
After much speculation, Kinder Morgan (KMI) - Get Kinder Morgan Inc Class P Report finally did it: It cut its dividend. The reduction, which was announced after the markets closed Tuesday, amounted to a whopping 74% -- more than expected -- but took a lot of heat off the debt-laden Houston pipeline giant, which has been dogged by doubters who helped halve its value over the last two months.
Its shares jumped almost 7% on the news Wednesday and the markets cheered over Kinder's new-found fiscal responsibility. Standard & Poor's and Moody's Investors Service both applauded the move, with Moody's upgrading its rating from negative to stable.
While he called it the company's "day of reckoning," Simmons & Co. International analyst Mark Reichman acknowledged the cut will strengthen Kinder's balance sheet via gradual deleveraging, cut its reliance on external sources of financing and help it protect its investment grade rating. "We think it represents a healthy shift away from trying to deliver dividend growth at any cost to an emphasis on free cash flow and financial strength," they said.
Indeed, the company said in its statement and on a conference call with analysts its underlying business is just fine, with its discounted cash flows within 5% of plan for this year and still expected to grow 6% to 10% next year. CEO Steve Kean said the company had been "caught up in the contagion" of lower oil prices but was "strong and growing."
Management also said the company will now have $3.85 billion after paying dividends to fund its $4.2 billion capital budget next year, and that it hopes to end next year with a net debt/Ebitda multiple of 5.5, which still qualifies it for investment-grade ratings. Also, it indicated it might further strengthen its balance sheet through asset sales or joint ventures, though these would be limited in size. 
"We evaluated numerous options, including significant asset sales, but ultimately concluded that these other options were uneconomic to our investors in the long run," the company's billionaire chairman and founder, Rich Kinder, said in the company's statement. "This decision was not made lightly, but we believe it is in the best interests of the company, its shareholders and employees."
Kinder Morgan's aggressive dividend cut -- brought on by the severe downturn in the industry after the slide in oil prices -- may open the door to an entire sector doing the same, analysts at Tudor, Pickering, Holt & Co. Securities wrote in a report Wednesday. Without naming names, they said management teams with meaningful backlogs of growth projects will be considering a similar "cut near-term distribution and self-fund" strategy.
Seaport Global Securities analyst Sunil Sibal isn't so sure, saying Wednesday he doesn't believe Kinder Morgan's decision signals broad distribution/dividend cuts across the master limited partnership/midstream infrastructure sector. "It's important to look at individual leverage and distribution coverage," he insisted.

Others say many pipeline MLPs have parents or sponsors that are able to support them when capital markets dislocated, and that many already have done so. But Valuentum Securities, which has been critical of Kinder Morgan and other midstream companies, thinks more dividend cuts may be coming, with Plains All American Pipeline (PAA) - Get Plains All American Pipeline, L.P. Reportnext in line among the more heavily followed midstream equities. "We would expect the credit rating agencies to eventually begin demanding more prudent and debt-friendly actions across several MLPs, particularly as crude oil price decks are updated and financial flexibility is reduced," he said.
Indeed, on Monday Moody's lowered its outlook for Plains All American to negative, citing its expectation of continuing debt-to-Ebitda of a high 5.4 times and distribution coverage below 1 times.
"We believe potential capital markets and restructuring activities might lessen the burden on the company's equity market funding, but unless they also result in improvements in expected credit metrics, the rating is at risk," said Moody's Senior Vice President Terry Marshall.
Valuentum also thinks Energy Transfer Equity (ETE) and Energy Transfer Partners (ETP) will likely see a credit downgrade deeper into junk before the downturn in the oil and gas business is over and that a dividend cut is equally likely.
"In light of the meager, yet meaningful, direct commodity exposure of Energy Transfer Equity's collection of MLPs, their capital spending plans and massive dividend obligations, bondholders at Energy Transfer Equity should be looking for more prudent capital allocation now rather than later," they said. "A dividend cut would provide that option."
In a recent commentary, TheStreet's Jim Cramer said his Action Alerts PLUS Charitable Portfolio continues to own Energy Transfer Partners because it is "truly distinct from its brethren" although he also advised approaching the stock with caution "as we expect continued volatility in the near term. Long term, however, we view the current price and yield as a steal." 
Exclusive Look Inside:

You see Jim Cramer on TV. Now, see where he invests his money and why.

Valuentum said there were lessons to be learned from Kinder Morgan's drastic dividend cut. First, entities that need access to the equity and debt markets have substantially higher risks to their dividend profile than companies that have more cash and short-term investments and generate excess free cash flow.
Second, Valuentum said, executive teams have been depending to an unprecedented and unsustainable degree on dividends as a way to please investors. "Boards can do what they want with the dividend until they can't," the firm noted. "Hard to believe today, but Kinder Morgan raised its dividend 16% as recently as October 21. That's less than two months ago."
Still, Tudor, Pickering, Holt doesn't think the midstream model of distributing all cash flow and relying on new capital to fund growth changes permanently. They said the market sending share prices down and yields "to the moon" ultimately forced this behavior. "As the sector recovers and yields moderate, expect a return to the previous status quo," they predict. It couldn't come soon enough for some of these names.