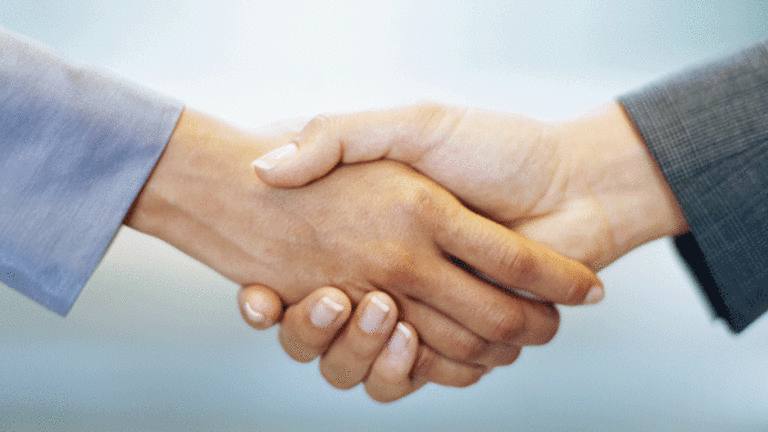 KEYW Holding Prefers a Stealth Style
KEYM Holding actively pursues acquisitions just don't expect them to participate in an auction.
NEW YORK (
TheDeal
) -- Defense technology and cybersecurity company KEYW Holding Corp. continues to scour the M&A field for acquisition targets though you'd never it if you show up for an auction.
KEYW, of Hanover, Md., has made a name for itself in the defense and cybersecurity world due in part to a unique style of dealmaking, a distinctive corporate culture and operating on the cusp of a cutting edge and highly dynamic sector. While the company has gone on a strong acquisition tear for the past two years, it has done so without participating in a single auction. Rather, it has found targets through an extensive network of contacts and long-term partnerships delicately coaxed into existence through the web spun by its executives.
Shares of KEYW added 0.5% to $16.14 in mid-day trading
Industry watchers expect more acquisitions from the company in the near term, and KEYW is certainly well positioned. Cybersecurity breaches at private companies have become alarmingly more frequent -- or at least more publicized -- of late, and firms are scrambling to protect themselves from hostile intrusions by foreign governments, namely China and Iran. Likewise, the U.S. military is ramping up more sophisticated intelligence technology to combat these threats.
Just don't expect KEYW to stray from its M&A playbook.
"Rule No. 1 is they don't attend auctions. Rule No. 2 is, if you are in a veiled process that's not like an auction but it turns out to be an auction, they will eighty-six you from working with them in the future," said defense banker Paul Weisbrich of D.A. Davidson & Co. "They're pretty hardcore. That's very different. Most corporate development guys are like, 'I don't want to talk to you until you have the book.' "
Weisbrich added: "That being said, they're good people, fair people. From a strategic direction they're M&A sophisticates."
KEYW is firm on its auctions ban, distributing a list of rules of doing M&A with the company to every potential client and their adviser, with this prohibition first and last on its list.
In spite of this, KEYW is well acquainted with M&A. It's made about 14 deals since its formation in 2008, and eight acquisitions since its September 2010 initial public offering, when it sold 9.1 million shares for $10 each, raising about $91 million.
Recent deals include purchases of Columbia, Md., cybersecurity specialist Rsignia Inc. on Nov. 27 for undisclosed terms; Redwood City, Calif.-based Sensage Inc. for $34.5 million on Sept. 14; Annapolis Junction, Md., software company Poole & Associates Inc. for $126 million on Sept. 10; and North Andover, Mass., reconnaissance and surveillance tech company Flight Landata Inc. for $30 million on July 28.
The $126 million purchase of Pool & Associates is its largest deal to date. And part of the reason is the company's refusal to engage in a bidding war.
KEYW chief strategy officer Edwin M. Jaehne emphasized this, explaining that competitive bidding puts too much pressure on financial numbers and other metrics, and not enough on the overall strategic partnership being consummated and joint far-reaching goals. In auctions, "it's a transferrer of responsibility, as opposed to a sharing of responsibility in growing something to the next level. We look for businesses whose leadership wants to stay," he said. "We've seen some silly prices paid for properties that take years to grow into what was paid."
KEYW's acquisition efforts, strategic direction and operational focus are spearheaded by a long-term defense industry entrepreneur, Len Moodispaw.
Moodispaw, KEYW's co-founder, has a strong reputation in the industry. Prior to his current post, Moodispaw was president and CEO of cybersecurity company Essex Corp. from 2000 until January 2007. Northrop Grumman Corp. subsequently acquired Essex for $580 million in early 2007. Moodispaw served as a Northrop vice president, managing Essex within Northrop's mission systems division until July 2008. He left his post to found KEYW with proceeds from the Essex sale.
KEYW was founded in the summer of 2008 in part with a $23 million investment from friends and family of company management, according to Jaehne, and the company received a second investment worth $30 million with existing investors, as well as New York VC shop Vedanta Capital LP.
"The way I would look at it, this company has had two periods for acquisitions, one would be pre-IPO and the other would be post-IPO. They needed to be a certain size before they were able to go public, and the initial acquisitions were geared toward creating that size and scope. The acquisitions since then have been more toward building out capability," said analyst James McIlree of Dominick & Dominick LLC.
Consider KEYW's acquisition of Flight Landata, a company with highly sophisticated surveillance technology for unmanned aircraft used on contemporary battlefields.
The purpose of the deal "was the owning of a hard asset in terms of airplanes," said McIlree. "Flight Landata's business was mostly affiliated with Afghanistan. These planes are flying relatively low to the ground, taking a certain kind of radar image of the terrain, and then that data is used to inform commanders on the field of what's happening."
Rsignia and Sensage, meanwhile, are cybersecurity businesses that do work in commercial markets. While these transactions were both small, they represent something of a diversification strategy for KEYW into the private sector. Responding to demand in the commercial space, KEYW has developed a cyberdefense systems architecture for commercial entities called Project G, scheduled for full launch sometime in the second quarter. AT&T Inc. is one early adopter.
"Sensage is a security information management company that's worked with International Business Machines Corp. It has very good capability of monitoring very large complex IT networks, effectively logging data, being able to track data. Rsignia does data packet inspection, which also allows you to monitor the flow of information over a network or inside a firewall," said Mark Jordan of Noble Financial Group Inc.
Jaehne explained the Sensage deal is typical for how KEYW executes acquisitions. "We worked together for about a year before we acquired. It was something we built from a partnership, a very orderly and intensive getting to know each other." Among Sensage management was Joe Gottlieb, who is now KEYW's vice president of global security solutions. This business, too, is part of KEYW's Project G.
"
Project G utilizes the sensors already resident in existing commercial networks, machine generated data and proprietary algorithms to create automated policies and procedures to quarantine and remove threats," explained McIlree in a research note on the Rsignia deal.
Poole & Associates, meanwhile, was attractive because of existing government contracts that it had in place, said Jordan.
Founded in 1999, Poole & Associates provides technical training and software for U.S. intelligence agencies. The business generated $24.8 million in revenue for the first six months of 2012 and expects to earn more than $35 million for the second half of the year. Poole & Associates had $225 million in backlog orders as of June 30. KEYW expects the target to add about $90 million in sales in 2013. The target was also awarded a $150 million contract with an undisclosed intelligence customer, executives said on a conference call in September.
"It was a good operation, well positioned and would have probably grown quite rapidly on an organic basis. That's why it was attractive," said Jordan of the Poole deal.
Poole & Associates founder Mike Poole is now KEYW's vice president of its national security solutions division.
Prior to leading Essex, Moodispaw was a senior director at the National Security Agency from 1965 to 1978 and he leverages his government contacts to find deals today with colleagues. KEYW generally does not disclose the names of its customers or some of its deal contacts because of the highly sensitive nature of the work that it does, but analysts said the company likely works with the NSA and the Central Intelligence Agency, among others.
"Len has extraordinary access and connectivity to the highest levels of intelligence community in the U.S.," said Jaehne, who added that he typically taps his network during the due diligence process for transactions. "With our Flight Landata acquisition, Len reached out to colleagues he knew, and asked 'Was this a good business, what reputation did the company have, etc.' "
That deal took about three months to close and was initially brought to the company by an investment banker long associated with KEYW, Joe Nardini of FBR Capital Markets.
Other observers said the business has a flat corporate structure, something unique in its space. "The KEYW management team has a track record of developing a culture that allows for fast growth," said analyst Toby Sommer of SunTrust Robinson Humphrey. "Individual business units are empowered to deliver what their customers want, make decisions and basically say yes to their customers much more rapidly. Other government services companies are built around serving traditional defense customers, staffed with people who are from the defense industry. They're very hierarchical, you have to raise things up the flag pole, and because of that, their response time is slower. KEYW can be faster."
This focused, swift approach to dealmaking has KEYW well positioned for growth both organically and via M&A. And it's striking while the iron is hot, so to speak.
According to remarks made by NSA director and Central Security Service chief Gen. K.B. Alexander at the October 2012 American Enterprise Institute event "Cybersecurity and American Power," Symantec Corp. estimated the cost of IP theft to companies in the U.S. at $250 billion a year, and global cybercrime at $114 billion annually.
The Business Roundtable, an association of CEOs from major U.S. companies, such as MasterCard Inc.'s Ajaypal S. Banga, begun a push Jan. 9 for closer cooperation between Washington and its membership on computer security matters. Furthermore, officials from major U.S. banks, including PNC Financial Services Group Inc., SunTrust Banks Inc. and BB&T Corp., have been lobbying Washington recently to block or strengthen defenses against hostile attacks on their computer networks. The banks feel they shouldn't be expected to fend off attacks from international sources, according to a Jan. 15 report in The Wall Street Journal.
The Obama administration in late February threatened China and other nations with trade sanctions and other diplomatic actions as it cataloged more than a dozen cases of commercial thefts and cyberattacks aimed at companies such as General Motors Co. and L-3 Communications Holdings Inc.
"We're worried about two things,
either the infrastructure-type Pearl Harbor, where we could have cyberattacks that shut down everything we do, or we could lose incredible amounts of intellectual property by people coming in and stealing plans from the corporations that handle our financial institutions," Jordan said. "The Chinese, and anybody else, could be stealing us blind."
Threats to American computer systems, both public and private, are business opportunities to KEYW. "I think the Federal Bureau of Investigation is going to feed them prospects," said SunTrust Robinson's Sommer. "It doesn't always get very publicized, but when you hear about a security breach or a cyberattack on a commercial entity, it's often because the FBI knocked on their door and said, 'Hey, someone's been in your network for six months
or longer.'/"
The average network intrusion lasts 416 days, according to data from Alexandria, Va., cybersecurity analysis firm Mandiant Corp.
Despite a fiscal reckoning in Washington, most observers agree that there will still be high demand from the U.S. military for sophisticated intelligence gathering, reconnaissance and cyberdefense technology, all fields in which KEYW operates.
According to KEYW's most recent 10-K filed in March 2013, the director of National Intelligence disclosed that the 2011 National Intelligence Program Budget was $54.6 billion and the Military Intelligence Budget was $24 billion, for a combined intelligence budget of $78.6 billion. Input Inc., a market information and research firm for U.S. government business, said that the federal cybersecurity market is expected to achieve a 9.1% annual growth rate through 2015. Driving this growth, it cites a 445% increase in cyberthreats since 2006 and increased reliance on the Internet, networked systems and connectivity as creating opportunities for cyberattackers to disrupt government operations, as well as U.S. critical infrastructure. Another study produced by Market Research Ltd. states that U.S. federal cybersecurity spending is expected to reach a cumulative market value of $65.5 billion for the period 2013 to 2018, with this market growing steadily at an estimated annual growth rate of 6.2% over the next six years.
"Instead of building an extra aircraft carrier and stationing it around the world, that money will be used to buy much more cost-effective intelligence gathering and analysis and strike capability," McIlree said.
Observers said that doing financial modeling on the kinds of targets KEYW would go for is pretty straightforward. "I think they would look at valuations sort of the same way that most acquirers do," said Mitchell Martin of McLean Group LLC.
Ebitda multiples for companies in this space can vary widely and are often influenced by a target's backlog, security clearances, and intellectual property assets. Companies with highly critical intelligence-gathering and cybersecurity capabilities and long-term contracts can trade over 10 times Ebitda. A weaker backlog, shorter-term contracts and lower number of employees with security clearances can push valuations lower. Between 5 and 6 times Ebitda is the industry median, according to an April 2012 presentation from McLean Group.
By all accounts, KEYW will continue to serve up its distinctive brand of M&A in 2013, and will remain selective in doing so. Jaehne said the company will turn down five to 10 potential prospects for every business it buys.
"Their stock is up a bit. So it wouldn't surprise me if they continue to be acquisitive, just because they tend to use their stock as currency, and that's a lot easier to do when you've got a healthy stock price," Martin said. KEYW's stock is up $7.95, or 105.5% from a year ago, as investors weigh the future prospects of the cybersecurity industry.
KEYW reported $1 million in net income on $243.5 million in revenue for 2012 compared with $10.9 million in net income on $107.9 million in revenue for 2010. Yet, adjusted Ebitda rose from $9.2 million in 2010, to $32.9 million in 2012, a 257.6% increase over those two years. Further, KEYW plans to double its revenue to $500 million by 2015.
"From a financial standpoint I would look at them and say ... they're marginally profitable during a period of exceptional investment," Jordan said. "They're making acquisitions, they're integrating companies, they're bringing
forth a major new product initiative and they're not losing money."
Written by Thomas Zadvydas in New York