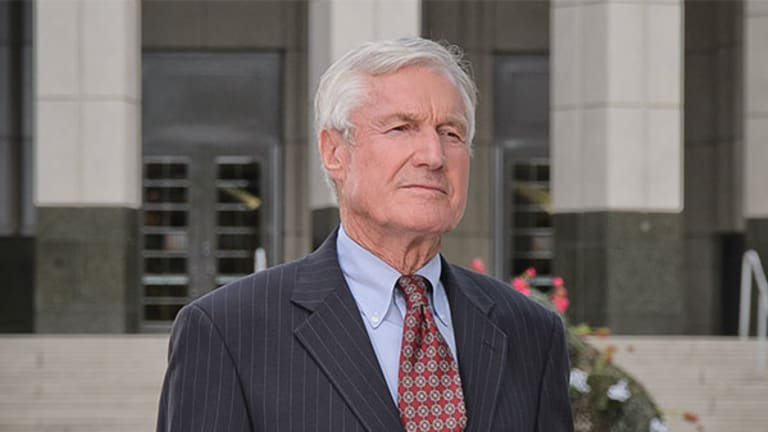 Key Points from Kerrisdale's Bullish Report on JGW
Kerrisdale Capital explains why it believes JG Wentworth's parent company may be undervalued. The firm disclosed a 6% stake in JGW on Friday.
NEW YORK (TheStreet) -- Sahm Adrangi, founder and chief investment officer of Kerrisdale Capital Management, discussed why his firm took a 6% stake in JGWPT Holdingsundefined, the J.G. Wentworth and Peachtree brands, and published a bullish research note on the settlement liquidity provider.
Below are a few points from Kerrisdale's research note, which can be viewed on its Web site. 
JGW is the only structured-settlement firm with access to cheap, consistent institutional funding via the securitization market. Having the lowest cost of funds in its sector allows JGW to offer settlement sellers the best price. In recent transactions JGW has been able to purchase assets at an 11% discount rate while Imperial Holdings, a smaller competitor, has been charging 17% - 18%. This is likely because Imperial funded its purchases through one-off transactions at high yields while JGW can reliably access 4% - 5% financing in the asset-backed securities market.
On average, JGW buys payment streams at 34% of face value and sells them at 60% of face value, for a tremendous gross return on investment of almost 80%. Viewed from a different angle, we estimate that JGW spends $6,700 to acquire a new account, which in turn generates $15,400 of pre-tax earnings net of imputed costs. 
JGW was expected to IPO at $19 to $22 a share, but the deal went badly and priced at $14. Since then, shares have struggled to gain traction, in part because JGW is the only major public company in its niche. But we estimate that its intrinsic value is almost $30, incorporating the benefit of the long-term tax deferral generated by JGW's business model but not factoring in the upside from its growth initiatives.
Despite its 60-70% market share, attractive organic growth rate, and ability to compound capital through acquisitions and platform expansion, JGW trades at a consensus P/E ratio of 7x, an EV/EBITDA multiple of 8x, and at nearly half of our estimate of intrinsic value.

JGW shares were little changed in Tuesday trading at $16.90. The company's stock has rebounded strongly from a weak November initial public offering, which offered shares at $14, below an initial range of $19 to $21 a share.
-- Written by Antoine Gara in New York.