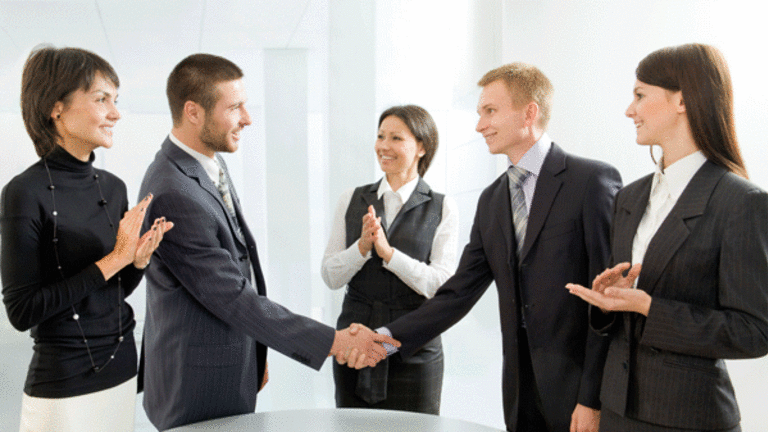 Kenneth Cole Refuses to 'Shop' His Line in Upping Buyout Bid
Kenneth Cole is offering 17% more for his fashion label, but refuses to shop it.
NEW YORK (
) --
Kenneth Cole Productions
(KCP)
is being taken over for $15.25 a share, or 17% more than a buyout offer unveiled by the company's founder and chairman Kenneth Cole on February 23.
While Cole is still buying his namesake fashion label and attempting to take it private, the increased offer skirts a formal shopping of the company to strategic or private equity acquirers amid concerns from analysts and investors who felt the initial bid was
undervalued
.
The increased bid price, in addition to a similar but more hotly contested buyout of
J.Crew
in 2010, signals that shareholders in fashion labels with a namesake or key designer as a large shareholder may want to be increasingly weary of selling to management at what could be discount rack prices.
Kenneth Cole's desire to work for somebody else is "notoriously low": analyst.
Citing profitability and competitive challenges, Cole offered to buy the company in February at $15 a share or roughly a 26% premium to the company's average stock price at the beginning of 2012. Still, the offer was well below a post-crisis September 2010 share price high of $16.50.
The new deal values Kenneth Cole at a market value of $280 million. In a statement, the company said that after forming a special committee with Cole and chief executive Paul Blum and the assistance of financial advisors, it unanimously concluded that the revised $15.25 offer was in the "best interests" of the company's shareholders.
But shareholders may still have a say, and there appears to be more to ask for than just a higher price in the sale process. Kenneth Cole hasn't indicated that it is willing to enter a formal "go shop" period in search of a higher priced bid from a competitor or private equity firm. Meanwhile, as in February, a majority of the shares of the company not owned by Kenneth Cole and his affiliates will need to vote in favor of the deal agreement for it to close.
Cole, who founded the New York-based clothing, footwear and fashion apparel designer in 1982 and took the company public in a 1994 IPO holds a 47% of the company's stock and 89% of its voting rights, making him a key to any strategic move.
The buyout offer comes at a time when mass-fashion mainstays like Kenneth Cole and
Liz Claiborne
( LIZ) struggle with post-crisis profitability and insurgents like
Michael Kors
(KORS)
,
Lululemon
(LULU) - Get Lululemon Athletica Inc Report
and
DSW
(DSW) - Get Designer Brands Inc. Class A Report
report strong earnings.
But analysts argued that Kenneth Cole may be close to an earnings recovery and the timing of the buyout was an opportunistic play to get shares on the cheap.
"The market simply has given the company little credit for the value of the brand and the merit of recent turnaround initiatives and we think that Cole recognizes the opportunity to take the company private for cheap, re-build/grow the business with CEO Paul Blum, and that ultimately would give him the chance to cash out at a substantially higher level," wrote Jeff Van Sinderen, an analyst with B. Riley & Co. in a February note reacting to Cole's initial bid.
"We think Mr. Cole will likely offer an attractive premium to the $15 starting point, but is notably still mercurial enough to leave the public entity intact should the public market price trade at above his unknown 'drop-dead' level," wrote CL King & Associates analyst Steven Marotta at that time. He noted that at $15 a share, investors were bearing 18 months of cost cutting without seeing any of the expected benefit. When those efforts began, Marotta notes that
Iconix Brand Group
(ICON) - Get Iconix Brand Group, Inc. Report
was reportedly in talks to offer $27 a share for Kenneth Cole.
In his $15 a share offer, Kenneth Cole cited competitive and economic challenges that make it better for the company to operate as a private concern.
"Recent market challenges have created a sharply competitive landscape, and I believe it is now more important than ever to embrace a more entrepreneurial perspective," said Cole in February. He is currently the company's chairman. "I am convinced that private ownership is in the best interests of the business and the organization."
Details of the buyout offer signal that Cole fell into a similar situation as J.Crew's $3 billion buyout, which closed in 2011 only after a hotly contested shareholder lawsuit and multi-million dollar settlement.
As shareholders became frustrated by Cole's attempt to buy the company, the deal faced similar but less hostile legal contests to the buyout of J.Crew by a consortium of investors that included company chairman Millard S. Drexler and private equity firms
TPG Capital
and
Leonard Green
in 2010.
After that deal was announced, shareholders sued J.Crew claiming that the $43.50 a share bid didn't represent a fair price that would have been achieved with a more open shopping of the company. In a 2011 settlement, J.Crew and its private equity buyers agreed to an extended "go-shop" period and a $16 million payment to settle the lawsuit, however, no contesting bids emerged and the deal closed in March 2011.
While Wednesday's revised offer increases the buyout price and the company said it "considered alternatives," there is little indication that Kenneth Cole shopped for a strategic or private equity acquirer.
"We believe additional bidders in the process are likely to be non-existent as Mr. Cole's desire to work for somebody is notoriously low," wrote Marotta of CL King & Associates in February.
In Wednesday trading, Kenneth Cole shares rose 53 cents to $15.07, below the newly agreed buyout terms. Still shareholders may feel the bid is undervalued relative to Kenneth Cole's earnings prospects and turnaround potential after reporting quarterly losses earlier in 2011.
In February, Sterne Agee analyst Sam Poser upgraded the company to a buy and gave it a $16 a share price target after increase earnings expectations to 72 cents a share on revenue of $508.3 million. "Updates and new products should allow KCP to begin to reestablish its position as a leading opening price point designer brand," wrote Poser in a Feb. 6 report.
In the fall of 2012, Kenneth Cole will launch a premium-priced "Kenneth Cole New York" collection and reintroduce a women's version of the line that will be sold at 100 high-end retailers like
Dillard's
(DDS) - Get Dillard's, Inc. Class A Report
,
Bloomingdales
,
Nordstroms
(JWN) - Get Nordstrom, Inc. Report
and the company's branded stores, noted Poser. Those brands will offer shoes and boots retailing for up to $450 and will also feature revival fashions from successful 1990s designs.
Established high end clothes makers like Liz Claiborne are selling assets and restructuring their businesses and other retailers like
Collective Brands
(PSS)
and
Talbots
(TLB)
are also undergoing buyout efforts, amid weak 2012 earnings prospects and management change.
The right price tag for Kenneth Cole, though, hasn't been affixed to his famed brand line just yet.
For more on designer fashion investments, see
bucking the terrible economy. For more on Kenneth Cole shares, see
TheStreet's
on the company.
-- Written by Antoine Gara in New York