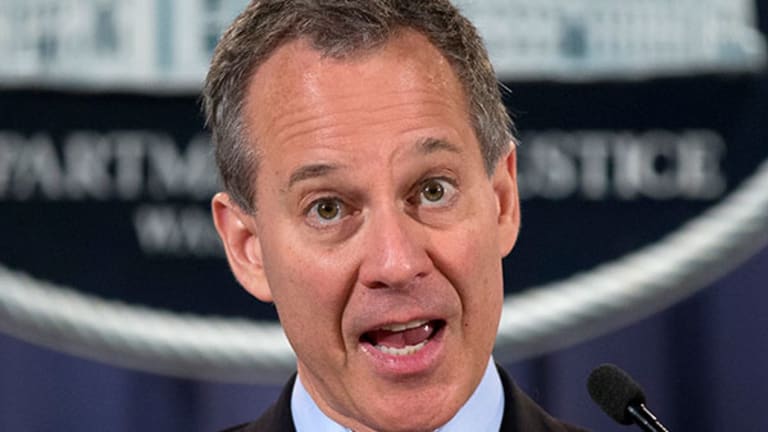 Publish date:
JPMorgan's 'Admission' Oversold by Government
JPMorgan believes it admitted a lot less than the government let on in a record $13 billion mortgage bond settlement announced on Tuesday.
JPMorgan believes it admitted a lot less than the government let on in a record $13 billion mortgage bond settlement announced on Tuesday.
NEW YORK (TheStreet) - Maybe New York State Attorney General Eric Schneiderman and U.S. Attorney General Eric Holder should have just said JPMorgan's (JPM) - Get JPMorgan Chase & Co. (JPM) Report $13 billion settlement on mortgage securities it sold prior to the financial crisis was a historic victory for state and federal regulators.
First off, the $13 billion settlement is a record in the banking industry. Second of all, JPMorgan is acknowledging 11-pages of facts in a damning document that outlines some of the bank's mortgage securitization activities during the housing bubble.
Normally, civil settlements contain some boilerplate language that states a firm "neither admitted or denied" allegations made in a lawsuit or case. The days of settling civil cases on Wall Street without admitting anything are over, according to newly appointed Securities and Exchange Commission head Mary Jo White.
JPMorgan's record settlement, which includes a $9 billion cash payment and $4 billion in relief to consumers, is very much in the spirit of the SEC and other regulator's newfound zeal, five years after the crisis.
The government's settlement will also provide billions of dollars in direct relief to many hit hard by the misdeeds that occurred during the mortgage bubble. 
But the settlement is not an actual admission by the bank that it committed any fraud or misrepresentation, a point the government appeared to try and press on Tuesday. 
In that sense, it appears Schneiderman and Holder oversold the settlement, which incidentally, hinged on faulty representations that JPMorgan made in selling risky mortgages to investors.
There is one statement in press releases put out by Schneiderman's office and by the Department of Justice that may cross a line in terms of what they actually wrenched out of JPMorgan in their $13 billion legal carousel.
"JPMorgan acknowledged it made serious, material misrepresentations to the public -- including the investing public -- about numerous RMBS transactions," both the DoJ and Schneiderman said in Tuesday press releases.
It is understood the bank disagrees with that statement, as Jamie Dimon, JPMorgan's CEO, and Marianne Lake, the bank's CFO, indicated on a conference call with investors.
Here's a full quote of Marianne Lake's response to an analyst asking for detail on JPMorgan's acknowledgement of misrepresentations.
"First of all, we didn't say that we acknowledged serious misrepresentations of the facts. We would characterize potentially the Statement of Facts differently than others might. We think it speaks for itself. It's publicly available. We do acknowledge the Statement of Facts, but obviously don't admit to any violation of law, and we don't believe that the Statement of Facts has any direct impact on the remaining civil, class, and direct purchaser risks other than that we've got reserved."
JPMorgan disagrees with some of the language of Schneiderman and Holder's press releases.
At a press conference, TheStreet asked Schneiderman to clarify what JPMorgan was admitting. Schneiderman said the bank admitted "misrepresentation," and then backtracked to language in the settlement that the bank was acknowledging or admitting the 11-page statement of facts.
On one hand, JPMorgan may be admitting a lot less than press releases put out by the government indicate. JPMorgan does appear to concede the bank's acknowledgement of the government's statement of facts puts them on the hook for some civil and class action lawsuits, however, it already has reserved against those legal risks.
JPMorgan declined to comment beyond its press releases and statements the bank made on its call with investors.
Matt Mittenthal, a spokesperson for the New York Attorney General, said "the mere fact that there is an acknowledgement is groundbreaking."
TheStreet agrees. Still, JPMorgan is not directly admitting or acknowledging misrepresentation on its mortgage bond sales.
Two sources familiar with JPMorgan's $13 billion fine said that the language of the statement of facts was agreed early on in the settlement process and was a starting point for Tuesday's deal. Other issues like the terms of the $4 billion in consumer relief took longer to hammer out, the sources said.
The statement of facts could help push forward some private litigation and it also may narrow some of JPMorgan's legal exposure only to deals mentioned in the government's statement of facts.
Better yet, the government could still get an admission of misrepresentation or fraud from JPMorgan.
The government's criminal cases into JPMorgan's mortgage bond sales remain ongoing. JPMorgan also has said in corporate filings it is cooperating on those investigations.
One would expect, given the government's language, that it intends to file a criminal case. That's where the public should expect to see admissions of guilt, fraud or material misrepresentation, or the like.
The public should expect some type of admission of guilt or fraud from JPMorgan -- just not in Tuesday's $13 billion civil settlement.
JPMorgan shares fell less than 1% in Wednesday trading, to $56.10.
Interested in more on JPMorgan Chase? See TheStreet Ratings' report card forthis stock.
RELATED STORIES:
5 Cheapest A-Rated Bank Stocks
Geithner Mum on Private Equity Leverage Ahead of Crisis
GE's Card Spinoff Is a Great Deal for Investors
Capital One, Discover Are Bargains as Industry Resumes Growth
-- Written by Antoine Gara in New York