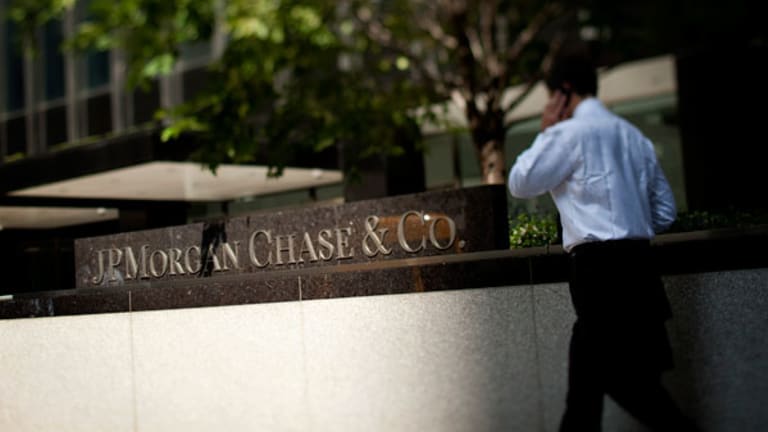 Indemnification of WaMu Receivership Not Addressed In JPMorgan's FHFA Settlement
The bank didn't admit wrongdoing on Friday, but could still face the music in a Justice Department Settlement.
Updated from 6:00 p.m. to clarify JPMorgan's indemnification of Washington Mutual liabilities
NEW YORK (TheStreet) -- JPMorgan (JPM) - Get JPMorgan Chase & Co. Report won't have to admit wrongdoing in a $5.1 billion settlement with the Federal Housing Finance Authority announced that resolves claims of alleged violations of federal and state securities laws in connection with the bank's sale of private-label, residential mortgage-backed securities to Fannie Mae (FNMA) and Freddie Mac (FMCC) .
JPMorgan also agreed not to seek indemnification from the Federal Deposit Insurance Corporation in its corporate capacity for any liabilities associated with the bank's September 25, 2008 purchase of Washington Mutual.
Friday's settlement, however, doesn't pertain to the FDIC's receivership of WaMu. JPMorgan and the FDIC have butted heads on whether the bank assumed WaMu's legal liabilities when acquiring the firm out of receivership during the depths of the 2008 financial crisis.
"Neither JPMorgan Chase Bank, N.A. nor any other JPMorgan Defendant or Future JPMorgan Party shall seek indemnification, contribution, or recovery of any of the amounts paid pursuant to this Agreement from the FDIC in its corporate capacity," the settlement states.
Acting FHFA director Edward Demarco still sees the agreements, announced Friday, as "a satisfactory resolution," that provides "greater certainty in the marketplace and is in line with our responsibility for preserving and conserving Fannie Mae's and Freddie Mac's assets on behalf of taxpayers."
JPMorgan will pay approximately $2.74 billion to Freddie Mac and $1.26 billion to Fannie Mae to resolve claims tied to mortgage securities the bank and its acquired subsidiaries, Bear Stearns and Washington Mutual, sold to housing finance authorities between 2005 and 2007.
Overall, JPMorgan will resolve $33.8 billion of securities purchased by Fannie Mae and Freddie Mac, the firm's largest MBS case, according to a Friday statement.
The bank will also pay $670 million to Fannie Mae and $480 million to Freddie Mac to resolve representation and warranty claims related to single-family mortgages purchased by the two companies.
In total, JPMorgan will pay $5.1 billion in its settlement and crucially, the firm will not be forced to admit wrongdoing in the settlement.
"Today's settlements totaling $5.1 billion are an important step towards a broader resolution of the firm's MBS-related matters with governmental entities, and reflect significant efforts by the Department of Justice and other federal and state governmental agencies," JPMorgan said in a statement.
Friday's settlement means it will be incumbent upon the Department of Justice to get JPMorgan to admit guilt or wrongdoing for mortgages the bank originated during the prior to the financial crisis.
A source familiar with the situation said that the FDIC's settlement was part of a broader settlement that included the DoJ, however, the FHFA got tired of waiting and wanted to move forward. A settlement with the DoJ is expected to be announced in coming days, however, terms are still being negotiated.
Earlier in October, JPMorgan reported a third-quarter loss of $400 million, or 17 cents a share, on revenue of $23.9 billion.
That loss was the first under CEO Jamie Dimon and was attributable to $9.15 billion in pretax expense and $7.2 billion in after-tax expense related to a rising provision for the bank's legal expense. 
The bank said in a presentation appended to its third-quarter earnings that since 2010 it has added $28 billion to its legal reserves, offset by an $8 billion reduction attributable to settlements and legal judgments.
The company had $23 billion in litigation reserves as of Sept. 30. 
-- Written by Antoine Gara in New York.