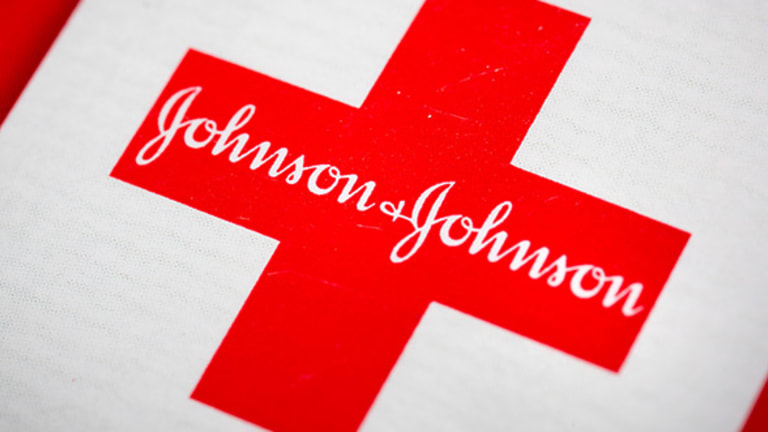 Johnson & Johnson Looks for New Deal That's Just Right
Actelion was too pricey. Now J&J is looking for another acquisition.
Actelion Pharmaceuticals (ALIOF)  was too expensive for Johnson & Johnson (JNJ) - Get Report , and the auction process to acquire Pharmacyclics (PCYC) was too competitive. Is there a deal that will be just right for J&J?
Officials from the New Brunswick, N.J.-based pharmaceutical company announced after markets closed Tuesday it had ended discussions with Actelion on a potential deal. J&J, though, is flush with cash and needs to do a deal soon, analysts say. The question is, what is J&J looking for?
EDITOR'S NOTE: This article was originally published by The Deal, a sister publication of TheStreet that offers sophisticated insight and analysis on all types of deals, from inception to integration. Click here for a free trial.
Analyst Ashtyn Evans of Edward Jones Trust said that with $40 billion in cash, the pharma giant could probably handle a deal of any size. "What's good about JNJ is that because of their size and cash balance, they can do any size of deal," Evans said by phone Wednesday.
Analyst Damien Conover of Morningstar cautioned, however, that the company traditionally hasn't been interested in mega-mergers and says J&J's cap is somewhere near $20 billion.
Conover acknowledged the necessity of an acquisition for J&J. "They need to make an acquisition, especially because their growth is not as fast as it could be," Conover said Wednesday. "They're motivated to do it. There's a huge range of acquisition options out there."
He noted that several of the company's drug patents are coming up on expiration dates, which means that the company will soon be faced with more generic competition.
It's for this reason, that he believes J&J could do deals in the pharmaceutical sector. "Their pipeline isn't as strong as it could be," Conover said of J&J.
The Deal previously reported that J&J could be a buyer for Pfizer's (PFE) - Get Report consumer health care unit, which was rumored in November to be up for sale.
Another drug company looking for a good deal is Sanofi (SNY) - Get Report  , which could be looking to buy Actelion.
Speculation has circulated for weeks that Paris-based Sanofi had approached Actelion for talks about an alternative to JNJ's bid after the company rejected a bid valuing the firm at about Sfr27 billion. Sanofi declined to comment on its interest Wednesday, describing reports that it was already in talks with Actelion as "market rumors."
"Sanofi needs to make an acquisition as well," Conover said. "They don't have as much strength on the balance sheet."
Conover noted that BioMarin Pharmaceuticals (BMRN) - Get Report could be a nice target for Sanofi if the Actelion deal doesn't pan out. "It's a company that's more closely aligned with rare disease research," Conover said, noting that it would be a good fit with Sanofi.
Sanofi declined to comment on a potential deal. Johnson & Johnson could not be reached for further comment, nor could Actelion and BioMarin.