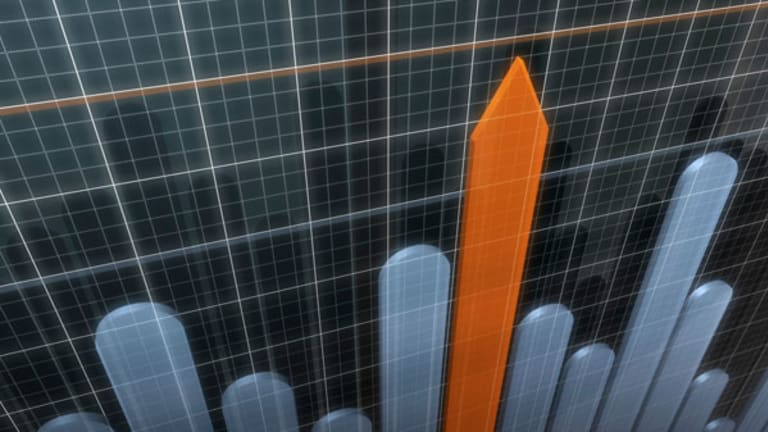 Jim Cramer's Stock Market Predictions for 2013
The "Mad Money" host predicts a breakup of J&J, buyout of Bed Bath & Beyond, among 10 likely deals of 2013.
NEW YORK (The Deal) -- Dealmakers across all sectors hope James J. Cramer is on the money with his prediction that acquisition activity will increase in the new year.
Speaking at
the Deal Economy 2013 "Beyond the Election"
conference at the New York Stock Exchange on Thursday, Nov. 30, the "Mad Money" host and founder of TheStreet Inc. lamented on a host of global macroeconomic conditions that have weighed down on economies in the U.S. and Europe and stalled dealmaking.
"Most deals in 2012 were done out of fear," said Cramer. "I expect 2013 to be a better year. We'll get a resolution one way or another. The world will be a much better and more hospitable place for deals."
Cramer said he believed that dealmaking hit a trough in 2012 amid conditions including weakening economic activity in some of the BRIC nations like Brazil and China, and debt woes plaguing the Eurozone, as well as the looming showdown among power brokers in Washington over the fiscal cliff.
And while Cramer believes it won't be until January at the earliest that U.S. lawmakers reach an agreement on a national budget, he's certain that M&A will accelerate once an accord is struck. Cramer discussed ten deals he expects to happen in 2013 that should give healthy boosts to the respective stocks involved.
"
There are ten companies that I expect will be transformed in one way or another," he said.
Generally speaking, according to Cramer, most deals will be geared toward unlocking shareholder value and boosting stock performance. But one "major force" for deals in the new year will be a push by executives for stocks to outperform sector-wide exchange traded funds, he said. ETFs act as a benchmark to measure stocks to determine certain aspects of executive compensation, particularly bonuses.
In a list of ten deals he expects in 2013, Cramer predicted three breakups, one "merger of equals," a likely take-private, and a possible auction. He also highlighted four attractive targets.
Prediction Number 10:
For beginners, Cramer predicts a break-up of
Manitowoc Co.
into separate construction and foodservice equipment companies. He said Manitowoc's construction company will operate more efficiently as a stand-alone business in the wake of infrastructure improvements in China and rebuilding efforts in the Northeast from Hurricane Sandy. The foodservice operations will benefit from middle class growth abroad. The two units together do not make logistical sense, he said.
Prediction Number 9:
Cramer also targeted New Brunswick, N.J. healthcare giant
Johnson & Johnson Inc.
as a breakup candidate. He believes J&J has become too unwieldy for its own good and should split into consumer products, medical devices and a pharmaceutical businesses. Cramer cited Covdien plc, which split itself in half in December 2011, as an example of an efficient breakup.
Prediction Number 8:
His final break up candidate is New York energy company
Hess Corp.
Cramer said Hess should split its energy exploration and production assets from its refining and marketing operations. The raw oil and gas assets of Hess would be worth more without the added expense of running its refining business, he noted.
Prediction Number 7:
Moving on to likely acquisitions in 2013, Cramer predicted a purchase of Taylor, Mich.-based home improvement retailer
Masco Corp.
by Deerfield, Ill., home security products company
Fortune Brands Home & Security Inc.
Fortune will be looking for a weaker, yet synergistic player to capitalize on recovery efforts again after the Northeast's severe weather, Cramer said.
Prediction Number 6:
Likewise, Cramer predicted that Goleta, Ga. footwear and apparel company
Decker's Outdoor Corp.
will be bought by counterpart
V.F. Corp.
He said that the buyer in this case would be able to better promote and strengthen the target's brands for better results.
Prediction Number 5:
Organic food retailer
Hain Celestial Group Inc.
, of Melville, N.Y., may be bought by another food company to copy on the success of Austin, Texas
Whole Foods Market Inc.
, which Cramer says has reached capacity.
Prediction Number 4:
Cramer cited Union, N.J. retail store chain
Bed Bath & Beyond Inc.
as a buyout candidate in the new year, expressing concerns about the company's ability to service its debt in coming quarters and noting a 21.5% fall in its stock price since June.
Prediction Number 3:
Cramer also sees Arlington, Va. munitions company
Alliant Techsystems Inc.
in the crosshairs for an acquisition, for it has won several lucrative contracts with the Defense Department and owns prime technology. Cramer says Alliant's stock, which currently trades around $61.12 per share, has been constrained because of possible budget cuts by the U.S. military.
Prediction Number 2:
Meanwhile, labor safety equipment business
Mine Safety Appliances Co.
is an attractive target, Cramer said. He pointed to
Dupont
,
Honeywell International Inc.
and
3M Co.
as logical buyer for this company because of accretive synergies they will be able to reap.
Prediction Number 1:
Finally, Cramer predicted an auction for information processing and software services company
DST Systems Inc.
Of course, Cramer's cautious optimism for the deal economy in 2013 is dependent upon the U.S. and Europe addressing their respective sovereign debt problems in the near term. He believes the U.S. will solve its budget issues shortly into the new year, and even if Europe takes longer, Cramer is drinking from a glass that's half-full.
"Europe's not going to bee any good any time soon," he admitted. "But not any good and in crisis are two different things."
-------------------------------------
Get more 2013 stock market predictions from Jim Cramer, Stephanie Link and Doug Kass in Real Money's "
," or, visit our section on
.