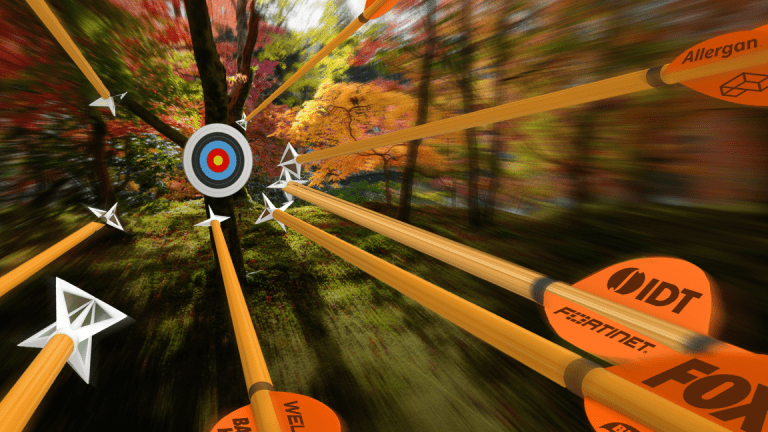 Jim Cramer Reveals His Top Takeover Targets for 2018
TheStreet Inc. founder Jim Cramer predicts the ink on these 12 deals drying in 2018. Here's what you need to know, from Qualcomm to Disney to General Electric.
From veterinary medicine to tech to entertainment, the deals on tap for 2018 are set to generate value and shake up industries far and wide.
According to TheStreet's founder Jim Cramer at The Deal Economy Conference, "there are too many companies vying for the same stream of revenue in the same sector." That means mergers and acquisitions won't slow anytime soon.
Some deals, Cramer said, are being done to defend against FANG names, or Facebook Inc. (FB) - Get Meta Platforms Inc. Class A Report , Amazon.com Inc. (AMZN) - Get Amazon.com, Inc. Report , Netflix Inc. (NFLX) - Get Netflix, Inc. Report and Alphabet Inc. (GOOGL) - Get Alphabet Inc. Class A Report . As these heavyweights continue to flex their muscles, one-time "incumbents," Cramer said, have no choice but to merge.
Other deals find their genesis in a drive to lessen dependence on other parties or to grab more and more shelf space at the supermarket. Other deals are driven by necessity to drive shareholder value and still more are the work of "aggressive insurgents," Cramer said.
Regardless of motivation, the deal remains alive and well moving into 2018. Cramer offered 12 possible tie-ins that he said he sees occurring next year and increasing value for all involved.
1. In the largest acquisition in history, Broadcom Ltd. (AVGO) - Get Broadcom Inc. Report is set to follow through in its unwelcome bid to take Qualcomm (QCOM) - Get Qualcomm Inc Report next year. Cramer said Qualcomm doesn't want to surrender to Broadcom, but Broadcom has put forth an attractive offer. It could give Broadcom an edge in intellectual property for mobile devices.
2. Next, Eli Lilly & Co. (LLY) - Get Eli Lilly and Company Report has already announced a deal to sell out its Elanco veterinary medicine unit, but hasn't announced a suitor. A deal could fetch far more than investors might think, Cramer said, as a suitor such as Pfizer Inc.'s (PFE) - Get Pfizer Inc. Report Zoetis veterinary unit could dish out as much as $20 billion in cash and stock for Elanco. Cramer said both Lilly and the Elanco buyer's stocks would soar on the news, as Lilly's Elanco has held back the company's price to earnings multiple of late and Lilly needs to initiate a buyback.
3. And Allergan plc (AGN) - Get Allergan plc Report faces a tough road following the loss of its Restasis exclusivity, Cramer said, making it ripe for a deal aimed at returning the company to its old growth story. "Without Restasis, Allergan is going to have a down year...I don't think CEO Brent Saunders will let that happen," Cramer said. "He will split the company up if he has to." That could mean a breakup for Allergan, possibly into four franchises -- Facial Aesthetics, Body Aesthetics, Biotech and Traditional Prescription businesses.
4. And WelBilt Inc. (WBT) - Get Welbilt Inc Report seemed like the "$3 billion orphan," Cramer said, after the split up of Manitowoc last year. But now, the food services business is facing increasingly direct competition from the like of Illinois Tool Works Inc. (ITW) - Get Illinois Tool Works Inc. Report . That means it's likely to either make a purchase or be bought. It could work for ITW to buy out WelBilt, Cramer noted, because ITW has underinvested in sales in the food services business. Either that, or ITW should sell that portion of the firm to WelBilt.
5. As millennials continue to favor eating at home over dining out, look out for renewed talks of a tie-in between Conagra Brands Inc. (CAG) - Get Conagra Brands, Inc. Report and frozen food brand BirdsEye owner Pinnacle Foods Inc. (PN) . A deal would make sense for Conagra, which could bolster its $2.6 billion frozen foods properties with a Pinnacle buyout. "It would change the way people view Conagra," Cramer said.
Editor's note: This article was originally published by The Deal, a sister publication of TheStreet that offers sophisticated insight and analysis on all types of deals, from inception to integration. Click here for a free trial.
6. Next, Twenty First Century Fox Inc.'s (FOXA) - Get Fox Corporation Class A Report properties outside of sports and news will be bought by Walt Disney Co. (DIS) - Get Walt Disney Company Report , Cramer said. The price tag will run about $25 billion, Cramer said. It would come as Disney faces decreasing value in its top asset, ESPN. But don't count on the ink to dry until after federal courts rule on the AT&T Inc. (T) - Get AT&T Inc. Report and Time Warner Inc. (TWX) deal. But, "I am telling you right now the Justice Department is going to lose that case," Cramer said. "I think Fox does get done," he added. "Motivated buyers, motivated sellers."
7. Diageo plc (DEO) - Get Diageo Plc Report is teed up to tap a deal with Molson Coors Co. (TAP) - Get Molson Coors Beverage Company Class B Report , Cramer said. Molson's $17 billion market cap hasn't changed much in three years, leaving it ripe for the picking on behalf of prosperous Diageo. "You can't sell beer anymore," Cramer said. The best means of making alcohol a lucrative business is to continue with M&A, Cramer noted.
8. Also, it's going to be hard for $4 billion wireless charging and automotive sensor company Integrated Device Technology Inc. (IDTI) - Get Integrated Device Technology, Inc. Report to stay independent at its small current size, Cramer said. The list of possible IDTI buyers includes Intel Corp. (INTC) - Get Intel Corporation Report , Western Digital Corp. (WDC) - Get Western Digital Corporation Report or Samsung (SSNLF) .
9. And Fortinet Inc. (FTNT) - Get Fortinet, Inc. Report will likely sell itself, Cramer said. The cyber security company has slowed lately even as it remains the best player in advanced threat detection. "But the group has been slowing of late," Cramer said. Look for a buyer such as Cisco Systems Inc. (CSCO) - Get Cisco Systems, Inc. Report or Oracle Corp. (ORCL) - Get Oracle Corporation Report .
10. When Honeywell International Inc. HON splits into two and needs to grow its aircraft division, Arconic Inc. (ARNC) - Get Arconic Corp. Report could be a smart choice. And since the Rockwell Collins Inc. (COL) and United Technologies Corp. (UTX) - Get n.a. Report deal, Arconic is the last free-standing aerospace player.
11. And out of necessity, CBS Corp. (CBS) - Get CBS Corporation Class B Report will have to buy the "down and out" Discovery Communications (DISCA) - Get Discovery, Inc. Class A Report after Discovery's stock was slashed in half by a Scripps deal.
12. And finally, look for a General Electric Co. (GE) - Get General Electric Company Report exit from the oil and gas business. "[CEO John] Flannery has to sell everything that was bought," Cramer said of the numerous oil and energy assets former CEO Jeff Immelt scooped up during his tenure.
Allergan, Broadcom, General Electric, Comcast, Lilly and Arconic are holding in Jim Cramer's.Action Alerts PLUS Charitable Trust Portfolio Want to be alerted before Cramer buys or sells theses stock? Learn more now.
Can't join the crowd at the Essex House in midtown Manhattan? Tune in to a webcast of The Deal Economy Conference here, or stay tuned to The Deal and sister publication TheStreet.com, which will be posting stories all day from the event.
Follow @TheDealNewsroom for updates on the event and use hashtag #dealeconomy to join the conversation.
More of What's Trending on TheStreet: