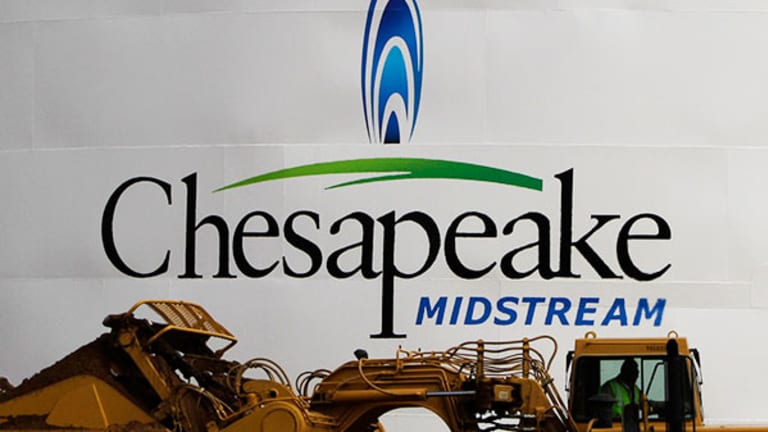 Jefferies Values Chesapeake Oilfield Services at $2.5B
Chesapeake Energy could fill a 2014 funding gap with a sale of its oil services division, according to Jefferies.
NEW YORK (TheStreet) -- Chesapeake Energy's (CHK) - Get Free Report oilfield services business could be worth $2.5 billion as the oil and natural gas giant seeks to either sell or spin off the business, according to a Tuesday analysis from Jefferies.
Biju Perincheril, a Jefferies energy analyst, said in a Tuesday client note that Chesapeake's sale of its oilfield services business could also be used to fund most of the E&P's 2014 cash flow deficit, minimizing the need for additional asset sales, particularly among its portfolio of producing oil and natural gas fields.
"Consistent with new management's strategy to simplify CHK's corporate structure and to monetize non-core subsidiaries/assets to fund near-term cash flow shortfall, Chesapeake is pursuing strategic alternatives for Chesapeake Oilfield Services (COS). CHK has a dual track process to explore a potential IPO/spin-off to existing shareholders or an outright sale of the business," Perincheril wrote.
"An outright sale would be the preferred route as it will more than offset this year's expected funding gap. But finding a suitable buyer may be a challenge and the IPO route may be more plausible (perhaps private equity can come in for a portion as was the case with CHK's midstream business)," the analyst added.
Chesapeake Oilfield Services (COS) revenue is estimated to come in at $2.2 billion for 2013, while earnings before interest, taxes, depreciation and amortization (EBITDA) of $419 million, according to Jefferies' analysis. The firm values the business at $2.5 billion using a multiple of 5.6 times a forecast of $440 million in 2014 EBITDA.
Jefferies also forecasts that Chesapeake will outspend its cash flows by between $800 million-to-$1 billion in 2014, meaning that any asset monetization could plug a shortfall for the year.
"Chesapeake management believes that COS can maximize its value to Chesapeake shareholders outside of the current ownership structure by, among other things, optimizing the allocation of capital and corporate resources in a manner that focuses on achieving the strategic priorities of Chesapeake and COS," Chesapeake said on Monday.
Chesapeake Energy shares were trading over 1% lower in Tuesday afternoon trading at $26.96.
Shares in the company have gained over 40% in the past 12-months as the company's management and reconstituted board of directors improve the driller's balance sheet through asset sales.
-- Written by Antoine Gara in New York