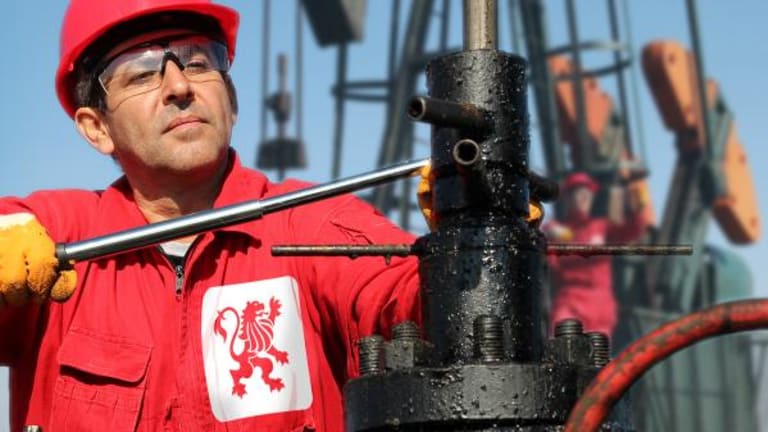 Jefferies' Bustling Energy Practice Is Killing It
The investment bank has come in as the 10th ranked adviser on The Deal's 2016 League Tables.
All things considered, 2016 was a good year for Jefferies energy M&A practice. Despite a downturn in oil prices that saw the commodity bottom out around $26 per barrel and subsequently teeter between $40 and $50 per barrel for the majority of the year, the firm was pretty busy. 
To be precise, Jefferies was a sell-side adviser on 21 upstream oil and natural gas deals in the U.S. worth more than $16 billion, including Diamondback Energy's (FANG) - Get Free Report  acquisition of Warburg Pincus-backed Brigham Resources' $2.43 billion in December and RSP Permian's (RSPP) $2.4 billion purchase of Silver Hill Energy Partners from Kayne Anderson Capital Advisors and Ridgemont Equity Partners in October. 
Throw in the midstream segment, and you've got another 14 sell-side transactions worth about $13 billion, including Plains GP Holdings $7.2 billion stock and debt simplification transaction with Plains All American Pipeline (PAA) - Get Free Report in July and Columbia Pipeline Group's $915 million acquisition of Columbia Pipeline Partners (CPPL) in November. 
Overall, Jefferies has come in as the 10th ranked investment adviser on The Deal's 2016 League Tables, advising on 52 disclosed deals of $100 million or more on both the buy- and sell-side, announced during the year.
But according to Jefferies' energy practice leaders, 2016 is no outlier for the firm, as it has been a market leader in the U.S. oil and gas space for the better part of a decade. Still, there are a few components that give the bank an edge when it comes to energy M&A, even when the overall market has suffered due to a major commodity downturn.
"We've managed to stay busy throughout all cycles of the oil and gas industry," Peter Bowden, co-head of energy investment banking, said in an interview with The Deal. "This was one of busiest years for our energy group despite the larger market being largely dead during the first half of the year. For oil and gas, we're going to continue to apply our toolkit to help clients get to the next level."
Jefferies' toolkit may be so useful because its energy practice is built more like an oil and gas company than an investment bank. Ralph Eads, vice chairman and global head of energy investment banking, said its large technical team of nearly 40 professionals that includes engineers, geologists and physicists allows the firm to think about the oil and gas industry first and M&A second. 
Furthermore, the New York firm's market dominance has afforded it the luxury of having superior intelligence. The wealth of information it has access to and the technical team it boasts allow Jefferies to provide value to a prospective client that goes beyond packaging data for a sale. 
And Jefferies has the type of transactional experience that can only come with continuity and stability among its senior leadership team. Eads himself has been on board with the firm for more than ten years.
Now, with 2016 behind it, the bank is looking to capitalize on the momentum garnered in the second half of the year when a wave of U.S. shale play consolidation took place. Eads thinks 2017 will be a banner year for energy M&A.
For oil and natural gas, the focus will likely continue to be on top-tier plays like Oklahoma's SCOOP and STACK and west Texas' lucrative Permian Basin, where operators are consistently able to capture returns with oil prices above $40 per barrel. 
"We have seen an amazing renaissance in oil and gas M&A, largely driven by the Permian Basin," Eads said. "The Permian has become pretty clearly the best oil province on the planet in my opinion, not just the country. This is an asset that's almost nonoptional."
Indeed, research firm Wood Mackenzie recently released a report in which it said Permian production would surpass the entire North Sea by 2020. Moreover, Permian asset valuations are rising, even as the oil price remains stagnant just above $50 per barrel. According to Wood Mackenzie, operators continue to drive down development break-even prices through lower well costs, enhanced completions and an uplift in type curves.
The research firm's deal pipeline includes 25 potential buying opportunities in the Permian, spanning over 200,000 acres, implying a total transaction value of up to $10 billion. Wood Mackenzie noted that there are many more buying opportunities which are not in the public domain and therefore not included in its pipeline. 
And if recent history is any indicator, you can bet Jefferies' team, which Eads earnestly calls the SEAL Team Six of the industry, will play a significant role in turning those opportunities into reality. 
Editor's note: This article was originally published by The Deal, a sister publication of TheStreet that offers sophisticated insight and analysis on all types of deals, from inception to integration. Click here for a free trial.