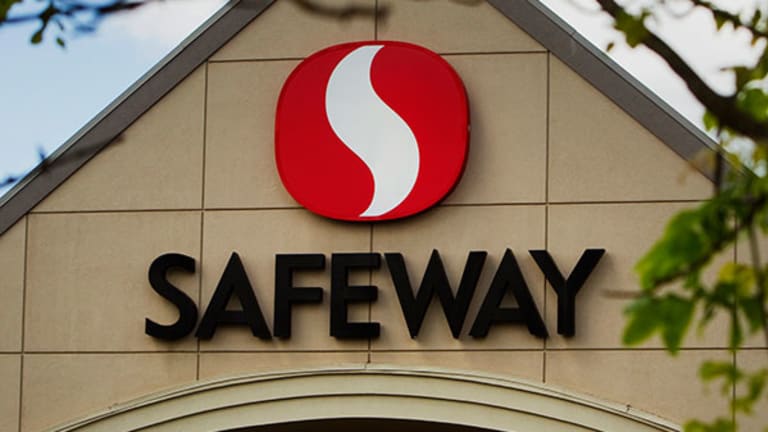 Jana Partners Timed Safeway Stake Perfectly
Activist hedge fund Jana Partners couldn't have done a better job timing its over 6% stake in supermarket chain Safeway, as the company was courted by Cerberus-owned Albertsons on a merger.
Updated from 11:35 a.m. ET to include discussion of Jana stock purchases
NEW YORK (TheStreet) -- Activist hedge fund Jana Partners disclosed an over 6% stake in Safeway (SWY)  just as merger negotiations between the supermarket chain and Cerberus-owned Albertsons began to heat up. The hedge fund disclosed its stake roughly two weeks after Albertsons first reached out to Safeway, and on the same day that the company's management team first met to discuss a merger.
Safeway shares were trading at about $26 a share when Albertsons first approached Safeway in late August. Shares in Pleasanton, Calif-based Safeway now trade at over $34 a share after the company signed a merger agreement with Albertsons that valued the company $32.50 a share in cash, a distribution of the company's minority stake in Blackhawk Network (HAWK)  and a contingent payment from the sale of the company's Casa Ley business in Mexico. Overall, the deal was valued by Safeway at $40 a share when disclosed in early March.
Proxy filings disclosed on Thursday show that Jana Partners disclosure of its activist stake came just as merger negotiations between Safeway and Albertsons' private equity owner, Cerberus Capital Management, were beginning to take shape.
A separate disclosure from Jana Partners shows that the hedge fund was accumulating its Safeway shares through a large part of the third quarter.
Jana acquired 5.7 million Safeway shares between July 19 and August 20, including a 1.8 million purchase on Aug. 16, the filing shows. Between Aug. 21 and Sept. 16, Jana purchased an additional 3.4 million shares. During that time, Jana was speaking with Safeway's management about how to improve the company's performance, including asset sales and regional closures.
The Timetable
Robert Miller, CEO of Albertsons, first contacted Safeway's CEO Robert Edwards on a possible merger or set of asset sales in late August, proxy filings show. In early September, advisors for Cerberus and Albertsons began their analysis on possible merger and contacted Safeway's banker Goldman Sachs.
On Sept. 5, the CEOs of Safeway and Albertsons met to discuss a deal, with Albertsons focusing on a full merger of the two nationwide grocery chains given the prospective synergy. That day, both companies entered a confidentiality agreement and Albertsons/Cerberus provided initial details on their financing of a transaction. At the same time, Safeway pitched the sale of its Dominick's Finer Food stores in Chicago, a deal which came together in the span of just over a month, netting Safeway about $450 million in a cash tax benefit.
On Sept. 16, Safeway's board met to discuss the prospect of a merger with Albertsons or other grocery chains, but concluded that it wasn't the right time for a deal given the company's share price, $28.24 at the time, and a series of asset sales and strategic initiatives.
"The Executive Committee concluded that it was not the right time to pursue a transaction involving the sale of the entire company because Safeway was in the process of implementing a variety of strategic initiatives, the results of which were not yet reflected in the value of the Company's common stock," the proxy stated.
Later on that day, Jana Partners told Safeway it had purchased over 5% of the company's outstanding stock, indicating the hedge fund had increased its stake in Safeway by nearly tenfold since the end of the second quarter, according to Securities and Exchange Commission filings.
"Over the prior months, Safeway had engaged in dialogue with JANA Partners and other stockholders to understand their views and to help them understand Safeway's business and strategy for maximizing stockholder value," Safeway's proxy stated.
In response to the stake, Safeway enacted a so-called poison pill.
In a 13D filing with the SEC on Sept. 17, Jana disclosed a stake in Safeway representing about 6.2% of the company's outstanding shares and details on its engagement with the company's management. Safeway stock jumped over 10%, closing at $30.99.
That same day, Albertsons CEO Robert Miller and Cerberus co-head of global private equity Lenard Tessler called Safeway's CEO Edwards to reiterate their interest in a merger. Edwards didn't respond to the phone call. Proxy filing show that Safeway's banker, Goldman Sachs, called to tell Cerberus the company wasn't interested in a merger.
Hedge funds have 10-days to disclose positions of greater than 5% of a company's outstanding shares. Cerberus couldn't be immediately reached for comment. Jana Partners declined to comment.
The Deal That Did Emerge
Safeway continued to analyze issues like a merger; however, talks only began heat up after an October 22 report from Reuters publicized Cerberus's interest in a deal.
A day after the article was published, Albertsons CEO Miller again contacted Safeway and on Nov. 1, Safeway and its banker Goldman Sachs met with Albertsons and Cerberus.
On Nov. 5 all parties entered a confidentiality agreement and on Nov. 6, Safeway allowed Cerberus to speak with Kimco Realty, Klaff Realty, Lobert-Adler Partners and Schottenstein stores about a deal. Those firms later helped provide financing.
Cerberus initially bid $35 a share in cash for Safeway in November and assumed that shareholders would receive proceeds from the company's sale of its stock in Blackhawk Network, resulting in a total value of between $39.48 and $39.98 a share.
In early December, Jana trimmed its Safeway stake to about 4% of the company's outstanding stock. "JANA Partners had indicated that they were supportive of the actions that Safeway had taken to maximize stockholder value," Safeway said. Safeway's completed an about $5.7 billion sale its Canadian businesses in November, allowing the company to repay $2 billion in debt. In October, the company increased its share buyback from $800 million to $2 billion. 
For the next few months, Safeway and Albertsons/Cerberus went back and forth negotiating a deal.
Some issues such as financing concerns scuttled initial efforts and by late January a different offer began to emerge that included a lower cash payout for shareholders but a contingent payout of Safeway's sale of Casa Ley and PDC, in addition to Blackhawk shares.
By late-February, Albertson/Cerberus's final bid took form and included a $32.50 a share cash payment and contingent proceeds to shareholders of the Blackhawk, Casa Ley and PDC stakes.
Goldman Sachs, Safeway's banker, also began shopping the company to scores of private equity firms and competitors.
On Feb. 19, Safeway disclosed in its fourth-quarter earnings release it was in discussion on a possible sale of the company and a sale of Casa Ley and its Blackhawk Network shares.
Company A, Likely Kroger, Emerges
After that disclosure, PE shops passed on a deal. However, one large grocery chain, referred to as Company A in Safeway's proxy, did reach out about a merger. Deutsche Bank analysts believe Kroger (KR) was likely "Company A."
Company A entered a confidentiality agreement with Safeway on Feb. 5 and by March 5, it submitted a bid of between $38.50 a share and $42 a share for Safeway, including a $4.70 per share value for the Blackhawk share sale. That bidder also agreed to take all of the antitrust risk of a deal.
Safeway ultimately concluded that Company A didn't have a plan to address antitrust issues, and was still early in diligence efforts. Safeway also expected that Company A would continue to look into a merger, even if the company signed an agreement with Albertsons/Cerberus.
On March 6, Safeway chose to support Albertsons/Cerberus offer, a decision supported by Goldman Sachs. The company also held a 21-day "go shop" to solicit higher offers.
After the deal was announced, Company A conducted due diligence on its proposed transaction. On March 21, Company A said it would not submit a formal bid given the costs associated with divestitures and antitrust clearance.
During Safeway's go-shop, Goldman reached out to 23 private equity firms and 35 corporate relations. The go-shop expired on March 28 without a superior offer.
No New Deal
Cerberus-backed Albertsons will offer Safeway shareholders $32.50 a share in cash, in addition to a contingent consideration worth an estimated $3.65 a share and the distribution of Blackhawk Network stock.
Safeway shares were trading at $34.15 in early Monday trading. Shares have gained over 40% since Albertsons and Cerberus first opened talks with the company about a merger. Safeway shareholders also were also given 0.164291 shares in Blackhawk Network on April 14.
In fourth-quarter earnings released in February, Safeway reported $100 million in net income from continuing operations, or about 35 cents in earnings per diluted share. Revenue at the company came in at $11.3 billion, a slight increase from year-ago levels.
-- Written by Antoine Gara in New York