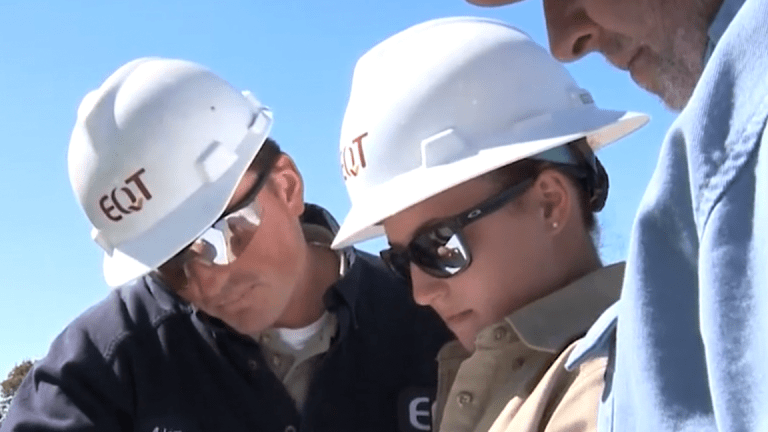 Jana's Campaign to Block EQT-Rice Takes Second Major Hit
Two major proxy advisory firms have recommended that the energy company's shareholders vote in favor of its $6.7 billion Rice Acquisition, even though Jana Partners' Barry Rosenstein wants the deal nixed.
The second of two major investor advisory firms, Glass, Lewis & Co. LLC, on Monday came out to recommend that EQT Corp. (EQT) shareholders vote to support its $6.7 billion acquisition of Rice Energy Inc. (RICE) , another major blow to Jana Partners LLC's Barry Rosenstein. who wants the deal canceled.
"We believe the proposed transaction is strategically compelling and financially acceptable from the perspective of EQT and its shareholders," Glass Lewis said in a report obtained by TheStreet. "The combined company would have greater scale with a more attractive asset base and acreage footprint, providing opportunities to achieve meaningful capital efficiencies and operating synergy."
The Glass Lewis report comes after the other major proxy advisory firm, Institutional Shareholder Services, on Friday issued a report also recommending that shareholders back the merger. ISS said that the deal "could deliver meaningful value if it facilitates a resolution of the company's long-standing sum-of-the-parts discount."
The two recommendations come after Jana Partners in July launched a campaign to oppose the natural gas producer and transporter's proposed merger with crosstown rival Rice Energy. Instead, Rosenstein called for the immediate separation of EQT's midstream segment.
Last month, another of EQT's large investors, D.E. Shaw & Co., issued a presentation criticizing the company and saying it should immediately move to spinoff the midstream unit following the merger with Rice, even at the expense of a tax event, which it estimated would cost roughly $1 per share. D.E. Shaw, a quantitative investment fund not known for activism, recently hired Quentin Koffey from well-known activist firm Elliott Management Corp.
Nevertheless, D.E. Shaw isn't opposed to the merger, which is set to come to a vote of shareholders on Nov. 9. Its support as well as the backing of both ISS and Glass Lewis makes it increasingly difficult for Jana Partners to make any headway on its effort to break up the merger.
A much more likely outcome is for EQT to agree to spinoff its midstream unit following the merger with Rice. Both D.E. Shaw and Jana Partners are enthusiastic supporters of such a spinoff. EQT has a strategic review underway, seeking to address its current sum-of-the-parts discount. It plans to compete the review by March 31.
Even so, Jana Partners could launch a proxy contest to elect dissident directors, especially if EQT completes its review and does not conclude that a plan to separate the midstream assets makes sense. EQT pushed back the deadline to nominate directors to its board from the original Jan. 19 deadline, with the intention of giving investors time to assess EQT's plan to address its situation.
In fact, in its report, ISS essentially suggested that there would be a good chance EQT would lose a director-election proxy war with Jana Partners if it didn't go ahead with its mid-stream separation. ISS noted that "if shareholders do not ultimately deem the results of the strategic review in March 2018 to be satisfactory - the directors might face an uphill battle in winning shareholders' support in any subsequent proxy contest, a scenario which has been anticipated and raised by both the company and the dissidents."
Research firm Gordon Haskett suggested in a note Friday that what ISS is really saying that "it thinks the breakup of the company is a good idea, it wants to see it done and if it's not done then ISS will throw its support behind a dissident slate at the 2018" annual meeting. The proxy advisory firm's report, the note argued, will prevent the company from deciding it wants to keep itself in one piece.
And in a quarterly letter, obtained by The Deal, Jana Partners itself appeared to suggest that it appeared to have lost the war to break up the deal at the same time that the fund is hopeful that it has succeeded in driving the company to separate its midstream assets. "...We feel like we may lose the battle over Rice but have won the war in furthering an eventual separation of EQT, an outcome we believe is favored by an overwhelming majority of EQT's shareholders," Jana Partners said in a letter. 
—Tom Terrarosa contributed to this report
More of What's Trending on TheStreet: